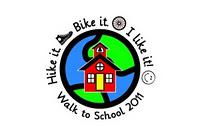 It's Walk to School Week 2011 ... with a brand new theme: Hike It. Bike It. I like it.
Walking and biking to school is a win-win-win for kids and communities. First, there are real health benefits. Kids, and the adults with them, get the activity they need for optimal health and well-being. Secondly, there are academic "wins" because children who are fit and healthy are ready to learn. And, finally, there are environmental benefits. When more kids get to school under their own power, it reduces traffic and vehicle emissions, especially in and around school zones.
PLAN
Explore the safest routes:

Teach kids how to walk with and without sidewalks and how to cross busy streets, as well as how and where to ride a bicycle properly.

Check all equipment for safety:

Make sure that shoes fit well and are properly laced. Make sure that bike helmets fit properly and that bike parts are in good repair.

Create a walking school bus:

Many communities have specific routes where adults are available to help many students walk together (www.walkingschoolbus.org).
PLAY
Walking and biking to school can easily become part of your family's active lifestyle. Here are ten ways to put some fun into the transportation time to and from school:
Tell a story: Walking and talking is a great time for make-believe and tall tales.
Play a word game: Use creative ways to practice language skills for school.
Do what "Simon Says": Take turns telling people to hop, jump, skip, or twirl.
Go

geochaching

: School routes are perfect for GPS hiding and seeking.
Have a scavenger hunt: Choose a theme, like things that start with A or Z.
Sing a song: Music - and easy lyrics - can lift the spirits along any path.
Practice dance steps: Talk about fun! Pretend you're in your favorite musical!
Take a few photos: Digital cameras make it a snap to have lots of photo fun.
Walk the dog: Furry folks need activity as much as their human families.
Share some special time: Kids love to have time with adults who care.
ENJOY
Take a few extra minutes to get your children into the habit of walking and biking to school. Make it a win-win-win for their physical, mental, and emotional health.