Enjoy this informative guest golf blog post on selecting the right golf shoes for your walk along the fairway, written by Guest Golf Blog by Melinda Bailey, 9 & Dine Women's Golf Apparel.
The days of "one-style-fits-all" golf shoes are long behind us. Today's women's golf shoes offer an unparalleled selection of designs to please even the most style-savvy fashionistas, with comfort technology that makes a five mile, 18-hole course feel like a walk in the park. Say goodbye to blisters and hello to bliss with our top five picks for women's golf shoes, all of which offer no sacrifice of style for substance. Your feet--and your stroke--will thank you.
Adidas adizero Tour Shoe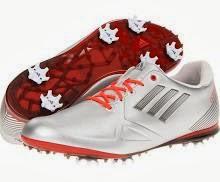 A longtime leader in the woman's golf footwear industry, Adidas's roster offers a competitive field of contenders. At the front of the pack is the Women's adizero Tour. Featuring all the great elements of the men's adizero Tour,  these have a distinctly feminine flair that is at once sporty and stylish. 
Cutting-edge technology like stability-enhancing internal SPRINTWEB and a six-spike configuration enhanced by THINTCH ensure optimal traction and stability. At only 9.2 ounces, the Women's adizero Tour is  Adidas's most lightweight cleated tour shoe yet, and is guaranteed to spare you foot fatigue in the home stretch.  Our favorite? The white/passion-fruit combination: this eye-catching pop of color will put just the right lift in your step. 
Nike Ace Golf Shoe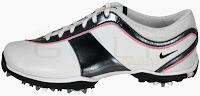 The aptly named Women's Nike Ace Golf Shoes deliver groundbreaking innovation that supports the needs of players ranging from amateur to elite.  
Balance-enhancing and weight transfer technology are just a few of the ergonomic design elements that support walking comfort and foot health in this sporty shoe.  A little rain never hurt anyone, and it won't hurt the Nike Ace Golf Shoe, either, thanks to water-resistant features which will keep your feet dry in the greens. 
FootJoy LoPro Collection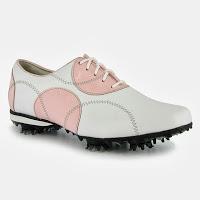 FootJoy lives up to its name and more with the popular LoPro Collection golf shoes. Designed to contour to the natural shape of your foot, these shoes provide maximum comfort, breathability and durability under the most rigorous conditions. Advanced engineering features like PU Fit-Beds, Dri-Lex covers and Softspikes cleats--the industry leader and favorite of tour professionals--round out the reasons why these tough togs are a top pick. 
PUMAGolf Cat 2 

Shoes


While "golf" and "cute" aren't typically words that go together, the Golf Cat 2 defies the odds, delivering an irresistibly appealing look with intelligent design features like traction-enhancing SmartQuill Technology rubber clusters. Lacking cleats, these fit like a sneaker, and do the work of one, as well.   For head-turning clubhouse-to-street style, look no further than the PUMA Golf Cat 2.
ECCO Golf Street Sport Shoe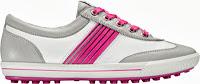 Another choice that can take you from the course to whatever comes next, this European shoe not only promotes walking comfort, but also features environmentally friendly elements. 
The hybrid design ensures that you'll look and feel great--thanks to supersoft calfskin and innovative water-resisting Hydromax treatment--while promoting optimal traction and durability on all surfaces. This good-looking shoe transitions easily from the golf course to a variety of other walks of life. 

The right footwear can mean the difference between average and extraordinary when it comes to your golf game. By choosing a comfortable shoe, you guarantee optimal performance. By choosing a stylish shoe, you guarantee that you'll feel great along the way. Luckily, today's golf shoes for women offer both options--truly the best of both worlds!


Melinda Bailey is an avid golfer and the Executive Editor of
9 & Dine Women's Golf Apparel
blog.  You can connect with Melinda via Twitter @9Dine.
Voice your opinion on Twitter @Golf4Beginners and Like Golf for Beginners on Facebook.