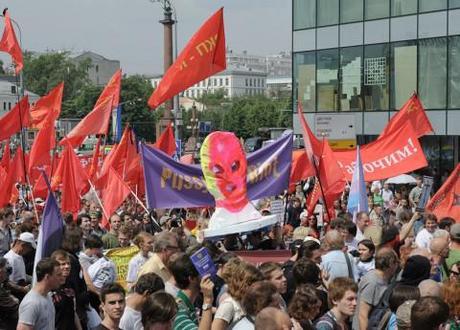 Protest in support of Pussy Riot.
The three members of provocative Russian punk band Pussy Riot were found guilty of "hooliganism" by a Moscow judge on Friday and sentenced to two years in prison, despite international outcry over what is being perceived as Russia's intolerance of dissent.
What is "hooliganism"? First entering into Russian legal consciousness in the early part of the 20th century, the charge is essentially a catch-all for any disruption to or rejection of authority. And, say some, that it hearkens back to Tsarist Russia is no coincidence.
The three women, Nadezhda Tolokonnikova, Maria Alyokhina and Yekaterina Samutsevich, were arrested in February after a guerilla protest performance at the altar of Moscow's main Russian Orthodox cathedral calling on the Virgin Mary to protect the country from Vladimir Putin. The three were jailed and Putin, then Prime Minister, was elected to a new term as Russia's president two weeks later.
The case garnered international attention, once again putting the focus on Russia's, and in particular, Putin's, perceived attempt to crackdown on opposition, as well as underscoring the influence of the Russian Orthodox Church. Big-name celebrities including Madonna, Paul McCartney, Bjork, and the Red Hot Chili Peppers were among those across the globe who threw their support behind the jailed trio, and protests in more than three dozen cities worldwide were timed to coincide with Friday's verdict.
Pussy Riot on trial: Do they deserve to be?
 Russians outraged – at Pussy Riot's audacity
Anna Nemstova at The Daily Beast suggested that while the rest of the world is outraged over what appears to be Russia's heavy-handed oppression of opposition, some Russians are angry at Pussy Riot for what was "a provocative and deeply offensive act to Russian believers". Roughly 65 percent of Russians identify as Russian Orthodox and Pussy Riot's act was a "scandalous sacrilege", regardless of whether they agree with the politics. In fact, no one paid any attention to the band before this, despite their political message being, plainly, "Putin sucks". Meanwhile, their act only fueled the anger of Russian nationalists, who would have them executed if they could – moreover, the sympathy movement led by Western musicians and human rights groups has left them "convinced of a wider narrative about a Western pop—or punk –assault on Russia, traditional values, and the Orthodox church".
Russia in search of an identity
Fyodor Lukyanov, editor-in-chief of the Russia in Global Affairs journal, observed that the Pussy Riot saga has become "an ideological conflict of a global scale", pitting Russia against the West and painting Russia as "an authoritarian model with anti-modernization stagnation at home and anti-Western expansionism abroad". But the real picture is far more complex: Russia is currently searching for an identity, now that post-Soviet inertia has ground to a halt. Meanwhile, the Western dominance over the geo-political scene is waning, confronted with economic crises and a rising East. Pussy Riot, in concert with Russia's stance on Syria and a recent series of laws that give the impression of a crackdown on opposition, is taken as evidence that Russia is moving away from the West. Perhaps it is, perhaps it isn't: "Circumstances are changing very quickly."
No 'Stalinist show trial' in Russia, but still worrying
Under Stalin, these kinds of cases would be tried in secrecy, its defendants never heard from again; Pussy Riot is on firm ground when they claim that "they have beaten the politically manipulated judicial machine by the force of their arguments and their personalities," wrote Michael White at The Guardian's Politics blog. "It has all happened in public – too hard to hide in the wired world of today – and a host of global rock royalty whom Vladimir Putin cannot harm is on their side. It might be prudent for Madonna and Macca to check their tea for polonium, all the same, because Russia seems to be slipping back into lawless ways which will do it no good."

More on Russia

Pussy Riot on trial
Crackdown on anti-Putin protests
Putin wins Russian presidential elections
Vladimir Putin's top action man moments