Need a fresh look for your workplace? Got a new job and want to make the best possible impression on your first day? If it's time to vamp up your day wear, why not add a pussy bow blouse or two to your wardrobe? This style has made a real comeback on the catwalks and on the high street, making it a key piece in your working wardrobe.
From top designers to your nearest fashion store, retailers everywhere have got the pussy bow blouse in their collection. Styles and colours vary, so if you're worried about wearing something with a huge, fussy bow – don't be. In fact, most of the blouses on the market are subtle, sexy and appealing, and with necklines to suit every shape and size, there's sure to be something on a hanger with your name on it.
Simple, stylish and easy to wear, these are great blouses for working. Designers know that you need comfort and easy of movement in the office, but you also want to look good and set the right tone. Good quality, well designed
pussy bow blouses
give you all of this and more. With great styling, easy-care fabrics and attention to design detail, this is the perfect style to add to your work collection.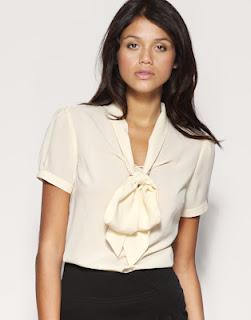 Like all blouses, this is a style with the versatility you need. Wear it with tailored trousers and flats for a more comfortable look, or go super-sexy with a slim pencil skirt and killer heels. Add pearls or a delicate chain for an extra-feminine touch – and if your office can get chilly, there are plenty of smart
cardigans for women
that you can pull over the top of your blouse to stay warm. And because designers love to play with classic concepts, you'll be able to get your hand on a pussy bow blouse that stands out from the crowd. Whether it's beautifully patterned, uses soft silky fabric or has contrast detail, you'll be spoiled for choice.
Re-vamp your work wear for less than you think – online retailers and high street stores have got some great designs that give you the perfect blend of classic style and essential practicality. It's current, it's stylish, it's hot off the catwalk and it's certainly affordable – you can easily find one for under £25 - so get your hands on a pussy bow blouse as soon as you can!