Today I am excited to welcome a guest post from stage and television actor and writer Erin Keaney. Erin's credits include Comedy Inc., and the US tour of the musical Rent. She is also the creator and star of the hit web series Motherloadtv. Erin and her cowriters/stars will soon be presenting "Push...One Mother of a Show" in Toronto, just in time for Mother's Day.




Here's Erin (a.k.a. 

Resident Director of Bum Wiping and Snack Packing) on the lack of sleep, Mother's Day + PUSH...ONE MOTHER OF A SHOW.


I didn't think about the amount of sleep I would lose having kids. I mean, before I had kids, I'd hear from women with kids, about how tired they were all the time. But I didn't really "hear them". I love sleep. If sleep were single, I would propose marriage. I would give sleep the most beautiful engagement ring you've ever seen. I wouldn't sign a prenup. That's how much I love sleep. I have two girls. The first one was a good sleeper, but I was soooo worried - she was my first child - so I never slept. The second one was a horrible sleeper so again, I never slept. I haven't slept through the night in seven years, mainly because now the two of them take turns getting up in the night and getting into bed with us. I do however love the "sleep in". This is when my husband and I take turns letting the other sleep in. It's so luxurious. This happens on holidays and the coveted Mother's Day. I get breakfast in bed and I have a torrid affair with sleep for two, maybe two and half hours. My husband is okay with my affairs with sleep. He has them too.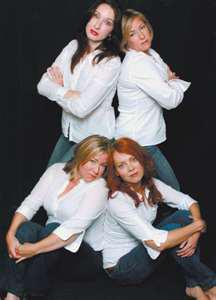 Clockwise from top left: Erin Keaney, Fiona Carver,

Precious Chong, Sarah Carver




This Mother's Day after you've had your sleep in, come and see PUSH...ONE MOTHER OF A SHOW, May 4th to 8th, at Tarragon Theatre Extra Space (30 Bridgman Rd at Bathurst + Dupont). It's a LIVE comedy show written and starring myself, Erin Keaney, and Fiona and Sarah Carver and Precious Chongtarragontheatre.com. And, we're having a raffle with a portion of the proceeds going to Nellie's Women's Shelter. The prizes are geared towards making a mom's life easier. Here's a look at the prizes...a housecleaning, wash and fold pick-up and drop-off laundry, stripper pole classes, massages, waxing, facial and so much more.


Bring the girls, bring your mom, bring your husband, and see our comedy sketch show about motherhood. Feel good about the fact we're all just juggling – we all drop the ball sometimes – and take heart in the fact that we're all doing the best we can.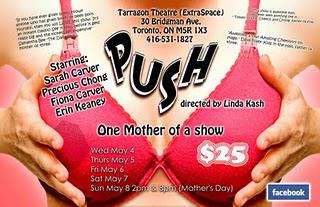 Thanks, Erin...and good luck to you and all of your costars with the show! I'm so sad that I can't make any of the dates, as it looks fantastic! What mother out there couldn't use a good laugh? (And a good night's sleep...oh, how I agree with you, Erin...)