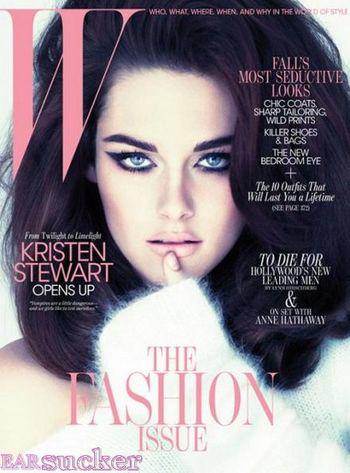 When we were little, we all played dress up in our mother's clothes and makeup. I don't know a mom who doesn't enjoy acting as her daughter's makeup artists and and wardrobe mistresses. Live Barbies are more fun to play with, right?
The stylists and editors of fashion magazines get to do it for a living, with some of the most celebrated personalities of our time. Talk about fun!
Just ran across the September 2011 cover of W magazine, which features the hardworking, no-nonsense actress Kristen Stewart. Unless you've been underground for the last five years (werewolf in a cave, vampire in coffin, hint hint...bad analogies, I know) you'll recognize her as the female lead in the TWILIGHT movie series. What I love about this video interview (to learn the exact questions she was asked, click through to the text version as well) is how unassuming she is. There is no "playing to the camera", but an honesty and forthrightness about her background and her craft. She makes it sound as if she's an "accidental" actor. Having seen her in several non-Twilight movies over the years -- Panic Room, Into the Wild, Adventureland, and The Runaways, where she played musician Joan Jett --  I think she has aptly proven that this is so not the case.
W used that renowned photographic team of Mert & Marcus show us a side of Kristen we've never seen before: a throwback to 1960s Bardot/Fonda sex kitten sensuality, giving her blown-out-to-there hair and real cheekbones. It may not have been her typical demeanor, but she certainly went with it: more proof that she's a great actress -- and good sport to boot.
No need to pout when you can purr,
-- Josie