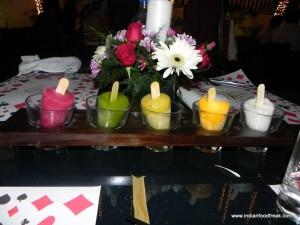 This was one review I was excited and looking forward to especially after I had read these rave reviews about the menu from some of my fellow bloggers in Delhi. I had visited Punjab Grill when it was "by Jiggs Kalra" more than a few years back. Punjab Grill is no longer "by Jiggs Kalra". I wish a lot more had changed along with the appendage. The service was slow and we almost fell asleep in between courses. Some of the guests left half way too.They introduced the theme as Indian-ised Tapas, "Dil se Desi". Unfortunately it felt like on my way to the International airport I got lost in the lanes of Delhi, in a strange land, hungry and tired. I wish the service was more "dil se". The food overall had some sparks of brilliance and at others were mediocre, a little disappointed since I would have expected a lot more from Lite Bite Group. After all my experience a few days back at one of their other outlets was very pleasurable.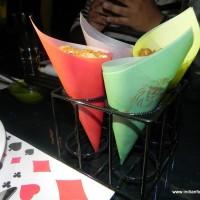 We started with Ganne ka margarita, a tequila based sugar cane, ginger, lime juice and black salt, dry ice bubbling concoction. It was by far the best part of the evening and I think I should have just stuck to these. Another drink we tried was Niki te tikhi, a vodka based khus syrup, green chilli, sugar syrup, lemon juice and 7-up concoction. It was one that definitely needs some getting used to but once you get over the bite of the chillis it is quite refreshing. The Band Baja Te Whiskey frankly was just gimmicky. It was single malt served with a little left in a rickshaw-horn which they just poured in a glass with a trumpet.  The Old Monk with Rimzim had a twist for sure and I am still not able to decide if I like my monk with coke or Rimzim. The Pineapple Thandai was more like a liquefied kheer and definitely not recommended with main course. It could at best be a desert drink. I was glad for the chana jor garam, small pakoris, puffed bites, boiled black grams served in paper cones. They were a deliciously welcome respite during those long intervals in courses.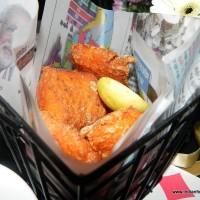 We were first served the Ambarsari Machhi. It was not covered with too thick a batter and so the delectable sweet taste of the river sole was clearly coming through. Then we were served the Jheenga chownk ki Tikki and masala mattra. I wish there were more prawns in it and they had eased a little on the sourness which was overpowering the taste of the meagre prawns. The mattra which is white peas cooked in spicy gravy was good. The Tawa chicken keema served with fryums was spicy with a nice crunch from the chat masala encrusted fryums. The tandoori kukkad wings with imli chutney were average. The AndaTawa rice was nothing to write about. The Istri ki boti served in a real charcoal press iron was not just a novel presentation but also a delicious dish with succulent morsels of mutton in tangy spicy gravy.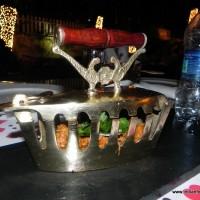 By this time the long drawn dinner was jarring on my nerves and I asked them for what I had come; the vodka infused Mele di chuski; flavoured spiked ice lollies. But I think this was an evening of disappointment or maybe this event was not as important for them because we did get the chuskis without the vodka. So while we did suck on varied flavoured kulfis like the chilli, pomegranate, lime, mango, panipuri masala; it wasn't the real Monty so can't say much about it except that the pani puri one is undoubtedly the winner. Overall I wish the "Desi" idea had not extended to Indian Stretchable Time and they had respected the time we had extended; it would have been a more pleasurable evening. Some of us do take food seriously! Very seriously! Ratings out of 5 Food: 3  | Ambiance: 3 | Service: 2.5 |Overall: 3 Meal for two with alcohol : INR 4000 + taxes | Alcohol: Yes | Credit Card: Yes Timing:12 noon to 12 midnight Address: Punjab Grill,Juhu Shopping Centre,, Gulmohar Cross Road Number 9, Juhu, Mumbai, Maharashtra 400058 Telephone :+91 22 2624 5735
Tandoori Kukkad Wings
Nikki te Tikhi
Jheenga Tikki and Mattra
Ganne ka Margarita
Tawa chicken keema and fryums