You know fall has arrived when Starbucks comes out with their Pumpkin Spice Latte.  I have not been brave enough too look at their ingredients...and maybe this is best.  I had some leftover roasted pumpkin in the fridge so decided to try making my own.  I am not a typical coffee drinker but this was fantastic.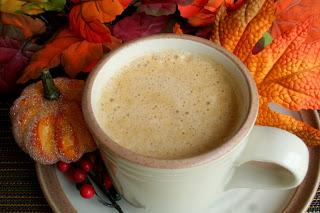 A latte does use espresso so I should call mine a cafe au lait as I used brewed coffee.
Ingredients
(serves 2)
1 3/4 cups non dairy milk (I used unsweetened almond)
1/2 cup roasted or pureed pumpkin
1/2 cup brewed coffee (or more depending on taste)
1 teaspoon gluten free vanilla
1-2 tablespoons maple syrup (or to taste)
1 teaspoon cinnamon
1/4 teaspoon nutmeg
Directions
Place all ingredients into a pot and heat.
Using a blender, puree until smooth.
Serve, adding some foam created while blending on the top.