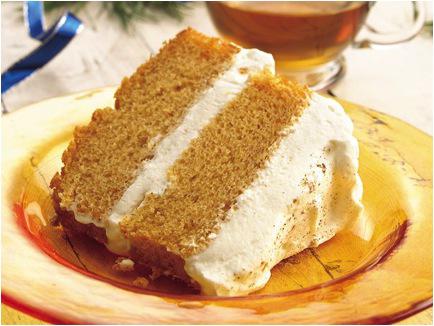 Source: Betty Crocker
While this dessert may have Angel in the title, it is anything but innocent. When I first discovered this indulgent dessert my immediate thought was: pumpkin…ginger…angel food cake…have I died and gone to dessert heaven? Once I collected myself, I knew this recipe would become a holiday favorite. This long-titled dessert is rich, decadent, and oozes all of those bold holiday flavors we love so much (think ginger, pumpkin, pie spice). You've probably had many a holiday dessert but I promise you you've never had anything quite like this. The creamy, gingery filling is perfectly matched with the airy, spicy angel food cake – which will leave you licking your fork (and, perhaps, your plate). This holiday dessert will knock your socks (err, taste buds) off, I promise.
Cake
1 box (1 lb) Betty Crocker white angel food cake mix
1 tablespoon all-purpose flour
1 1/2 teaspoons pumpkin pie spice
3/4 cup canned pumpkin (not pumpkin pie mix)
1 cup cold water
Ginger Cream Filling
2 cups whipping cream
1/4 cup powdered sugar
2 tablespoons finely chopped crystallized ginger
Directions
Move oven rack to lowest position. Heat oven to 350°F. In extra-large glass or metal bowl, beat cake ingredients with electric mixer on low speed 30 seconds. Beat on medium speed 1 minute. Pour into ungreased 10-inch angel food (tube) cake pan.
Bake 37 to 47 minutes or until crust is dark golden brown and cracks are dry. Immediately turn pan upside down onto heatproof funnel or glass bottle. Let hang about 2 hours or until cake is completely cool. Loosen cake from side of pan with knife or long metal spatula. Turn cake upside down onto serving plate.
In chilled large bowl, beat whipping cream and powdered sugar with electric mixer on high speed until stiff. Fold in ginger. Cut cake horizontally in half to make 2 even layers. Spread half of the filling on bottom layer; replace top of cake. Spread remaining filling on top of cake. Sprinkle with additional pumpkin pie spice if desired.
Makes 12 servings