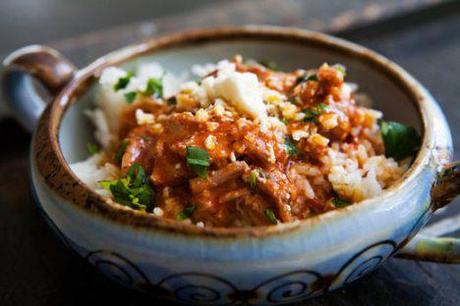 This week's recipe was inspired by a bit of footage we received from Fiji last week wherein a camp dinner of pork cooked in leaves on a fire was being prepared. Now rather than have you attempt to build bonfires in your own homes we thought you might want to try some slow roasted pork but with a bit of latin flavour.
You Need:
* 5 pounds pork thigh, cut into 2 inch cubes
* 5 tablespoons annato seeds
* 2 teaspoons cumin seeds
* 1 tablespoon whole black pepper
* 1/2 teaspoon whole cloves
* 8 whole allspice berries
* 2 habanero Peppers, fresh or dried, cleaned and minced (optional)
* 1/2 cup orange juice
* 1/2 cup white vinegar
* 8 garlic cloves
* 2 tablespoons salt
* 5 lemons
* 1 shot of tequila
* banana leaves (optional)
Vamos!:
Grind the annato seeds, cumin seeds, whole peppercorns, whole cloves, and whole allspice in a mortar and pestle, spice grinder or coffe grinder.
Blend the cleaned and chopped habanero peppers with the orange juice, vinegar, garlic and salt.
Mix the dry spices with the liquid.
Add the juice of 5 lemons and a nice splash of tequila.
Place the cubed pork thigh in a large zip lock bag and add the marinade. Soak 4-6 hours, in refrigerator, turning several times.
Line (8×13) baking pan with banana leaves. Pour in pork along with the marinade. Cover with Banana leaves and seal the pan with foil. Bake in a 160 degree oven for 4 hours.
Serve with white rice, peppers and any other Mexican accoutrements you desire
NB. Banana leaves are optional, you can just use foil but we recommend cooking for about 30 minutes less if you opt out of the leaves.
Film buffs amongst you may have realised that this is the favoured dish of the character played by Johnny Depp in Once Upon A Time in Mexico…so yeah…in case Johnny pops round for dinner you may want to know this recipe.