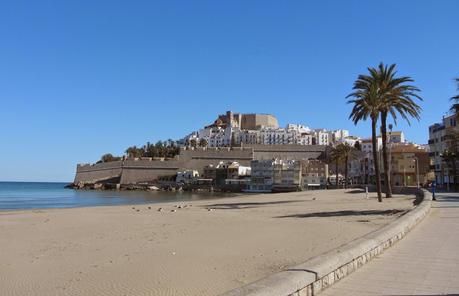 The iconic view of Peñíscola's seaside castle on a hill
If there are two towns that I consider to be an absolute must-visit for those who come to Valencia, they are Albarracín (more on it another day) and Peñíscola. An easy, short
day trip
train-ride away from the regional capital,
Peñíscola
offers you that quintessential Spanish Mediterranean experience,
a castle by the sea
. For this reason, and because of some interesting historical and cultural features, not to mention culinary highlights, I'm adding it here to my photo recollection blog entry series on "pueblos con encanto" that visitors should prioritize should they ever have an extended stay in the region.
I revisited Peñíscola a couple of months ago with a friend and colleague who had never been. The first thing he commented on was how much it reminded him of Greece, above all because of its white seaside buildings. Now this is no lazy comparison, since my friend is Greek American and has lived in and has family in Greece. It is striking, given that this similarity is not true for most Spanish seaside villages (with a notable exception, perhaps, for Menorca).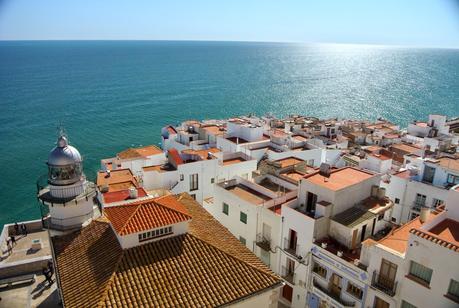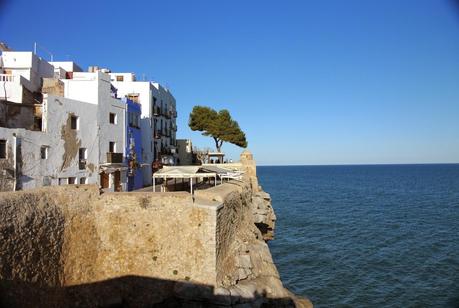 Putting aside this passing resemblance, what defines Peñíscola is its medieval castle. Like most Spanish castles, a fort turned castle had been built and rebuilt on this spot for centuries. The town's name comes from the Roman "
Paene Iscola
", meaning "
casi isla
" or almost an island (i.e. a
peninsula
). The present-day castle came into being in the 13th and 14th centuries, built by —take notes 
Dan Brown
— the Knights Templar. Unfortunately, you have to pay extra to visit the part of the castle where they talk about that, and I'm too cheap to bother. (Note: it was a bright, sunny day, and I was experimenting with my new polarizing filter to get more brilliant blue skies. My apologies for the blackened edges in the photos.)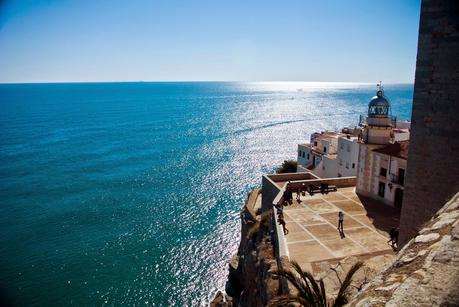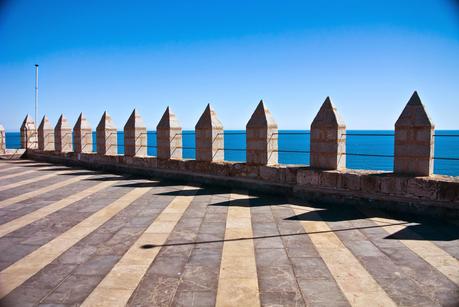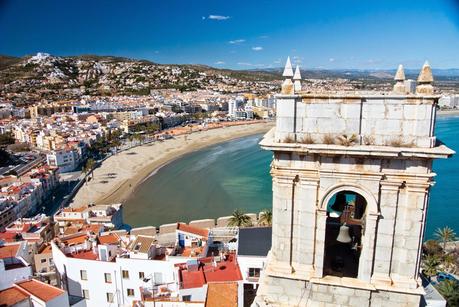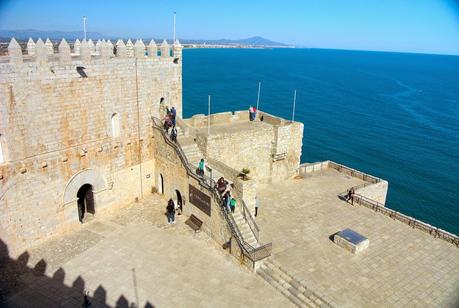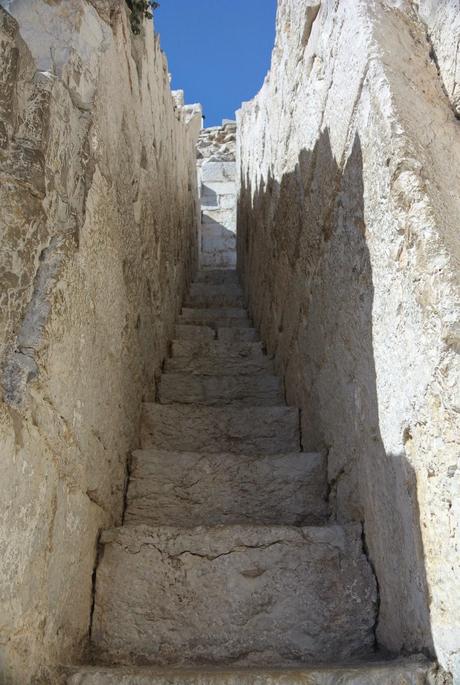 In the 15th century, the castle's most famous denizen, "
El Papa Luna
",
a.k.a. Benedict XIII
, came to reside here, an antipope who preferred to live in Spain than renounce his Vatican-rejected claim on the popedom. His family name Luna, "moon" in Spanish, and the use of the crescent moon in his family seal, are why you'll see crescent moons all over the castle and town.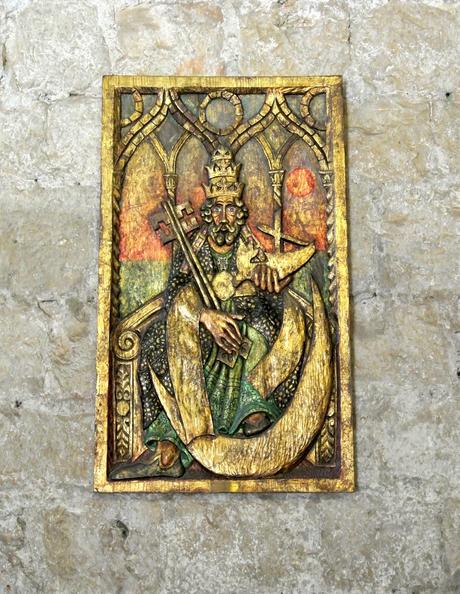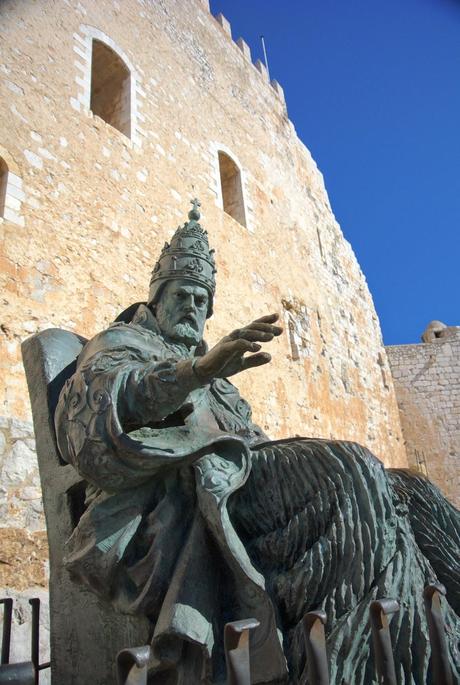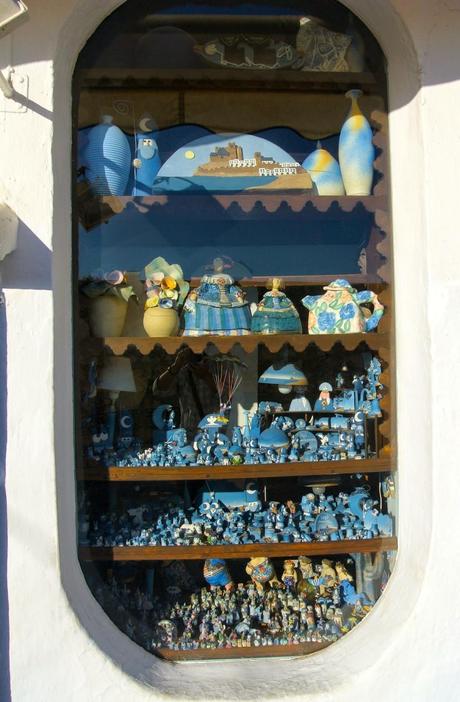 Somehow, every time I visit Peñíscola I manage to find this artisan ceramics shop closed.
The Papa Luna figurines in Cerámica Yvan look adorable and would be wonderful souvenirs!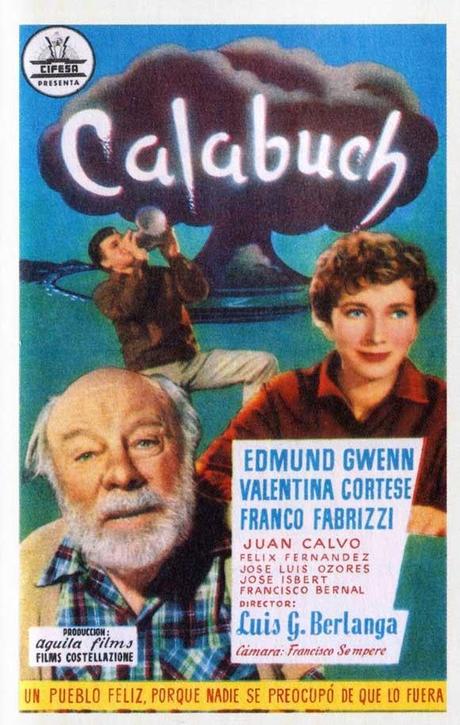 Now as if seeing a castle
on a cloud
by the sea is not enough, it just so happens that this quaint seaside village was the site for not one, but two popular movies. The better known would be
El Cid, the 1961 blockbuster movie
starring Charleston Heston (in the title role) and Sophia Loren. Yep, if you look closely in that famous battle scene on a beach by a castle —you know, the one where
Heston, err
El Cid charges down all those Moors on his horse— well, that was filmed in Peñíscola. It's that castle.
Personally, I 
love
 like the other movie filmed here, 
Calabuch (1956)
, directed by 
my favorite of Spanish directors, Berlanga
. This movie has it all: endearing small-town, Franco-era Spain antics, Cold War politics turned into lighthearted pyrotechnic play, and even an American rocket scientist having fun with locals on a much needed seaside vacation from the worries of the world. (Even the name of the movie gets a chuckle, since it is a Castilian parody of a common Valencian surname, Calabuig... the "ig" at the end is pronounced like a "ch".) What is most jarring of all watching these movies is seeing 
how undiscovered Peñíscola was back when they were filmed. The castle stood alone.
 Now the town 
littered, plagued
 filled with seaside hotels and resorts with a thriving tourism trade.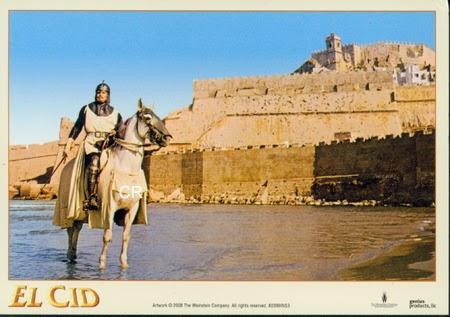 Credits to this site for the image and detailed explanation of the movie.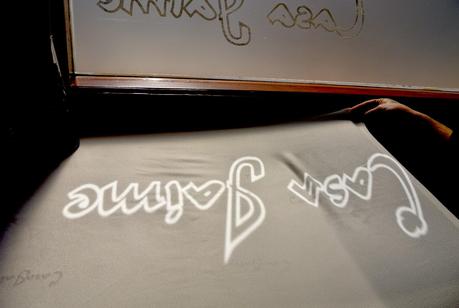 Following my standard "pueblos con encanto" day-trip formula, we ended our tour with superb local food at an excellent,
a little pricey
well-reputed restaurant:
Casa Jaime
. Their specialties are, naturally, seafood and rice dishes, but they have a signature dish that we could not resist ordering – the "
Arroz Calabuch
" created in honor of Berlanga when he visited, and which includes a local type of sea anemone and sea cucumber. (On top of being totally original, it was delicious!)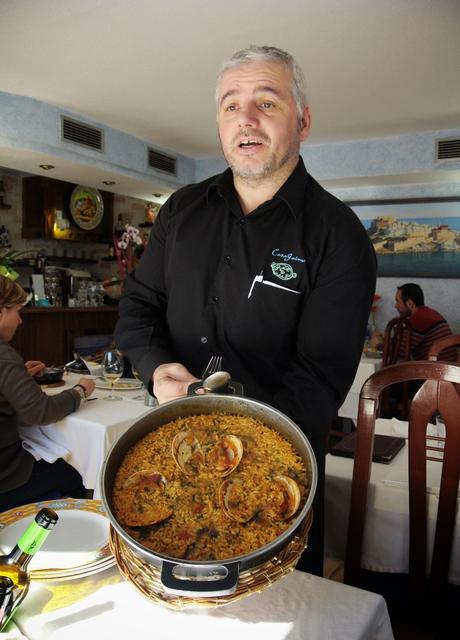 I should add, the service was also excellent.
They take pride in their food.