Thogayal can be loosely translated as a semi dry chutney like preparation.These are not very smooth and watery like a chutney also no special seasoning is done after grinding.These preparations are mostly eaten with rice along with ghee/sesame oil.There are also some kind of thogayal which goes very well idlies/dosas etc.Usually we make thogayal when we are literally tired of making kuzhambu :)A spicy and hot thogayal is best eaten with papad (appalam) or as a side dish with rasam.The other day I had some mint leaves (pudhina) and wanted to try this instead of usual chutney.I had only a small bunch of mint leaves so I added some cilantro (kothumalli) leaves along.I made it quite spicy and it tasted heavenly and very comforting with rice and ghee.Any well roasted stir fry/papad is a good combination for this rice.Give it a try at least once and you will fall in love with this as we do over and over :)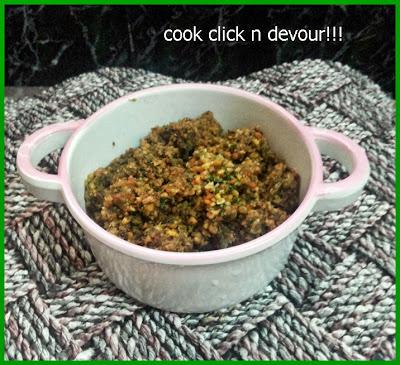 Recipe:Pudhina kothumalli thogayal
Star ingredients:pudhina and kothumalli
Time:20 minutes
Serves 3
Ingredients:
1 small bunch mint (Pudhina)
1/2 cup cilantro leaves(Kothumalli)
2 tablespoons urad dal(ulutham paruppu)
2 table spoons channa dal (kadalai paruppu)
3-4 dried red chiliies
Small lemon sized tamarind
1/2 teaspoon asafoetida
Salt
Sesame oil
Method:
1.Heat 1 teaspoon sesame oil in a kadai and temper with asafoetida and dried red chillies.Add the urad dal and fry till golden.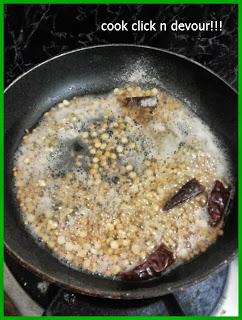 2.Switch off the flame and add the mint and cilantro leaves.Fry just till the moistur is gone.Add the tamarind and saute for 2 minutes.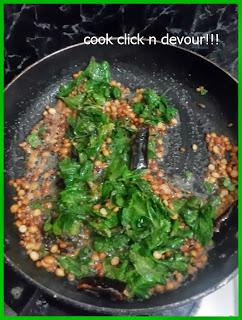 3.Grind coarsely along with salt.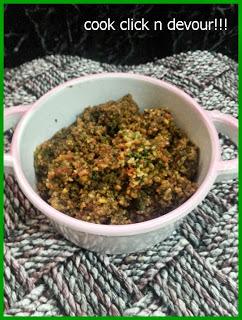 Notes:
1.The thogayal should be coarsely ground.It is ok to have whole dal here and there,do not make a fine paste.
2.Do not add water to dilute,if it is very ight,add 1-2 teaspoons sesame oil while grinding.
3.You can increase mint leaves and leave out cilantro.