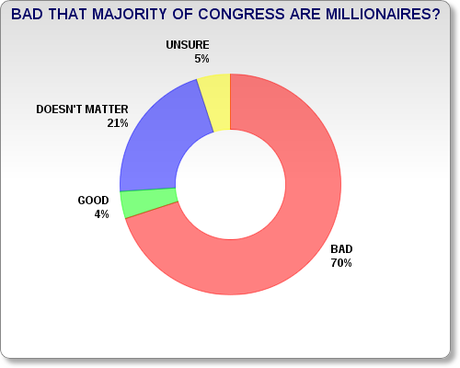 The other day I wrote a post about the wealth of the current Congress. For the first time in our history, a majority of those in Congress are millionaires (according to the financial statements they submitted last May) -- and many of the others are not far from it. This brings up the question -- is it good or bad that most members of Congress are rich?
The folks over at the Rasmussen Poll decided to find out what the American public thinks about that? They surveyed 1,000 likely nationwide voters on January 11th and 12th (and the poll had a margin of error of 3 points). It turns out that most Americans don't like that at all -- with a substantial majority of about 70% saying it's a bad thing.
I agree. With the median income of a worker in this country being only slightly above $40,000, I have to wonder if those rich congresspeople can really understand the struggles of the ordinary worker. It is more like a plutocracy (rule by the wealthy class) than a democracy (rule by the people) -- and that's certainly not a good thing.