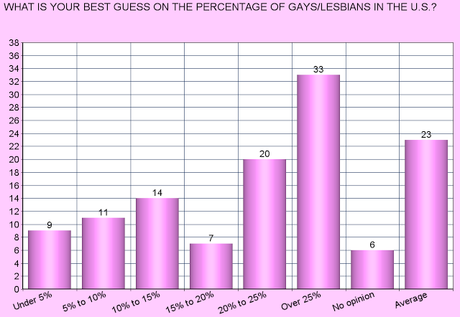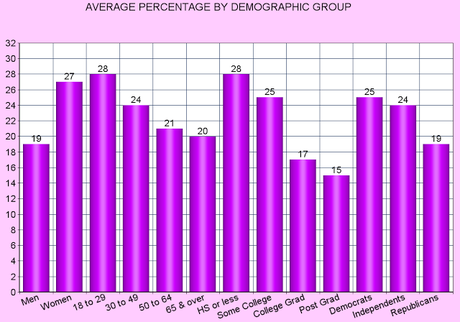 These numbers are from a new survey by the Gallup Poll -- done between May 6th and 10th of a random national sample of 1,024 adults, with a margin of error of 4 points. They asked the respondents to make their best guess at the percentage of the United States population that was homosexual. For the most part, the guesses were outrageously large.
It turns out that the average guess was 23% -- nearly a quarter of the population. And every demographic group questioned had a very high average guess -- ranging from 15% to 28%. I have to admit I was amused at these numbers (and that's why I bring you this poll).
Gallup says the percentage of homosexuals in the United States is about 3.8%. That's the number of people who admit they are homosexual when asked by Gallup in a survey. I think that's an underestimate. It's still very hard to be an open homosexual in many parts of this country, and I wouldn't be surprised if some hid that when surveyed.
My best guess would be around 6% to 7%, and I admit that is only a guess. What do you think? I would be interested in your best guess?