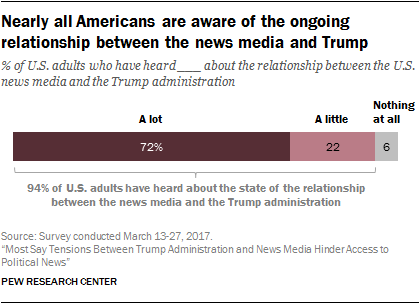 Donald Trump has declared war on the media in the United States. He says they report "fake news", and he has at times even banned some organizations from press conferences (those who have reported negative facts about him).
It's not hard to understand why he's doing this. His administration has stumbled on everything they've tried to do so far, and they are showing that they don't have a clue as to how to govern the nation. But instead of appointing some professionals to right the administration ship, Trump has chosen to try and obfuscate and misdirect by attacking those who report the facts.
The public is well aware as to what is happening. As the top chart shows, 94% of the public says they are aware of Trump's poor relationship with the media (and 72% say they've heard a lot about it).
And they don't like it. About 83% of the general public says the relationship between Trump and the media is unhealthy for the country, and nearly three-fourths (73%) say it gets in the way of Americans getting access to important news about the country. And most interesting is the fact that these beliefs cross gender, age, education, income, race, and political lines.
The American people want this "war" stopped. They want honesty from the Trump administration and facts from the media -- and they deserve no less than that.
These charts are from a recent survey by the Pew Research Center -- done between March 13th and 27th of a random national sample of 4,151 respondents, and has a 2.7 point margin of error.