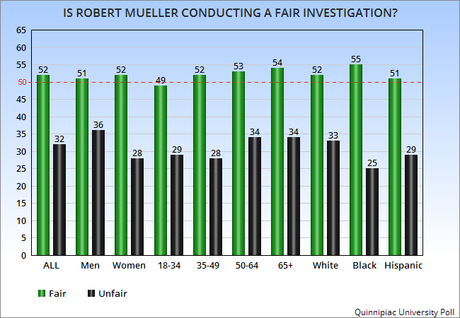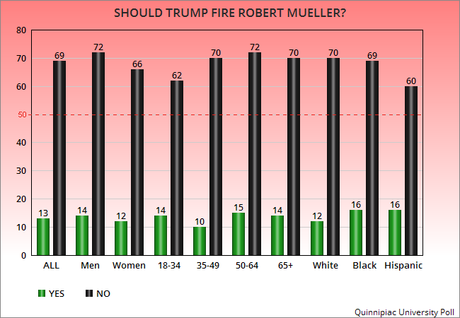 Donald Trump has thrown a giant temper tantrum, both in appearances with the press and on twitter, after learning that his attorney had been served a search warrant and had documents in his possession seized (presumably that involved his connections with Trump). Part of his tantrum has been that he thinks the investigation being done by Robert Mueller is unfair, and nothing more than a "witch hunt".
This has revived the possibility that Trump may try to fire Robert Mueller. We know he wanted to do that last December, and was talked out of it by cooler heads in the White House. But many of those "cooler heads" (both among White House advisors and his attorneys) are now gone -- fired by Trump in an effort to get rid of people who did not agree with him. There may not be enough people left right now with enough sway over Trump to keep him from firing Mueller.
But if he did that, he would be getting himself in deep trouble. Many in Congress would see that as a bridge too far. Even more important is the opinion of the general public. A majority of the public sees the Mueller investigation as fair (52% to 32%) -- a 20 point margin. And an even bigger 56 point margin (69% to 13%) says Trump should not fire Mueller.
The American public already is unhappy with the Trump presidency. Firing Mueller could easily be the straw that broke the camel's back. There is already a blue wave building in the coming election, and firing Mueller could just hurt Republican candidates further -- and help give Trump a Congress he could not control. It could also be the end of his presidency.
These charts are from the new Quinnipiac University Poll -- done between April 6th and 9th of a random national sample of 1,181 voters, with a 3.4 point margin of error.
The poll also asked those voters if they believed Trump when he said he did not have an affair with Stormy Daniels, and did not know about the $130,000 payment she received to keep quiet about the affair. The public does NOT believe Trump's denials!
They believe Trump did have an affair with Daniels by a 44 point margin, and that he did know about the payment to keep her quiet by a 35 point margin.