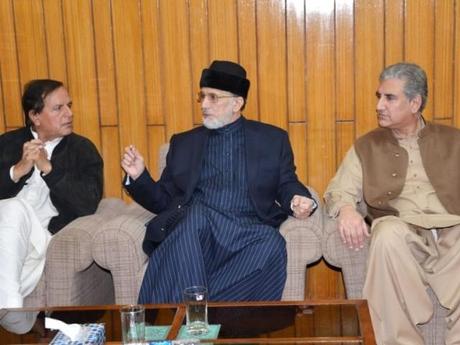 A five-member delegation Pakistan Tehreek-i-Insaf (PTI) on Wednesday met Pakistan Awami Tehreek (PAT) chief Dr Tahir-ul-Qadri in Lahore and discussed reconstitution of the Election Commission of Pakistan (ECP) and the possibility of an electoral alliance.
While addressing to joint press conference after the meeting, PTI President Makhdoom Javed Hashmi his party's stance is similar to that of Qadri, adding the decision about electoral alliance will be taken after the party meeting.
PTI leader Shah Mehmood Qureshi said the free and fair elections could not be held without the formation of neutral caretaker government. He said his party did not need crutch of establishment and it believes on change through ballot box.
Qureshi further said that both parties are agreed to oppose any unconstitutional act with full force.
Tahir-ul-Qadri said two institutions in the country – the judiciary and the army – are working in favor of democracy after a long time. He said there was agreement on several issues with PTI.
He also announced to submit a petition in the Supreme Court for the reconstitution of Election Commission.
It is worth mentioning that PTI has also discussed possibility of election alliance with Majlis Wahdatul Muslimeen (MWM) following talks in Islamabad.