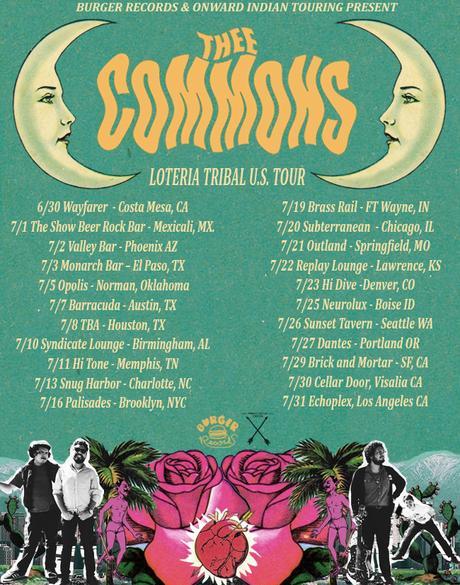 Since banding together in 2012, psychedelic cumbia-punk quartet, Thee Commons have made waves in and around their hometown of East LA. Featuring los hermanos Pacheco and one of several lively session bassists and recently added saxophonist, these romp 'n' rollers have managed not only to marry two unlikely genres—world's apart—in perfect pastiche harmony but also to spread their new vivacious, infectious sound as far south as Tijuana, México and as far east as Phoenix, Arizona. Altogether, Thee Commons have played well over a hundred shows, gaining in the process hundreds more in fans—those eager for something new to call their own.  
They have opened up for such acts as Chicano Batman, Bomba Estereo, Porter and even unofficially—by way of an impromptu guerilla-style street show—for The Pixies. 
Discographically, Thee Commons' "DIT" (do it together) hard work ethic has yielded them a debut 7-inch vinyl EP paradoxically titled Sunburn at Midnight—self-released spring 2013—and a fragmented compilation entitled Rock is Dead: Long Live Paper and Scissors, which is to say an 8-volume limited edition EP series, the volumes of which they released successively throughout 2014—and which have since sold out. (Fun fact: the first volume cover was illustrated by drummer René Pacheco, and the remaining seven were designed by frontman David Pacheco.) As of 2015, however, Rock is Dead is available, via their bandcamp, as a full-feature 20-song CD, as a specialty, limited edition cassette originally released by the independent O.C. label Burger Records, and as a limited edition 10-inch vinyl. Apart from these endeavors, they have also created musical scores to two film productions, one to underground 1920's silent film _ and the other to a children's animated video book entitled Forest Friends, a Producciones con Sal collaborative effort which can be found on YouTube.  
This April, Burger Records released their new 7-inch vinyl that included their refreshing cover of Los Saico's "Demolicion," as well as a new full-length album "Loteria Tribal" featuring a repertoire of songs which promise to further bridge the gap between a Latino and non-Latino demographic. Needless to say, the future looks auspicious for these young and determined "chunsters" who doggedly strive to perfect their hypnotic yet invigorating act -- which includes an intertextual take on Nirvana's "Love Buzz" and a grungy cover of Selena's "Baila Esta Cumbia"-- and disseminate the perfect pastiche that is psychedelic cumbia punk.
"Lotería Tribal" out now! Stream it on ITunes, Spotify, Amazon, and Google Play.  
Click to watch video on L.A. Record! 
Tour Dates
June 30 Wayfarer  in Costa Mesa CA

July 1 Mexicali, Baja, Mexico
July 2 Valley Bar - Phoenix AZ

July 3 Monarch Bar – El Paso, TX

July 5  Norman Oklahoma at Opolis

July 7 Austin TX at Barracuda

July 8 Satellite Bar in Houston

July 10 Birmingham Alabama at Syndicate Lounge

July 11 Memphis at  Hi Tone

July 13 Snug Harbor in Charlotte NC

July 16 NYC Brooklyn at Palisades

July 19 FT Wayne IN at Tiger Bar
July 20 Chicago IL at Beat Kitchen 

July 21 Outland in Springfield MO

July 22 Replay Lounge in Lawrence KS

July 23 Denver CO at Hi Dive

July 25 Boise ID at Neurolux

July 26 Seattle WA at Sunset Tavern

July 27 Dantes in Portland OR

July 30 Visalia CA at Cellar Door  
CONNECT
www.facebook.com/theecommons
www.twitter.com/TheeCommons
https://soundcloud.com/theecommons
https://www.instagram.com/theecommons/