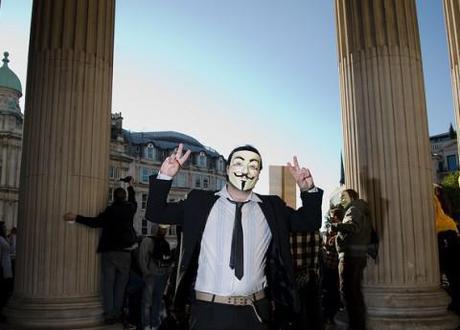 Protester in a Guy Fawkes mask. Photo credit: Nathan Meijer, http://flic.kr/p/aw4nML
Occupy Wall Street has hit the UK, with protesters inspired by the US "anti-corporate greed" movement setting up camp in London. Occupy London was originally intended to centre around the Stock Exchange, but police halted attempts to occupy Paternoster Square on Saturday. Instead, protesters have erected a camp outside St Paul's Cathedral.
Work in progress. Occupy London (OccupyLSX) issued a statement yesterday, described as a "work in progress", which called for "an end to global tax injustice" and criticised the cuts to public services.
Inevitable. Writing for The Guardian's Comment is Free, Tony Greenham argued that the only surprising aspect of the London protests was that they took so long to happen. According to Greenham, the key cause of the current global protests is the lack of any formal public inquiry into the financial crisis. Greenham wrote that the public interest is being overlooked by governments: "Financial plutocracy must give way to financial democracy – banking as if people mattered," he wrote.
Unfairness. Indeed, Jolyon Rubenstein agreed at The Huffington Post UK that the government is ignoring the needs of the public in favour of big business. "It is my opinion that the cuts the Coalition has embarked upon in the UK, with no mandate and with no forewarning in their manifestos, is simply privatisation and closure of the provision of public services by another name," he wrote. Rubenstein argued that the UK government is deliberately overlooking alternatives to the cuts, such as the Robin Hood tax.
'Wrong target'. Writing for The Telegraph, Daniel Hannan agreed with public anger over bank bailouts, but suggested that higher taxes for the wealthiest members of UK society would be a mistake: "If you impoverish, exile or otherwise disincentivise the people who pay more than half our taxes, our economy will collapse," he said. Instead of blaming financiers, Hannan argued that protesters should focus their ire on the Treasury and Bank of England.
Challenges. Writing for Liberal Conspiracy, Sunny Hundal explored the challenges faced by the Occupy London movement, arguing that unlike Occupy Wall Street, the UK protests have so far failed to unite a variety of groups with differing interests. Hundal also asked whether the movement will be able to drive enough momentum to effect political change. However, whatever the political consequences, Peters Apps argued at Reuters that global protest may be here to stay: "Some fear the world faces a systemic rise in anger, protest and political volatility that could last years or even decades."
Assange. Mike Giglio reported for The Daily Beast that Wikileaks founder Julian Assange made a guest appearance at the protest: "Assange told the protesters that they were part of a movement 'from Cairo to London'. He railed about how the law was being obstructed in Guantánamo Bay and about money laundering in the Cayman Islands and in London," wrote Giglio.
And what about Boris? Writing for The Spectator's Coffee House blog, Daniel Korski suggested the protests could prove difficult for Mayor of London Boris Johnson to navigate: "He will feel the wrath of the protesters, especially if policing of the events fail, but won't be able to do much about the facts."

More on global protest

Occupy protests come to London
OWS: Five key developments
Occupy Wall Street: Mass arrests