T
he web is flooded with blogs that manage to flourish while consistently publishing less than mediocre content.
You know what their secret is?
Stellar blog promotion.
If you know how to promote your blog, your brand, your posts, website traffic won't be an issue.
Of course, traffic conversion is a different story. That's where mediocrity won't get the worm. However, the point of this post is PROMOTION, PROMOTION, PROMOTION.
The following are the exact steps I take to promote every single one of my posts, and you should consider taking to promote YOUR blog.
Yes, I do it manually and, since I don't currently have an assistant, I do it all myself – because promoting your blog is THAT important.
Some of the steps below won't necessarily get you the immediate traffic you crave for, but they will influence your long-term brand building without you even knowing it.
Just because you can't see it, feel it, or touch it, it doesn't mean it's not worth doing, right?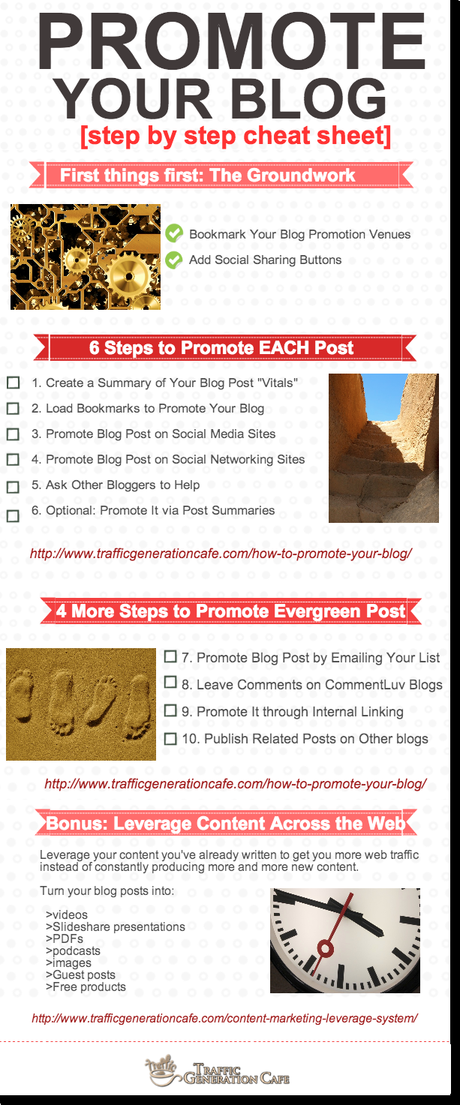 Right-click on the image to save it to your desktop to use to promote all your future (and past) blog posts.
Promote Your Blog: The Groundwork

Before we start promoting anything, we need a system to do it efficiently.
1. Bookmark Your Blog Promotion Venues
As a part of our blog promotion system, I suggest you create a folder for your future blog promotion "pit stops".
That way, you have all the steps at your fingertips.
Here's what I suggest you do:
In your browser bookmarks, create a new folder; I call mine "Blog Promotion".

Bookmark all the sites you intend to promote your blog at.
Time hack: group them to make it easier to copy and paste later – social media sites first, then social networking sites, etc.
TIme hack: bookmark specific pages where you'll be submitting your URLs to, not just the home page of a site. For instance, instead of bookmarking BizSugar.com, bookmark BizSugar.com/submit.
My list of bookmarked pages:
http://www.blogengage.com/
http://www.bizsugar.com/submit
http://www.blokube.com/
http://myseocommunity.com/submit/
http://pinterest.com/
my Google+ personal profile
my Google+ business page
my Facebook page
http://www.linkedin.com/
https://www.blogher.com/node/add/blog
http://www.tumblr.com/dashboard
my WordPress.com site
http://www.flickr.com/photos/upload/
2. Add Social Sharing Buttons
Social sharing buttons are good for business, period.
Not only do they give your visitors an opportunity to share your brilliant writing with their social media followers, but also, provide YOU with a great reminder to do the same.
Never thought of using those buttons to share your own content? Well, you should. Each time you visit a post on your blog make sure to hit that "Tweet" or "Share on Facebook" or whatever button.
Those buttons are also an easy way to promote your brand new blog post. More on that in a minute, but first, a few pointers:
1. Don't hold back.
Ever read a great post that you wanted to share on social media, but found yourself scrolling up and down looking for social sharing buttons?
Don't let it happen on your blog.
Give your readers an opportunity to promote your blog for you by placing social sharing buttons in 3-4 different places: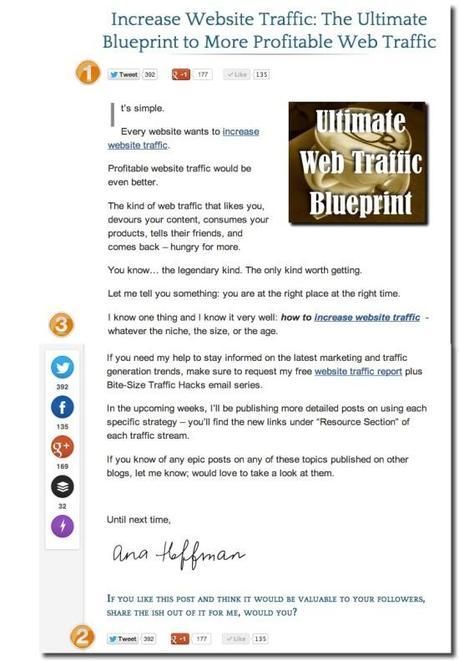 DEFINITELY at the top of a post;

DEFINITELY at the bottom of a post;
optional, but recommended – to the side of your content (preferably the kind that stays fixed even when you scroll down. I am currently using Flare at Traffic Generation Café);
optional – add an extra call to action in the middle of your post, for instance how I did it in the screenshot below (to learn how to add a Tweet button anywhere in the post see these instructions).
By the way, if you love this post thus far and think it would be a valuable read to your followers, tweet the ish out of it for me, would you?
2. DO hold back.
Yes, add social sharing buttons to several places on your blog, BUT…
Too many buttons cause confusion, slow down your site, and result in no sharing at all.
Stick with the ones that YOUR readers actually use.
For Traffic Generation Café readers, it's the major ones: Twitter, Facebook, Google+, and Buffer, which allows you to schedule posts on Twitter, Facebook, etc.
For your blog, it might be Pinterest, or StumbleUpon, or Bizsugar.
If you are not sure, the test is simple: add the buttons and see if your readers start using them. If, after a few days, the count remains at zero or other low number, it's time for that sharing button to go.
Here's a good post if in doubt:

Too Many Social Media Sharing Buttons Make Your Site Less Social -
Doug Antkowiak at searchenginejournal.com
3. Make sure you mind the length and add your Twitter @username.
In other words, avoid this: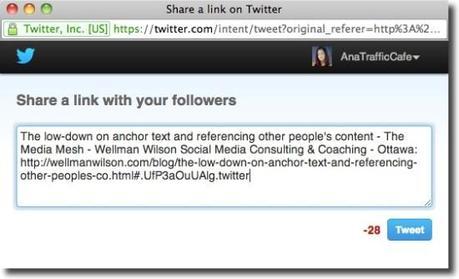 When I want to tweet another person's post and see this after clicking on their "Tweet" button, my only choice is to leave.
The text is too long – adding a lot of branding info after the post title doesn't do anyone any good;
There's no @TwitterID – fewer people will share the post if they have to dig it out on their own and even if they do share the post as is, the engagement on the post will be a lot lower.
Test all the tweet/share buttons on your blog to make sure the output is what you want your readers to see.
3. Set Up a Bit.ly (or any other URL shortening ) Account
Bit.ly is a free URL shortening service that turns your long URLs into something a lot more manageable:
http://meetana.staging.wpengine.com/how-to-promote-your-blog/  VS  http://bit.ly/LIng8ye
The advantages of using a shortened URL when sharing your post on social media:
Maximize Twitter characters (you don't want your URL to eat up most of your tweet);
Make it more memorable.
Expanding on the last point: Bit.ly allows you to customize the last portion of your shortened URL to reflect what the link is about. For instance:
http://bit.ly/LIng8ye   VS http://bit.ly/promote-your-blog
In my case, I went a step farther a created a customized shortened domain for Traffic Generation Café (too long to explain in this post; will write a post about it), so my shortened URL for this post is http://tgcafe.it/promote-blog/.

That's the URL I'll be sharing on most social media platforms.
Now that you've done your groundwork, it's time to move on to blog promotion. You can read through the post, as well as follow this video as you set up your own blog promotion system:
By the way, I used my new blog design to record this video, which at the moment hasn't been migrated to Traffic Generation Café. Feel free to let me know in the comments what you think about it!
Thumbs up to my talented designer Ian Belanger.
6 Steps to Promote Your Blog: Use for ANY Post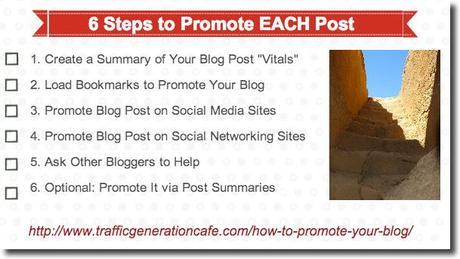 You hit the "Publish" button. Your post is live.
Here are the precise action steps you should take to promote your blog post:
Step 1. Create a Summary of Your Blog Post "Vitals"
Before you can efficiently promote your new blog post, you need to gather the following information about it:
Post URL.

Post title.
Short description – the kind that would make someone want to click on it.
Bloggers who you linked out to/mentioned in your post (and you should link out in EVERY post you write!).
Tags (keywords that describe your post).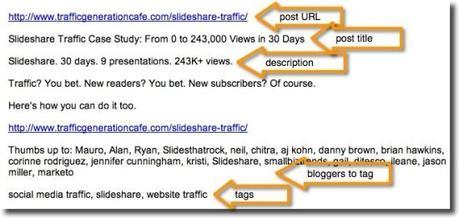 Time hack: You'll need all/most/some of these "post vitals" for almost every website you promote your blog at, so it makes it much easier to copy/paste when you have it handy in one place.
You can use:
Evernote;

Google Drive;
Word;
Text;
just about any note-taking platform you prefer.
I keep a running text document that I add all my new blog post info to – that way I can go back and easily share my older posts as well.
Step 2. Load Bookmarks to Promote Your Blog
I like to open a new window and then open all my "Blog Promotion" bookmarks at the same that.
This way, copying/pasting the required info is a breeze.
Step 3. Promote Blog Post on Social Media Sites
Every social network is different, but the basics are the same: give value (boring, but true) and tell your followers about your new post more than once.
To make the process more efficient, I try to schedule at least 3 updates per post on each social network.
Considering the time constraints, I focus on the "biggies":
Twitter

Facebook
Google+
Pinterest
LinkedIn
Most of my social media referral traffic comes from the first three social media platforms, but I still share my posts on LinkedIn and Pinterest because it's easy and you never know – social signals are an SEO factor.
Also, always remember to tag anyone who was mentioned in the post, whichever network you are promoting the post at. The mentioned bloggers can't promote your blog post if they don't know about it!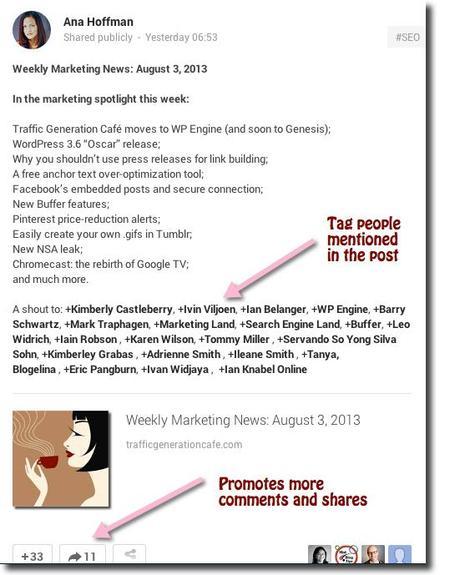 Here's are a few specifics for each social media platform:
Twitter
I schedule 3 tweets about the post – one each day.
If you have multiple Twitter accounts like I do, make sure you RT the post to all.
Facebook
Don't just publish a link to your post.
It won't help your Facebook EdgeRank, few of your fans will see the update, and even fewer will care.
Schedule at least 3 updates focusing on different aspects of the post.
Ask a question; link to the post with an answer.
Upload an image from the post.
Upload a video from the post.
Post a comment with food for thought.
Give your fans a challenge.
For instance, this is what I'd do for my Marketing Skinny posts: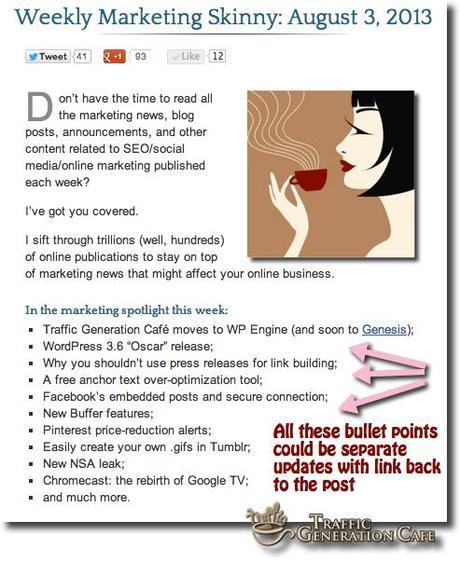 Google+
Assuming that you have both personal profile and a business page (and you should), post the update on one of them (I usually do it on my business page); then find that update on your personal profile and share it there.
Just like this: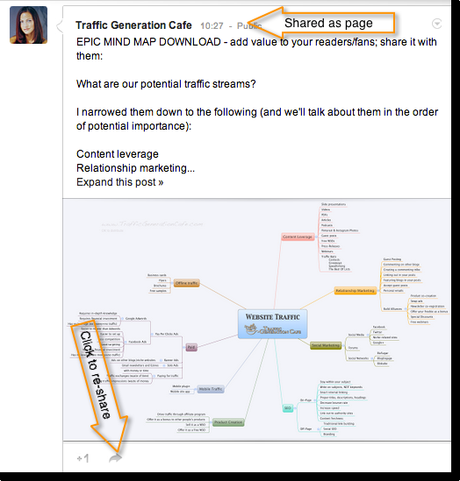 Result: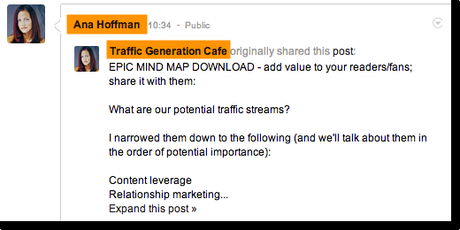 This way you cross-promote your personal profile and business page, PLUS your post gets shared twice.
I also share separate aspects of a post via different updates like I explained in the Facebook section above.
Pinterest
Pin all the images from the post.
Chances are you've got more than one Pinterest board.
So here's what you do:
Pin the image to the most relevant board.

After the image is pinned, repin it to any other relevant boards.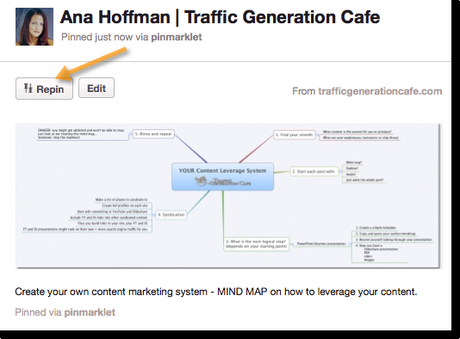 Images are not the only thing you can share on Pinterest; remember to share your videos there as well.
Quick Tip: when pinning a YouTube video, the pin will be automatically linked to the video url on YouTube.
For added visibility/promotion/link building, make sure to add your post url in the pin description.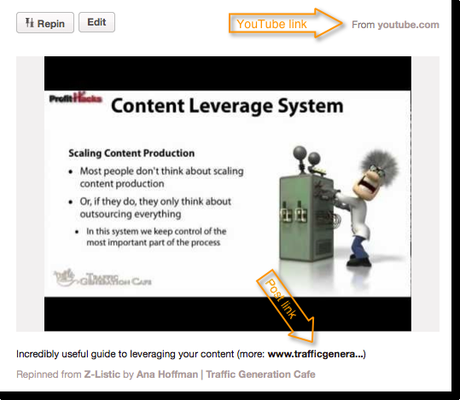 The same goes for Slideshare presentations.
Additional image ideas:
create a new image with your post title embedded;
By the way, when I say "create", I am talking about a simple "copy and paste" job in PowerPoint – nothing intimidating.
create images of some of the post comments, pin them.
An easy tool for that: ShareAsImage.com (formerly PinAQuote). Their free version works just fine; the Pro version is only $6.99. All you do is drag their bookmarklet into your bookmark bar, highlight anything you want to turn into an image, and click on the bookmarklet.
Here's a quick tutorial on how to create images with ShareAsImage, as well as some ideas on how to use it to get more traffic back to your blog:
Step 4. Promote Blog Post on Social Networking Sites
I like to call this step "social bookmarking".
Even though I don't usually get much traffic from it, I still believe it's good for overall visibility and brand recognition.
The four sites that I use to promote Traffic Generation Café are:
BlogEngage.com;

BizSugar.com;
Blokube.com;
MySEOCommunity.
Step 5. Ask Other Bloggers to Help
Chances are you pretty regularly mention other bloggers in your posts.
If you don't, you most definitely should – great for relationship marketing.
Many bloggers I know make the mistakes of relying on WordPress pingbacks to let those bloggers know that they linked out to them.
Don't. Let them know personally.

Email them. Send them a tweet. Post the link on their FB page.
Once they know you mentioned them in your post, they are very likely to share the post with their followers, come by and comment, and might even return the favor in the future.
Time hack: It really helps to know which social media networks the bloggers you mention prefer.
It's much more beneficial and public to send a tweet or post the link to their FB page – you gain even more exposure that way.
However, if they don't like Twitter or barely ever check their Facebook timeline, then your effort will be down the drain.
Step 6. Optional: Promote Your Blog via Post Summaries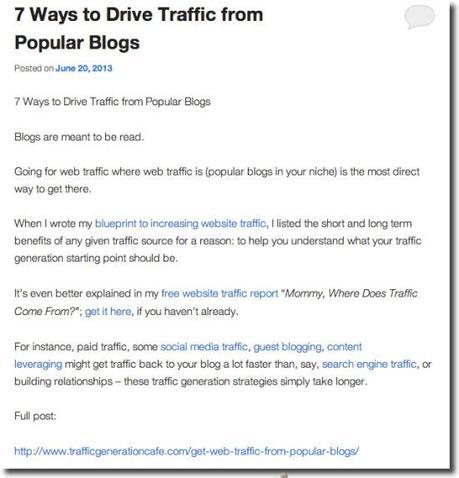 First of all, what do I mean by "Post Summaries"?
Basically, your post summary is everything you put together in your "post vitals" combined and published on third-party websites.
Will these post summaries bring you traffic?
To be honest, even if they do, it'll probably be negligible.
Are they good for SEO?
It used to be that any link building was good link building. Not any longer, as you may be well aware of.
These post summaries do create links; often they even allow you to create anchor-text focused links, which you should be doing very sparingly by the way.
However, they are low-quality links that are not hard to get, so Google might not even pay much attention to them.
So why publish these post summaries?
I publish them for the following reasons:
It's easy to do since you are using the information you are copying/pasting to several other sites as it is.

It might bring some traffic.
It might be good for SEO (but then again, it might be not so great – Google is making it nearly impossible for us to know either way).
It's good to establish diversity of profiles and content, mostly to appear to "be everywhere".
What websites do I publish these post summaries to?
I publish them to:
Tumblr (see my Increase Website Traffic Tumblr blog);

BlogHer.com (see my BlogHer profile to get an idea of what I publish there);
my WordPress.com site.
In a way, this is similar to curating content; you are just not curating it on your own site.
4 Steps to Promote Your Blog: for Evergreen Posts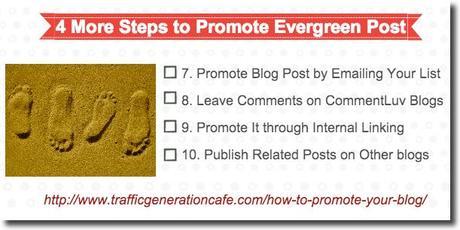 Once again, follow the steps above to promote ALL blog posts you publish.
Make it a habit. Come up with a system to help you do it more efficiently.
It shouldn't take more than 15-20 minutes to spread the news.
Is my strategy to promote my blog posts any different for my pillar content (like evergreen posts, link baits, or posts that have great potential for search engine traffic)?
You bet.
That's when I go a few steps further to ensure I do everything I can for the post to go viral or rank well on Google.
Step 7. Promote Your Blog Post by Emailing Your List
I don't usually email my list every time I publish a blog post. Far from it.
If anyone wants to make sure they read every single one of my posts, they should subscribe via Traffic Generation Café RSS feed.
My email communications are generally reserved for more important stuff, like sending my free Bite-Size Traffic Hacks email series.
Unless I feel that any particular post deserves my email subscribers attention that is and my pillar evergreen content is one such exception.
When emailing your list about your blog posts, you ensure one or more of these things happen:
you'll get traffic to your blog post;

you'll get more social media shares (especially when you add sharing buttons directly to your email for those subscribers who don't have the time to check the post at the moment, but don't mind sharing it for you if you make it convenient enough);
it'll get mentioned in your subscribers' blog posts = you get more links and exposure;
a certain number of your email subscribers will unsubsribe or send your emails straight to spam, no matter how much value you provide. lol
Step 8. Leave 5 Comments on CommentLuv Blogs
I love CommentLuv for many reasons.
It's a great tool to build engagement on your own blog, keep tabs on the great content on other blogs, as well as bring traffic back to your site when commenting on other CL-enabled blogs.
So whenever I publish a post I want to spread a word about, I pick 5 or so blogs from my CommentLuv enabled list, and leave an insightful comment on their latest post, linking back to my newly published post with CommentLuv.
Why 5 you ask? No reason really. However many you want to choose, just pick the number and stick with it.
There are three great reasons to comment on CL blogs:
For branding – be everywhere.

For link building – yes, commenting still has SEO benefits.
For traffic – it won't bring in loads of traffic, but it'll bring in some, depending on how catchy your post title is.
If you have CommentLuv Premium on your blog, you should be able to see exactly how much traffic your CommenLuv links are bringing it; just go under CommentLuv settings and click on the "Stats" tab all the way at the top.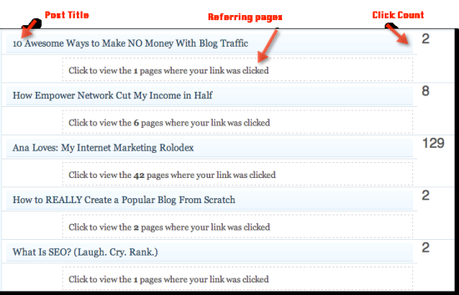 If you have CommentLuv Premium, but don't really know how to make the best of it, here are a couple of suggestions:
CommentLuv Premium Settings: How to Get Your Readers to Fall in Luv with You
How to Milk CommentLuv for All It's Worth (how to use CL for link building)
If you don't have CL Premium, but would like to look into it, here's my CommentLuv Premium review.
Step 9. Promote Blog Post through Internal Linking
Most bloggers never think about doing this, yet it's the single simplest way to bring readers to your new posts, as well as get some love from the search engines.
And the best part is that fact that you are in complete control of this technique.
Internal linking.
Linking from your blog post to… your blog posts.
Like you see me do as you read through this post.
I include the links to other posts that compliment what we are talking about here, you click on the links, and bingo! – those posts get more traffic.
But why not do it in reverse?
Why not go back to some of your most popular posts and add links to your newer content?
The best candidates for internal linking makeover:
If you have a "Most Popular Posts" widget in your sidebar, refresh those posts every once so often.
As a matter of fact, make sure you rotate those posts, preferably each time you publish a new one.
Like this: Traffic Boosting "Duh" Idea to Keep Your Readers Reading
Posts that currently rank highly on Google.
Posts with high PageRank.
This one won't help you much with traffic, but it might give your SEO a boost.
Quick internal linking tip: Always make sure to ping the newly updated posts to let search engine bots know your content was updated.
Simply go to Pingfarm.com or any other free pinging service, enter your URL, and click "ping".
Learn more about pinging: Has Google Pinged You as a Spammer?
Step 10. Publish Related Posts on Other blogs
Next: I write posts based on my evergreen post – the are shorter, more concise, and each addresses a specific point I discuss in the original posts; sort of like articles, if you will, just a lot more useful.
There are several places I submit these related posts to, for instance:
BlogHer.com,
Business2Community.com,
EvanCarmichael.com.
IF you write them well enough (remember you are putting your name to these posts; they'd better be good!), they can be published as guest posts as well.
This blog promotion strategy is a part of my content leveraging system I try to follow for all my evergreen posts.
Bonus Step: Leverage Your Blog Post Across the Web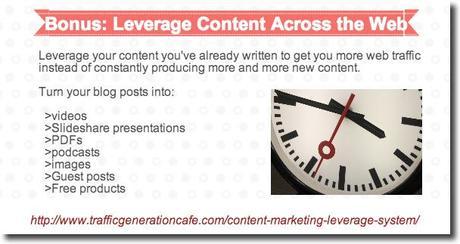 My content leverage system deserves a special point here.
It's actually not mine at all; it's used by all top marketers in some shape or form.
The idea behind it is leveraging the content you've already written to get you more web traffic instead of constantly producing more and more new content.
I've been using the system successfully for about 6 months now and have seen a lot of incredible results. Just take a look at this post:
Slideshare Traffic Case Study: From 0 to 243,000 Views in 30 Days
Yes, it takes time. But constantly creating more content takes more time, plus doesn't produce nearly as good results as leveraging tremendous amounts of traffic third-party sites like YouTube, Slideshare, Google+, etc can bring you.
Learn more about better leveraging your existing content here:
Content Marketing Leverage System: How to Multiply Your Reach
How to Promote Your Blog Marketing Takeaway
Blog promotion never ends – whether your blog is brand new or well-established like Traffic Generation Café.
You might as well get really good at it NOW instead of blogging for a year without any readers to speak of wondering what you are doing wrong.
One for the road: a great resource on how to promote your blog by Kristi Hines of Kikolani.com. It's the secret source that most of us, bloggers who appear to know how to promote the ish out of our blogs, learned a lot from.
Get your own copy here:
Blog Post Promotion: The Ultimate Guide
Have fun promoting your next blog post,

Please share on Google NOW