Our Project of the Week is Costa Rica Primates, Big Cats and Turtle Conservation so we thought we'd take a look at this beautiful country and bring you all the best things to do, see and eat.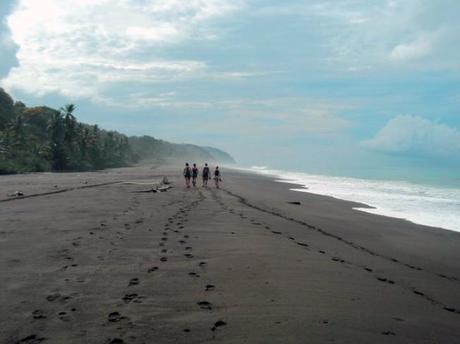 Visiting Costa Rica
Costa Rica may be small but it's got every different type of weather going, from the cool and misty cloud forests to the sweltering Pacific and Caribbean coasts. The slow pace of life and chilled out vibe of the locals makes Costa Rica the perfect place for travellers. Did you know that Costa Rica is the happiest nation in the world according to the Happy Planet Index?
Costa Rica has a unique landscape allowing visitors to explore everything from an active volcano, beautiful secluded beaches and cloud forested uplands. For those of you looking for a bit of adventure on your travels Costa Rica has a plethora of activities on offer including surfing, snorkelling, hiking and white water rafting.
With the highest number of species per 10,000km2 of any country in the world Costa Rica is a top destination for nature lovers with Howler monkeys, toucans and jaguars amongst many others on offer.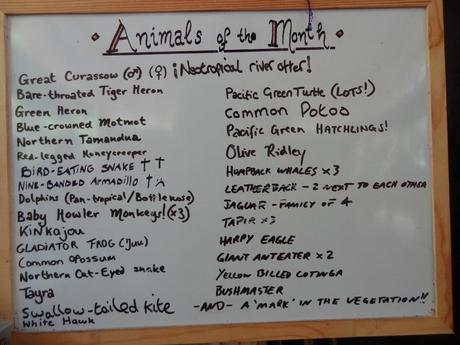 The Project
Frontier's volunteers are carrying out groundbreaking survey work to safeguard Costa Rica's fragile and precious wildlife and exceptional habitats for future generations. Our volunteers carry out crucial surveys which are used to determine how climate change is affecting threatened habitats and endangered species including jaguars, sloths, howler monkeys, Olive Ridley turtles and harpy eagles to name but a few. By exploring these remote regions volunteers will help to combat the effects of global warming and help to preserve Costa Rica's biodiversity.
Volunteers get to stay on Frontier's wilderness camp set up in the tropical forests on the shores of the Pacific Ocean next to paradise beaches and pristine turtle nesting sites. Whilst out on the project volunteers will take part in sea turtle monitoring, primate and other mammal surveys, big cat tracks and scats tasks, forest amphibian and bird surveys and canopy insect collection.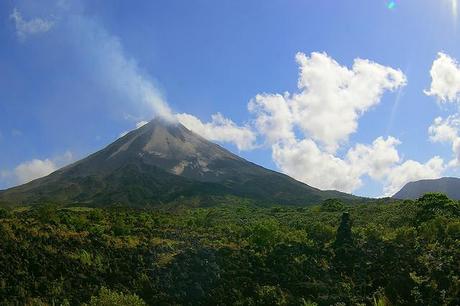 Photo courtesy of AlphaTangoBravo
Top Places to Visit
Monte Verde/Santa Elena:
Be sure to stop off at Monteverde and Santa Elena where you can straddle the continental divide whilst enjoying the vibrant culture of these neighbouring towns. Perched on the edge of the cloud forests these towns are the birthplace of the ecotourism movement and staying here allows you to go trekking at high altitudes and a chance to see the rare resplendent quetzals.
Volcán Arenal:
Well worth a visit is Volcán Arenal – an active volcano which can be heard rumbling whilst at night constant eruptions of hot lava and tumbling avalanches of flaming rock can be seen.
Witch's Rock:
Witch's Rock on the Pacific coast – one of Costa Rica's most famous surfing destinations and is somewhat of a surf mecca. This remote world-class break can only be accessed by boat from the Parque Nacional Santa Rosa and will seriously test your mettle. If you want an even bigger challenge head over to Costa Rica's Caribbean coast to Salsa Brava a fierce reef break where even the most experienced surfers have to put their skills on show if they want to survive the waves with their boards and bones in one piece.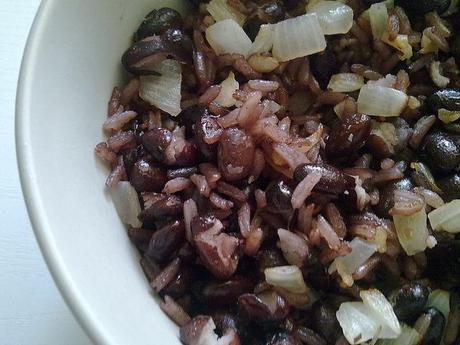 Photo courtesy of La.blasco
Recipe: Gallo Pinto
Costa Rica's cuisine is known for being flavourful, yet mild, with rice, black beans and fresh fruit and vegetables forming the basis of many of the dishes. Gallo Pinto is a traditional Costa Rican dish made with rice and beans and is eaten with almost every meal including the next day for breakfast over a cup of coffee. In Spanish Gallo Pinto literally translates as "spotted rooster" which is said to originate from the multi-coloured speckled appearance of the dish. To cook your own Gallo Pinto simply:
- 1 lb (450g) Black beans (Preferably fresh, but dried are fine)
- 8-10 sprigs coriander
- 1 onion
- ½ small red/yellow pepper
- 3 cups (700 ml) chicken broth or water
- 2 cups (350 ml) white rice
- ½ teaspoon (2.5 ml) salt
- 1 tablespoon (15 ml) vegetable oil
- 1-3 tablespoon oil to fry the Gallo Pinto
If beans are dried, cover with water and soak overnight, if they are fresh, just rinse them off. Drain the beans and add fresh water to an inch (2.5-cm) above the top of the beans, salt, and bring to a boil. Cover the pan and reduce heat to very low simmer until beans are soft (~3 hours).
Chop coriander, onion, and sweet pepper finely.
Add 1 tablespoon of oil to a large pan and sauté the dry rice for 2 minutes over medium high flame then add half of the chopped onion, sweet pepper and cilantro and sauté another 2 minutes. Add water or chicken broth, bring to a boil, cover and reduce heat to simmer until rice is tender (20-35 minutes). This is also the recipe for Tico rice used in other favourites like tamales.
Once the rice and beans are cooked you can refrigerate or freeze them. Keep a significant amount of the "black water" with the beans. This is what gives the rice its color and some of its flavor. Sauté the rice, beans reserved chopped onion, sweet pepper and coriander together in vegetable oil for a few minutes. Sprinkle with a little freshly chopped coriander just before serving.
Please visit the Frontier website for more information on this and all of our other great opportunities to volunteer abroad.
By Hannah Jones