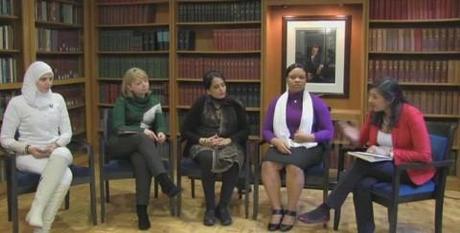 Women are essential to peaceful, democratic development of their societies. As the UN Women Executive Director Phumzile Mlambo-Ngcuka noted in a recent speech on the role of Syrian women in the peace process, "By including the perspectives of half the population, the path is paved for a society built on the principles of inclusion and justice." In recent years, that fact has become more widely recognized, with many new local and international institutions and initiatives aimed at helping women achieve their full potential and participate on equal footing in the political, economic, and civic lives of their countries.
I was happy to see that Georgetown University, my alma mater, took active leadership in elevating the discussion and research on the importance of women for a more stable, peaceful and just world through the creation of the Institute for Women, Peace and Security (GIWPS). The establishment of the Institute was announced by Georgetown's President John J. DeGioia and then-U.S. Secretary of State Hillary Clinton at Georgetown on December 19, 2011 when the Secretary unveiled the United States' National Action Plan on Women, Peace and Security.
Carol Lancaster, Dean of the Edmund A. Walsh School of Foreign Service (SFS) where the Institute is housed, emphasized the importance of this initiative. "There are a number of outstanding nongovernmental organizations focusing on the role of women, but there is limited research done in universities on women, conflict, political transitions and humanitarian emergencies," she said. The Institute has since conducted a number of innovative programs, including Profiles in Peace: Oral Histories Project meant to collect unique, first-hand interviews from women and men who are leaders in advancing peace, security, and post-conflict reconstruction around the world.
One of the interviews recorded so far features Selima Ahmad, a long-time CIPE partner and the winner of the 2013 Jeane J. Kirkpatrick Award established by the International Republican Institute's Women's Democracy Network. Selima is a successful entrepreneur and founder of the Bangladesh Women Chamber of Commerce, the first chamber of commerce in the country exclusively working on women's economic and social empowerment.
Asked what peace and security means for women in her community and what broader implications it has, Ahmad said, "Without democracy and the rule of law freedom of mind and expression is not there, equal opportunity for all and human rights are not there. Also, corruption is the major reason for the greed of politicians and for diverting  the benefits of democracy and not establishing the rule of law in a country. If we can reduce corruption (…) that can bring democracy and rule of law which will ultimately lead to development of the country and that means peace and security for every individual in that country."
This 3-part interview is available on GIWPS website (part 1, part 2, part 3) and also features other women leaders from different countries: Maria Aleksejenko, Director of the Women's Consortium of Ukraine; Razan Shalab Al-Sham, Antakya Office Manager in the Syrian Emergency Task Force; and Sally Dura, National Coordinator for the Assembly of Women, Movement for Democratic Change party in Zimbabwe.
Anna Nadgordkiewicz is Director of Multiregional Programs at CIPE.