'Yesterday is not ours to recover, but tomorrow is ours to win or lose'Lyndon B. Johnson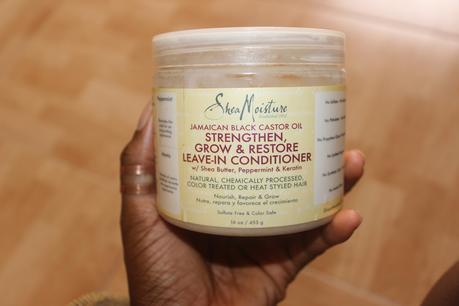 Hey guys,How's it going? Hope better than at my end – besides work, all I did today was sit pretty while having major cravings for things I shouldn't even be eating…and this is the same person who was supposedly going to start eating healthy and clean. The battle is indeed real.
For those who love me and want to know what's been happening, here's something – the kinky extensions finally came off last weekend *insert evil giggle*, I know some people were expecting a profound declaration…not today folks. So the hair came down after 8weeks precisely and not a day extra, and if I'm being completely sincere I really do miss it. The struggle of having to tame your natural locs right before dashing out the door to work isn't quite glamorous – don't let anyone deceive you.
I literally have to wake up 15minutes earlier than I usually do just so I have enough time to put my hair up in my signature puff with slick edges which I hate by the way. I've never liked slick edges with edge control because I feel they do my edges more harm than good but nonetheless I still have to use them just so there are no complaints about my natural hair at work and the whole work-appropriate look isn't compromised. I don't enjoy it, but I have to live with that, so yes I really do miss those extensions – they more or less epitomized self-expression.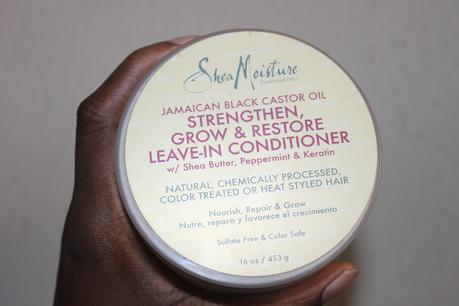 It's been way too much rambling for one post so back to today's business. Product on display for today is the

Shea Moisture Jamaican Black Castor Oil Strengthen, Grow & Restore Leave-In Conditioner

…I know,I know, the name is a mouthful but come on,who doesn't love Shea Moisture? Thank God that most famous natural hair brands are readily available in Nigeria and are also available on most online-retail platforms that sport hair care products or other cosmetics. You could purchase this in stores and on online platforms like Olori or The Beauty Boon from between N3700 to N4500, prices are different on so many different sites and in stores. I've been using it now for over a month and this might very well be a holy grail of products.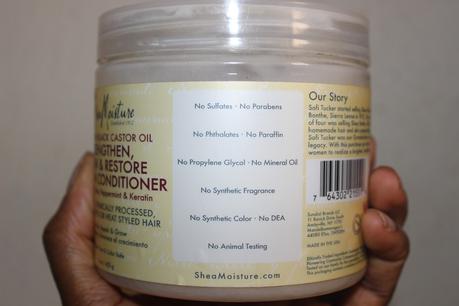 PackagingIt comes in a 16oz (453g) regular rounded tub and has the basic Shea Moisture look/packaging without the muted orange tones but rather a cream/green color combo.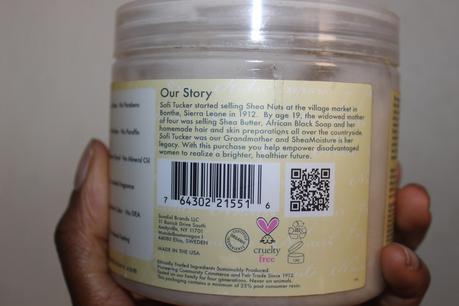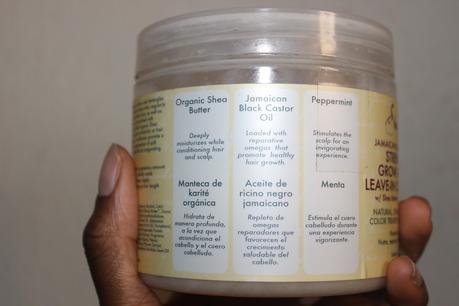 IngredientsWater (Aqua), Ricinus Communis (Castor) Seed Oil, Stearyl Alcohol, Cetyl Alcohol, Behentrimonium Chloride, Butyrospermum Parkii (Shea) Butter*, Cocos Nucifera (Coconut) Oil, Panthenol, Dicaprylyl Ether, Hydroxyethylcellulose, Glycerin (Vegetable), Simmondsia Chinensis (Jojoba) Seed Oil, Adansonia Digitata Seed Oil, Hydrolyzed Keratin, Mauritia Flexuosa Fruit Oil, Tocopherol, Aloe Barbadensis Leaf Juice*, Yeast Extract, Hydrolyzed Vegetable Protein PG-Propyl Silanetriol, Mentha Piperita (Peppermint) Leaf Extract, Fragrance (Essential Oil Blend), Hydrolyzed Rice Protein, Butylene Glycol, Niacin, Dextran, Acetyl Tetrapeptide-3, Trifolium Pratense (Clover) Flower Extract, Vinegar, Caprylhydroxamic Acid, Caprylyl Glycol, Macadamia Ternifolia Seed Oil.*Certified Organic Ingredient.
Organic Shea Butter - Deeply moisturizes while conditioning hair and scalp.Jamaican Black Castor Oil - Loaded with reparative omegas that promote healthy hair growth. Peppermint -Stimulates the scalp for an invigorating experience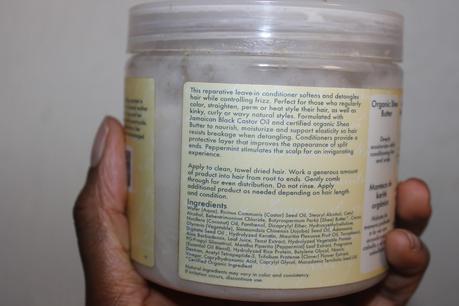 ClaimsThis reparative leave-in conditioner softens and detangles hair while controlling frizz. Perfect for those who regularly color, straighten, perm or heat style their hair, as well as kinky, curly or wavy natural styles. Formulated with Jamaican Black Castor Oil and certified organic Shea Butter to nourish, moisturize and support elasticity so hair resists breakage when detangling. Conditioners provide a protective layer that improves the appearance of split ends. Peppermint stimulates the scalp for an invigorating experience. Natural, chemically processed, color treated or heat styled hair. Nourish, repair & grow. Sulfate free & color safe. No sulfates. No parabens. No phthalates. No paraffin. No propylene glycol. No mineral oil. No synthetic fragrance. No synthetic color. No DEA. No animal testing.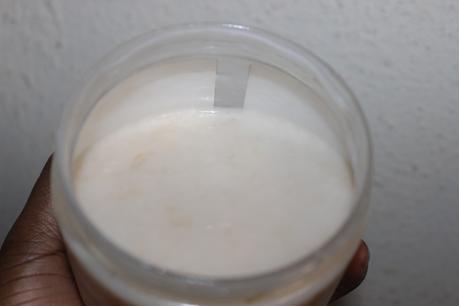 ApplicationOn the tubApply to clean, towel-dried hair. Work a generous amount of product into hair from root to ends. Gently comb through for even distribution. Do not rinse. Apply additional product as needed depending on hair length and condition.
My routineThis usually depends on what hair style I'm sporting. When I had those kinky extensions still on, I usually mixed a little quantity of this with coconut oil and a little quantity of water in my spray bottle. I sprayed that between the braids on my head and massaged my scalp afterwards with castor oil or whipped shea butter though this is usually subject to how much time I have to spare for all that TLC. When I have my natural hair free and wild and usually on most mornings when my hair is in major need of a pick-me-up, I apply this the regular way using the LOC method.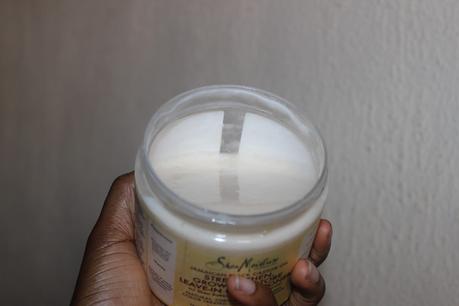 ResultsO

verall I really do like this product. It has a light watery consistency which I'm partial to and I also happen to like the scent though strangely I haven't quite identified what the lingering undertones are lol. I can say that it is quite moisturizing even though it is light and it really does have some slip which is a plus if there is need to detangle. However I feel this might work for me because my hair isn't really thick (though I pray earnestly for thick lush curls *wails*) so for someone who has major thick hair, this product might not do much for your hair because the hair might absorb it way too quickly. I see this becoming a staple for me so I better start setting aside some cash.

All in all, I'll give this an 8.5 out of a 10, I'm really glad the Shea Moisture brand rarely disappoints.

  

There you have it, my take on this yummy leave-in conditioner. Lately, I'm not so happy with my hair, I don't feel like there has been any significant growth in the past year. Is it just my genes that are making me destined for short hair? That would be weird cos my mom has long relaxed hair and I used to have long relaxed hair as well except it was thin. Anyways, I'm open to new ideas that could make my desired length and volume a reality so kindly help a sister out with ideas in the comment section below. And don't forget to subscribe to the blog for updates.
So until my next post,
I remain yours always.
Love,
Ify*