Neutrogena is making it greener!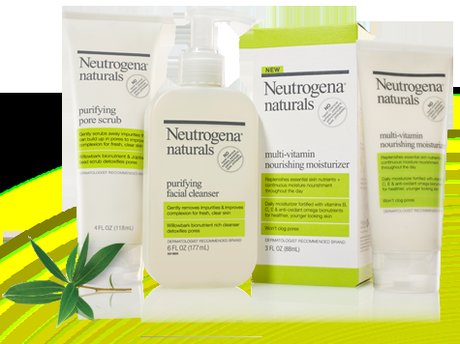 Neutrogena Naturals is a skin care line which - according to the company, promotes "pure, natural skincare. Real results." 
When I saw this product I became really excited. It was as though retailers/importers had finally heard my cries for more natural-based products, free of the suspect ingredients which are said to cause skin and possible other health issues. This line of products is FREE of:
harsh chemical sulfates, parabens, petrochemicals, dyes and phatalates
When buying facial care products, I tend to buy scrubs so that it was very easy for me to choose the Netrogena Naturals Purifying Pore Scrub. This is what the company has to say:
[It] gently scrubs away impurities and dull, dead skin cells that can build up in pores to improve complexion for fresh, clear skin. Suitable for even acne prone skin. Gentle enough for daily use. Won't clog pores.
Ingredients: 
WaterPurified Water
GlycerinVegetable
Cocamidopropyl BetaineCoconut Derived
Hydrogenated Castor OilCastor Oil
Cocamidopropyl HydroxysultaineCoconut/Palm Kernel Derived
Xanthan GumFermented Plant Matter
Salix Alba (Willow) Bark ExtractWhite Willow Bark
Guar Hydroxypropyltrimonium ChlorideGuar Bean Derived
Hydrogenated Jojoba OilJojoba Oil
Glycol DistearateVegetable Derived
Sodium Benzoate
Fragrance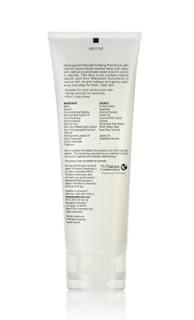 Cost: $15 (Supercentre supermarkets)
Observations: This scrub has a delightful smell, it is not overpowering nor does it linger too long. I also like the grainy texture. Once you apply to your face (I actually also apply to  my neck area) and begin to work into the skin, it feels as though the these little grains are literally wiping your pores and skin clean. 
You don't need very much either. A squeeze or two is sufficient to spread onto my face and neck. It's not a foam so don't expect to see any suds or the like. 
Now given the ingredients, this product seems to perform to two functions: a) a moisturizer and b) an exfoliant. Vegetable glycerin, jojoba oil and castor oil provide good sources of moisture. Each one also has anti-fungal and anti-inflammatory properties; and, are safe to be used by persons suffering with acne. It's not quite a month, but I have no resurgence of pimples. But, I will add that this might also be supported by my increased water intake and little changes in diet. All these things work hand in hand.
The exfoliation agent comes in the form of white Willow bark. It is used in the personal care and cosmetics products for its astringent, conditioning and soothing properties. It is a natural source of salicylic acid, known for removing old and dead skin cells. So as this natural exfoliant works, gradually we are left with more radiant and softer skin. 
My face is benefiting from this. I use this product twice a day and during my time at work or outdoors, my skin has not become taught. My skin also is much smoother than it has been for sometime (with the exception being my two weeks having used the oil cleansing method with castor oil).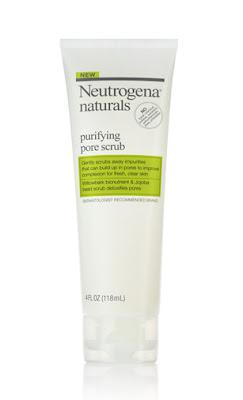 Some sources point to Sodium Benzoate (a fragrance ingredient and preservative) as possibly compromising our health. However, others have reported that the American Food and Drug Association has listed Sodium Benzoate as generally safe. 
Decision: A keeper!
Final words: 

I give Neutrogena high points for redefining their mission by including a line of largely naturally-based products. Now if that did not seem enough, they have also made it their business to make their operations even greener. The actual Neutrogena Naturals site server is powered by SOLAR AND WIND ENERGY! The link below has interesting stats and facts to show how the company's initiative will serve the planet in the long run.




I take my hat off to you, Neutrogena and Neutrogena Naturals!




For more information click the link below:




NEUTROGENA NATURALS GREEN SERVER




Have you tried the Neutrogena Naturals line? Which product and what has been your experience like?




What do you think of Neutrogena's green initiative?

Would you consider trying any of the products from this line especially now that you know about the company's green mission? Do efforts like these endear a company to you?