Regular readers may recall that last year I went to the launch of the Honda Cordless Garde n range. It was a great day and I got to try various different Honda mowers, and hedgetrimmers and strimmers. I was therefore delighted when I received an email asking me if I would like to have the loan of some equipment to trial and review. I quickly said yes. I have to be transparent and say that I have not paid for these items. I have not be paid to write this review and my words and opinions are, as ever, my own.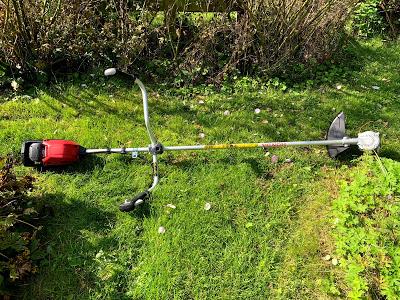 The first item I chose to review was the HHT Cordless Brushcutter. This is a fabulous piece of kit. The same battery fits the brushcutter and the mower which is always a good thing as it means that you do not need to buy lots of different batteries. The battery and charger are sold separately so you must remember to buy at least one.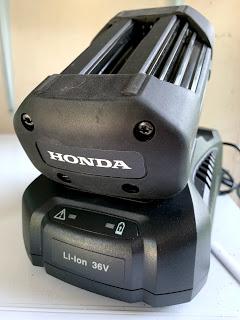 Honda sent me the 6HA battery with the equipment. The batteries come in three sizes: 4, 6 and 9 HA. The 6 HA battery takes around an hour to charge/recharge and runs for around the same amount of time depending on what you are doing. If it takes more effort to cut rough/longer grass then it will run down faster. The batteries are 'thermosmart' which means that the heat is dissipated through the battery and so it does not run hot and run down faster.
I quickly put the brushcutter together. The brushcutter has a good centre of balance so it soon becomes easy to use as you get used to how it and you should move. It comes with a harness which also made me feel like I had good control of the brushcutter. I can get a little strim-happy and cut through things I do not mean to if I am not careful; so I liked that it feels robust.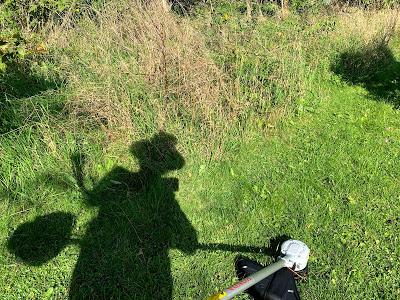 I decided to use the brushcutter to undertake the annual cut-back of the Wild Garden. I start cutting it usually in late August early September and I waited for this brushcutter to arrive so that I could use it for this. The brushcutter has a strimmer head and a three tooth blade.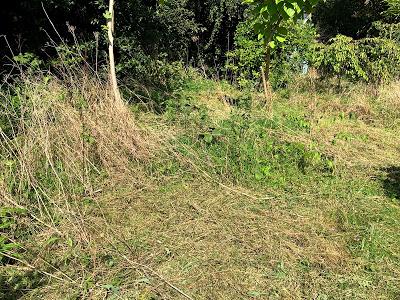 The Wild Garden tends to be a mix of long grass, thistles, nettles and ragwort with other self-sown plants making themselves at home. The strimmer head cut through most of this with ease. The nettles are quite fibrous and I found the cutter blade finished them off with no effort at all. It is quite a big job to cut back the Wild Garden and I soon found myself (literally) in the swing of things with this brushcutter. I did the whole area in one charge and it probably took me about thirty minutes to complete this.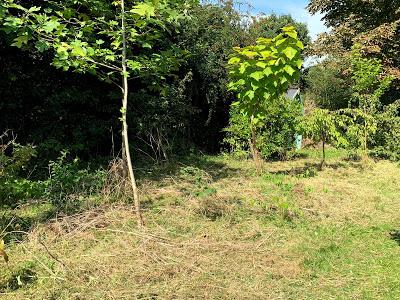 Once strimming the Wild Garden was finished it was time for the next part of the task: the mow of the full back lawn which I only do a couple of times of year. It usually takes me a good hour or two to do the full lawn. This is not just because of size but it is also a bit fiddly to do in places. If it was just a rectangle with no bits to mow around it would take less time. This did mean I had to recharge the battery when I was about 2/3 of the way through mowing. If I was buying for myself I would probably buy 2 x 6ha batteries. I know I could buy the larger 9 ha battery which would probably do it all in one go, but I find two batteries gives me more flexibility.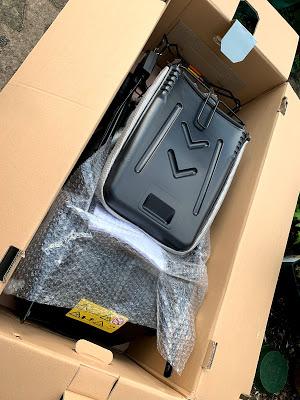 The izy-ON HRG 466 XB comes nicely packed in its box. It took only a moment to click the handle into position. It actually took longer to fit the grass-basket together than it did to get the rest of the mower ready to be used.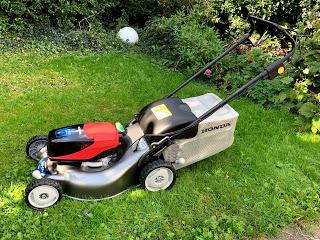 It is a fine looking machine. I am not going to say it is lightweight, but this robustness is part of what makes it such a good machine. The cutter deck is made of steel and it is self-propelled. The self-propelling took me a bit of getting used to at first. I have never used a mower with this previously. I found I had to be quite gentle at first until I got used to it but once I did I wondered why I have never had a mower with this before. The mower is also very quiet, making it quite a pleasant experience to use.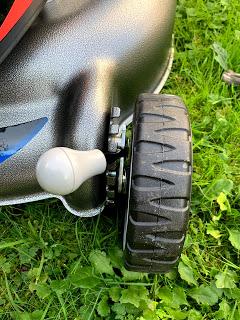 The cutter height is very easy to adjust. When mowing the full back garden I need to adjust the cutter as I move from the more formal lawns to mowing the Wild Garden. Being able to do this easily is really important to me. I found that the weight of the mower coupled with the self-propelling ability made the task of the first big mow of the year the easiest I think it has ever been for me.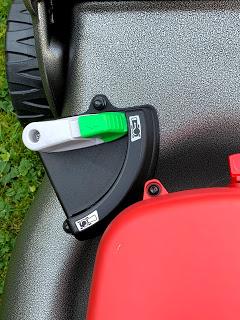 and it also has a mulching setting so you can either collect your grass cuttings or you can mulch.
Honda machines are not at the cheap end of the market, but you get what you pay for. They are so incredibly well made that they are a great investment. I am really hoping they might forget to collect them.....