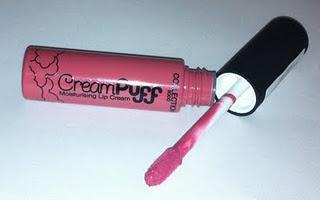 Collection 2000 Cream Puff Lip Cream in Cotton Candy
From time to time a product comes along that meets all the Never Too Broke For Beauty criteria of a good product. Collection 2000's Cream Puff Lip Creams are one of these products and proof that the old saying 'the best things come in small packages' is true. Luckily for us Collection 2000's Cream Puff Lip Cream comes with a small price tag too, priced at £2.99 these lip creams are an absolute steal!
Never Too Broke for Beauty looks for products that are affordable, easy to wear and apply, available to purchase on the high street, long lasting and do what they claim to do. At £2.99 Collection 2000's Cream Puffs are very affordable and the perfect treat for the end of the month when your bank balance is a little low. The lip creams are very easy to apply and have a matte look finish that is flattering, practical and long lasting. They are also pretty transfer proof and pass the kiss test making them a great lip cream for any hot dates or just for those dinner dates with friends! The long lasting formula means you can wear them with confidence without worrying that they will look patchy after 30 minutes. They give a good 3 hours plus wear without the need to touch up, however the gorgeous smell leaves you wanting to touch up even when it isn't needed.
The Collection 2000 Cream Puff Lip Cream comes in 4 shades; Angel Delight, Powder Puff, Cotton Candy and Fairy Cake. Don't let the super cute names and pocket money prices put you off; these aren't just for teenagers. They are a practical, affordable and wearable product. I'm craving a few more shades, especially a deep red for Autumn/ Winter. For me the only flaw of the Collection 2000 Cream Puff Lip Creams is that there aren't enough shades! Just like cotton candy, angel delight and fairy cakes, Collection 2000's Cream Puff Lip Creams leave you craving for more!
Collection 2000 Cream Puff Lip Cream Review
Product:
Moisturising and easy to apply lip cream from Collection 2000
Longevity:
Long lasting and kiss proof!
Affordable:
A real bargain at just £2.99
Easy to use:
Sponge applicator and good consistency make it easy to apply
Availability:
Widely available from Boots and Superdrug and online.
Would I repurchase:
Yes
The Verdict: 9/10 - A very affordable, long lasting matte lip cream from Collection 2000.