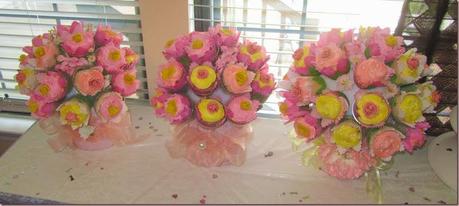 Ciao dears,
   Welcome back to my continuing wedding series where I'm showing you fun DIY/craft projects, ideas, and recipes I made for my sister's wedding this past summer.  In case you missed the previous posts in this series, I've showed you how to make a handmade pretty wedding album, how to make treasure chest bridal shower favors, how to make a gorgeous brooch flower bouquet, how to make a bridal shower umbrella, and how to make pretty kissing ball flower bouquets.  I am so excited about this post!  If you asked me what I'm most proud of in terms of baking, these cupcake bouquets are pretty high on my list (along with French macaroons and an Italian peach pastry, both of which I'll show you one day).  These took a considerable amount of time and effort (and $$) but were so worth it!  They turned out gorgeous and delicious!  Pretty much every single person at the bridal shower commented on how pretty they were (the whole dessert table as well!) and how yummy they tasted!  I wanted to do something special for my sister for her shower.  She showed me a picture of a cupcake bouquet and I instantly loved the idea!  It was perfect: something pretty, girly, and tasty!  My cupcakes are known to be pretty amazing already (bot to brag…ha!), so making them into a pretty flower bouquet and decorated with pretty details like gum paste roses just made them 100 times more awesome!

  These would be perfect for any type of party and can be customized to fit any theme or colors.  Keep reading to see all the steps to make this lovely little creation as well as the rest of my dessert table.  I broke each big step into smaller ones to make it simpler.  
   Step One: Make the Gum Paste/Fondant Roses
   I had always wanted to learn to work with fondant and gum paste to decorate baked goods, with making roses at the top of my list of things a good baker needs to learn.  I was so proud of myself for figuring this out.  They are not the most perfect, but for my first try (and in general), I think they turned out great and it really wasn't too hard.  It just requires a lot of patience and a lot of time!  Next time I try my hand at these, I would try to make them a bit thinner though.  To make these, I used a mixture of gum paste and gum tex, because I read it was easier to work with and that it would hold shape well (I've also read that mixing gum paste and fondant works well too, or just use fondant, whatever you prefer or works best for you).  Before I began, I read a bit about working with fondant/gum paste both here and here, which was helpful with figuring out what tools I'd need and how to best work with these.  I suggest making these a day or even days or a week in advance (They last a long time stored in a sealed container at room temperature.) 
Get your supplies and ingredients ready.  Here's what you'll need:
Gum Paste Mix
Gum Tex
Powdered Sugar (To mix and make the gum paste)
A set of fondant tools including: Flower shaped cutters, a ball tool (stick with a round ball on the end), a thick and thin foam pad, a small fondant rolling pin,
Vegetable Shortening
Vanilla Extract
Small fondant art brush
A plastic mat or Cutting board to roll the gum paste on
Gel food coloring in your choice of colors (I used pink and yellow)
Toothpicks
Styrofoam squares or rectangles to dry the flowers on
Plastic containers to store the flowers in until ready for use
  2. Create your gum paste or fondant roses.  This is a long step by step process.  You need patience and a few hours depending on how many you need.  I made a lot so it took me a while.  It gets easier as  you get used to it.   Instead of me telling you how to do it I thought I should just share the VERY helpful step by step picture tutorial I found and used pretty much exactly with some input from the other sources I already shared above.  Click here for the awesome tutorial and follow along.  I also found 2 video tutorials, here and here, that may help you if you're a visual/auditory learner.
Here are some pictures of my ingredients and then how my roses turned out, step by step.  They look pretty, but next time I'll try to get them thinner.  I also made some regular daisy looking flowers by just cutting out the shape and bending the petals a bit upward.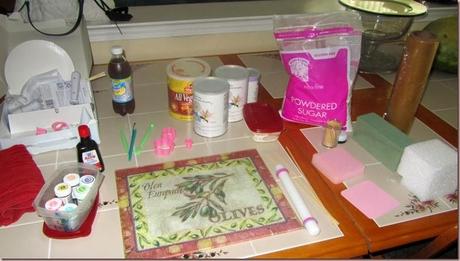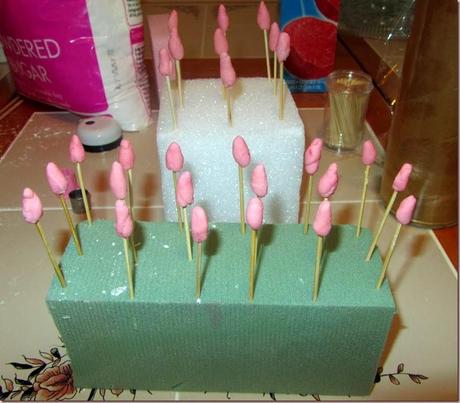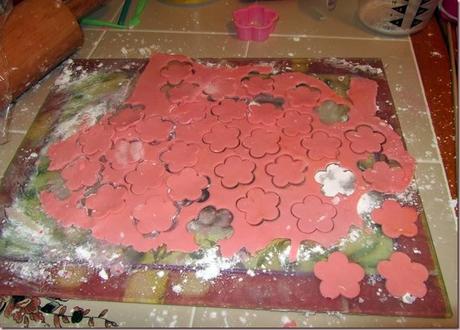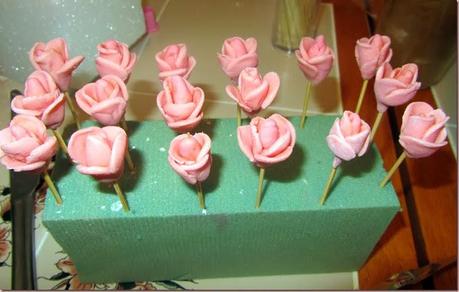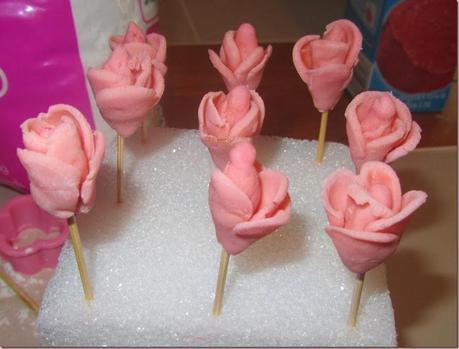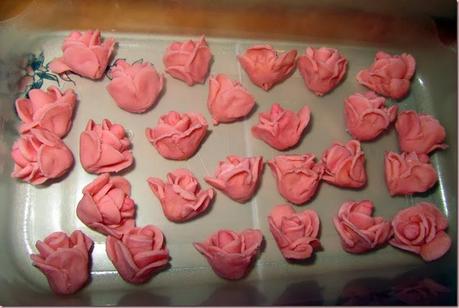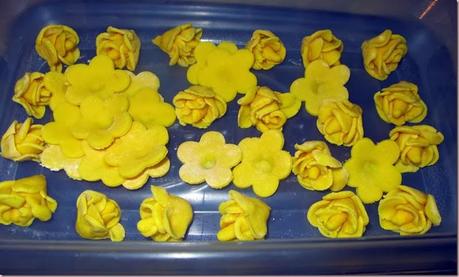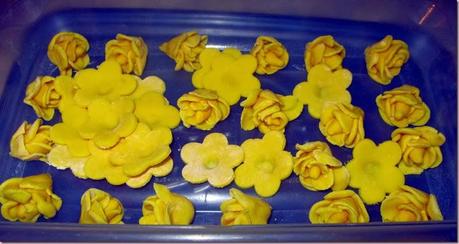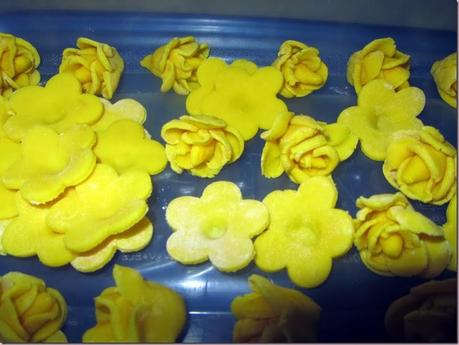 Step Two: Create the bases for your cupcake bouquets.
   This is another step I suggest doing ahead of time.  A few days or week before, whenever you can so you have it ready.  I got inspiration from this post on how to make these, but I added an extra step (the plastic cups) to ensure that my cupcakes stayed put!
Gather your supplies.
Either flower pots or similar containers
Styrofoam balls that will fit atop your pot/container (I suggest buying them together or bringing the pot to the store to make sure it fits right.)  See how I had to add extra Styrofoam to two of my pots?  That's because the 2 balls were too small.
Hot glue gun and glue sticks
Thick popsicle sticks
Rocks to fit in the bottom of the vase
Ribbon or other decorations for your pot if you want to add some prettiness
Sharp knife
Small cups (I found mine at the restaurant store, they're used for dressing and sides for takeout in restaurants.)
  2. Place a rock or rocks in  the bottom of your pot to keep it from falling over after you add cupcakes.  Glue your Styrofoam balls on top of your flower pots using hot glue.
  3.  Decorate the pots as desired.  I made pretty bows that I glued on with flowers or pearls in the middle.  Just make bunches of ribbon and glue them on top of each other.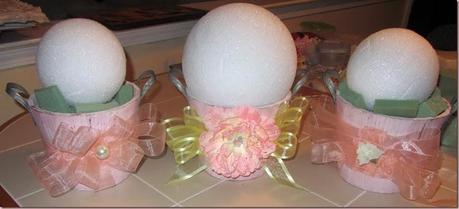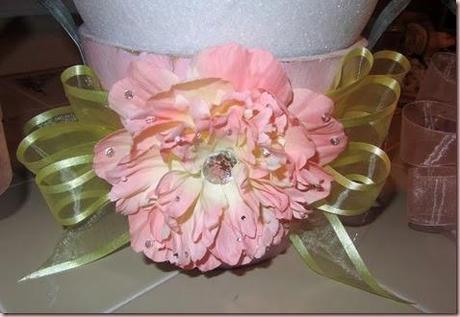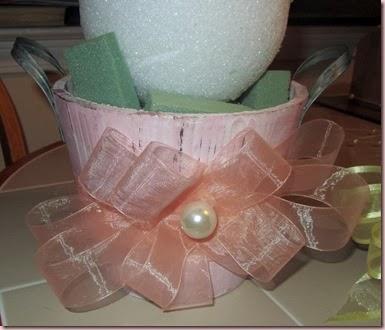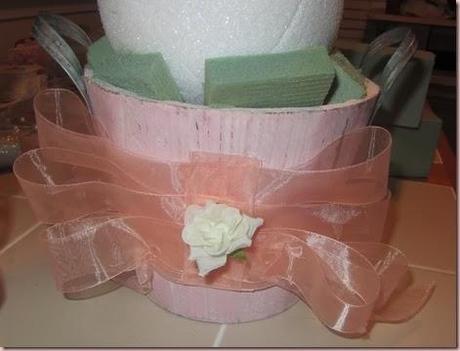 4. Add your popsicle sticks by pushing them halfway through the Styrofoam.  Then make slits in your small plastic cups and stick them on the popsicle sticks.  Make sure to try to angle them al upwards so the cupcakes don't fall out.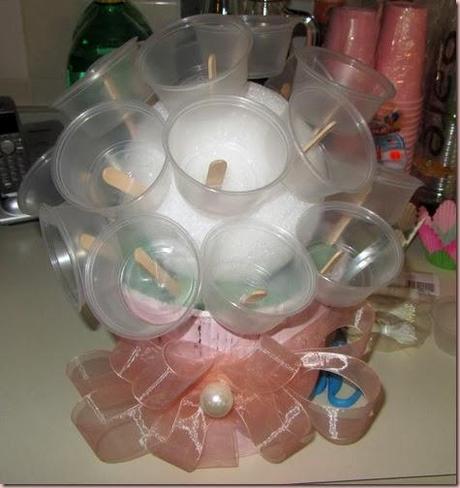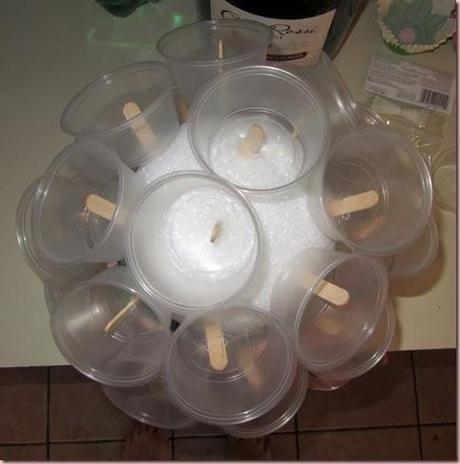 Step Three: Make your Cupcakes!
Find pretty flower-like cupcake papers.  I found the adorable ones at A.C. Moore in pink and white.
Prepare you favorite cupcake recipe.  I use a Good Housekeeping vanilla cupcake recipe with a few alterations and secrets…  For these, I made half of them lemon flavored, by adding lemon zest and a bit of lemon extract to half the batter, and the other half berry flavored by adding pureed strawberries, raspberries, and blueberries to the batter.  I made about 90 cupcakes in total for this…so many!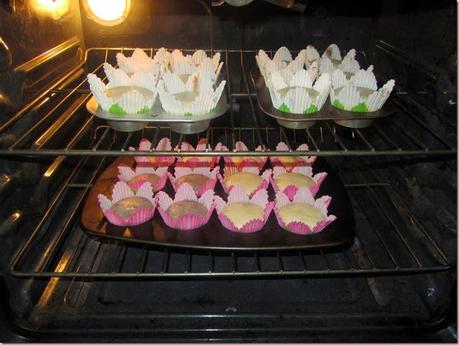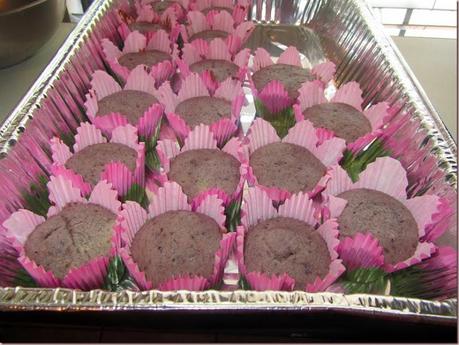 3. Decorate your cupcakes!  This is the fun part!  Prepare your favorite buttercream icing recipe and add gel food coloring.  I used peach, yellow, and pink to match out bridal shower theme.  Swirl icing on each cupcake with a star tip.  Then add one of your gum paste flowers to each cupcake.  You can also add tiny edible pearls and sugar sparkles for extra prettiness.

  I made these the night before the party and kept them in containers in the refrigerator until just before the arty started.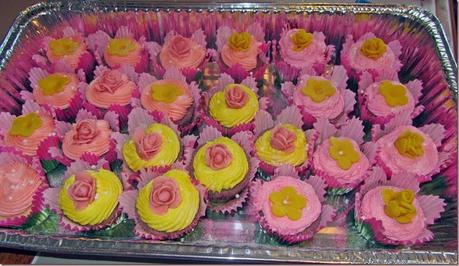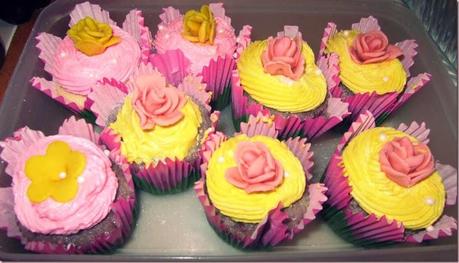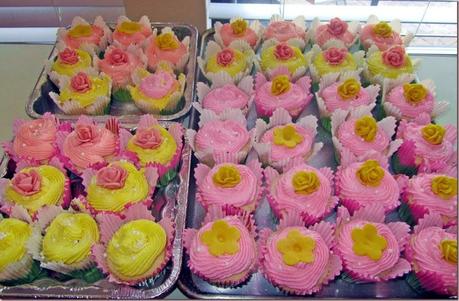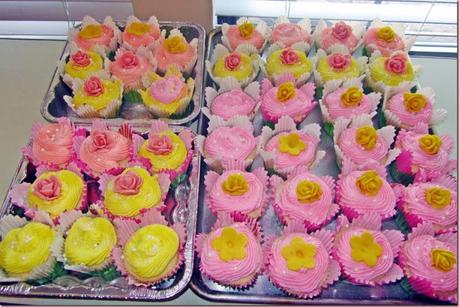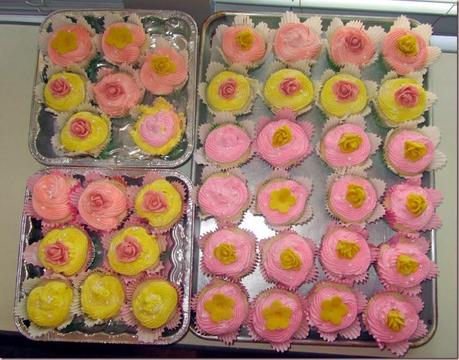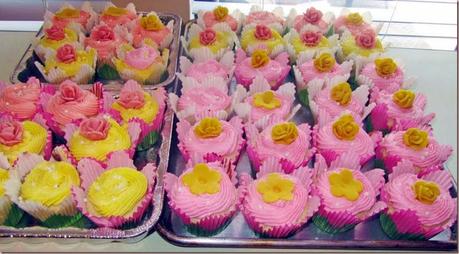 Step Four: Assemble your cupcake bouquets!
  1.  Don't do this step until right before you party or whatever reason you're making the cupcake bouquets, no more than an hour before the event.  Get your prepared cupcakes and flower pots.  Cut a small slit in the bottom of each cupcake and stick one on each popsicle stick, sitting it in the plastic cup.
  2. Continue arranging  your cupcakes in whatever pattern or randomness you prefer.  Watch out for the bottom row try to make sure they are angled properly so they don't fall off.  Throughout the whole party I only had one cupcake fall off, so I'd say it was a success with using those cups.

I was so happy with how they turned out!  I have to make another one sometime soon, just for fun.  There's so many possibilities and fun ways I could decorate them.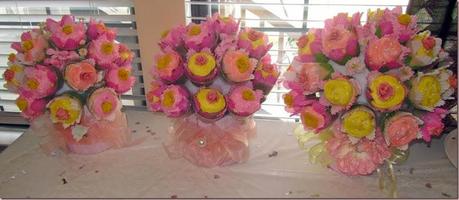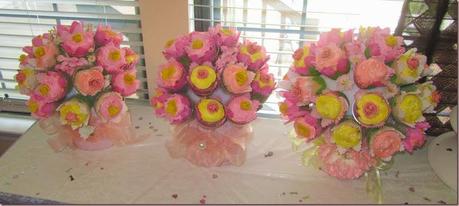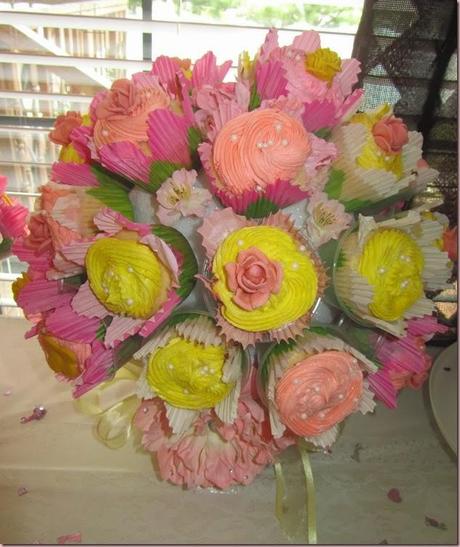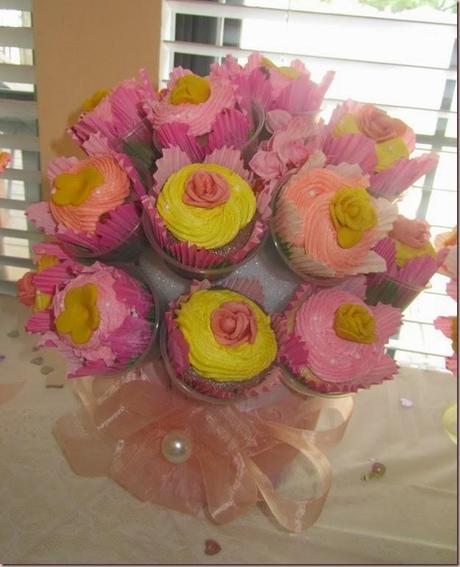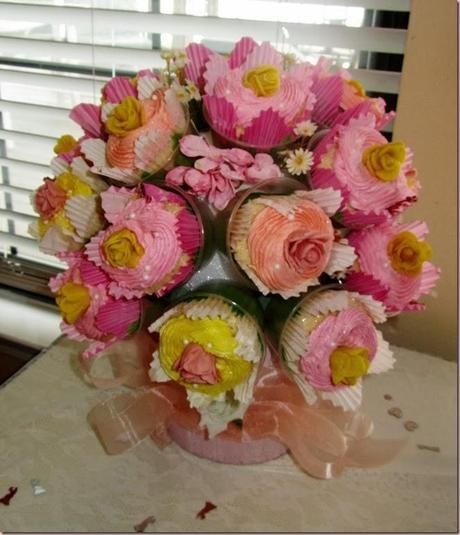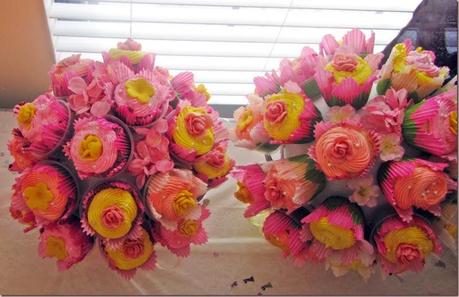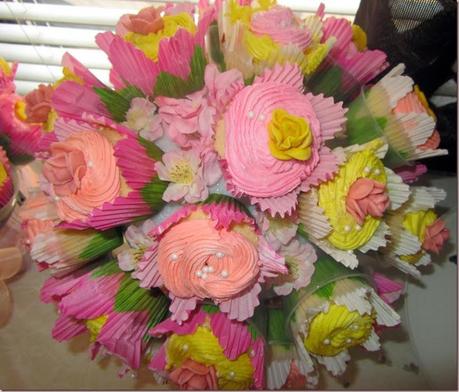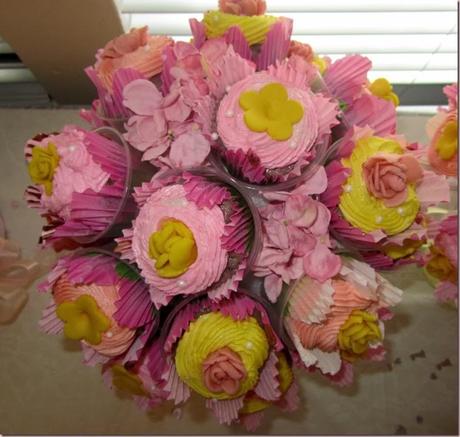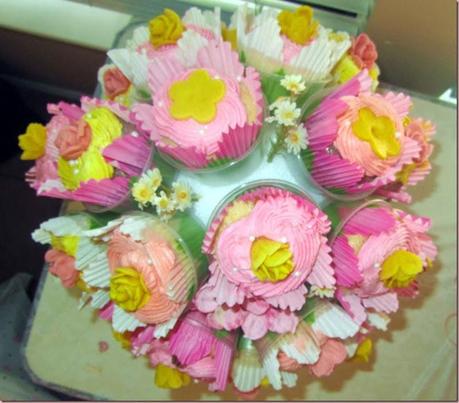 Step Five: (Optional) Create the rest of your dessert table!
  1.  Make additional simple desserts to go along with the cupcakes.  I made both lemon bars and strawberry lemonade bars.  These can be prepared a day or 2 before and stored in the refrigerator.  Here are the two recipes I used: http://smittenkitchen.com/blog/2008/01/lemon-bars/ and http://bakingbites.com/2008/06/strawberry-lemonade-bars/. 
  2.  I placed them inside more pretty and flowery cupcake papers.  Then, I arranged them on a cupcake tree and 2 pretty silver plates.
  3.   Put a pretty table cloth on your table.  We used a lace looking one.  Add some bridal shower confetti ad pretty paper plates for guests to use.
Finally…Tada!  Here's the complete dessert table all done by me!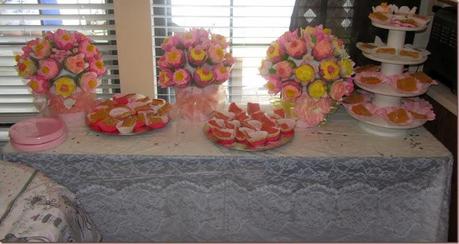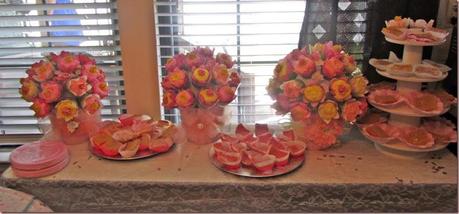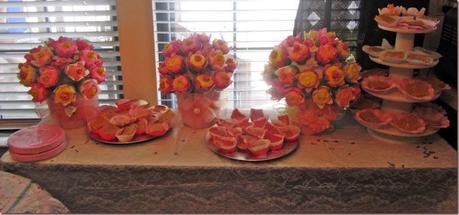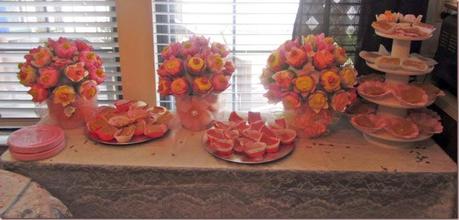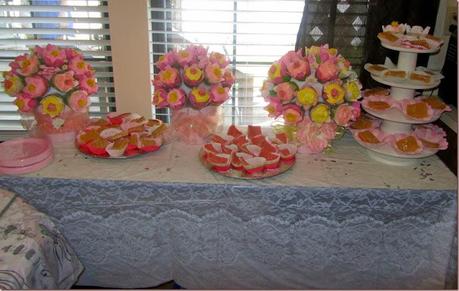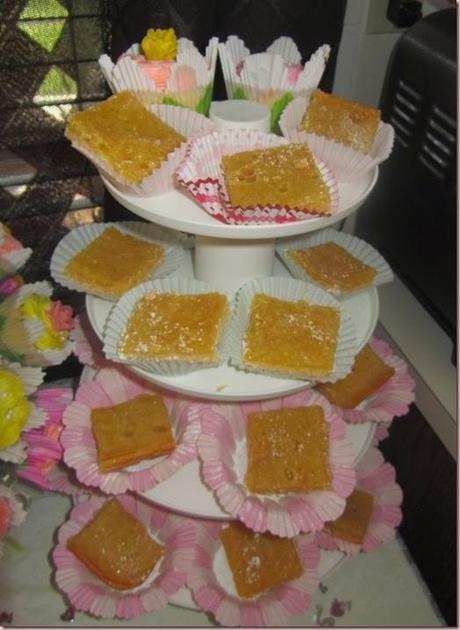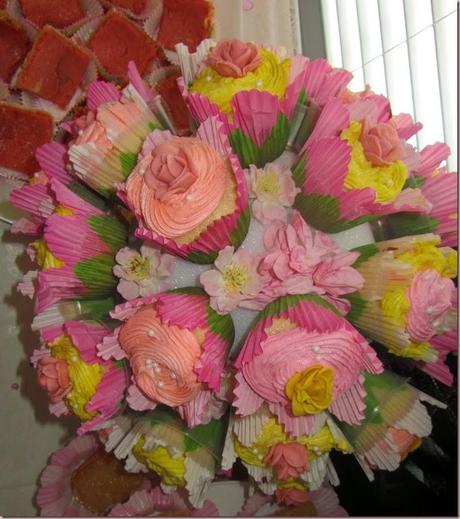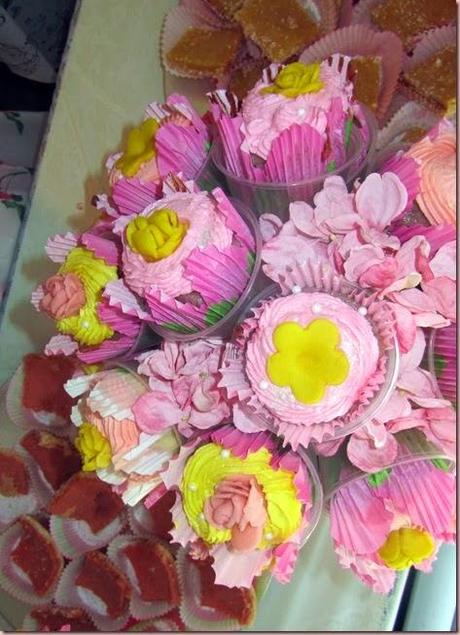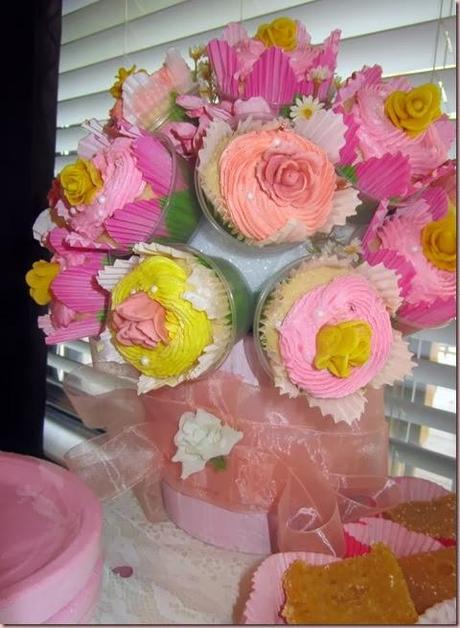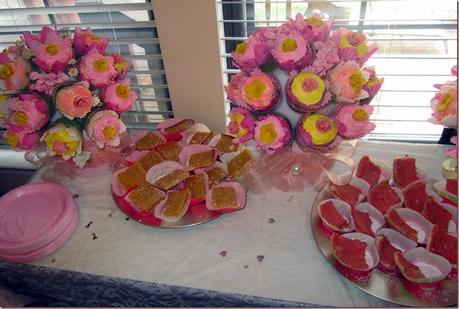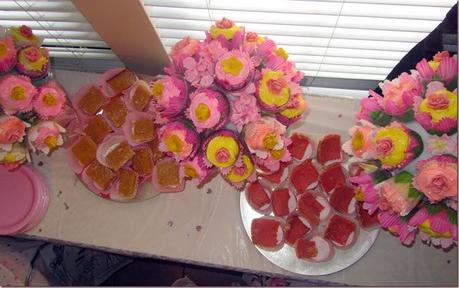 I hope you enjoyed this post!  I had fun making all of this and remembering it while writing this.  Please comment below and tell me what you think.  Have you ever made a cupcake bouquet?  Will you try making one sometime?  Talk to me, I love to hear from readers! Don't forget to follow me through Google friend connect or bloglovin or Google plus or email, all on the right side of the blog!  Be back soon!
   ♥♥ Xoxo Gabriella