Prince Harry & Meghan Markle step out for their engagement photocall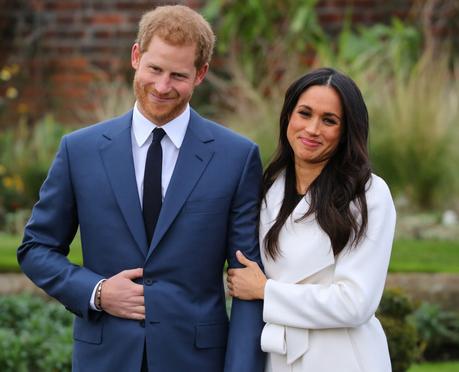 Prince Harry and Meghan Markle stepped out for their formal engagement photocall. Considering this is happening in late November, I'm surprised they chose to do the photocall outside, in what seemed like grey, overcast weather. They walked out to the Sunken Garden at Kensington Palace, and posed very briefly for photos, and Harry said a few words. What did he say? He said he knew Meghan was "the one" the "very first time" they met. Meghan was asked "was the proposal romantic?" and she said "very" and that she is "thrilled" to be engaged and "very happy." The video:
Meghan wore a white coat by LINE the Label, and earrings by Maison Birks. Her engagement ring was made from three diamonds: two diamonds from Diana's personal collection, and one diamond from Botswana, where Meg and Harry went on vacation over the summer. I'm trying to get a good look at it… the ring is obviously smaller than Diana/Kate's massive sapphire, but it suits Meghan's slender fingers. My only qualm about this is that it looks like yellow gold? I kind of wish it was platinum or white gold, but that's just my preference.
Meghan looked gorgeous and SO HAPPY. Harry was apparently a bit red-faced and nervous.
Photos courtesy of WENN.
Source: Prince Harry & Meghan Markle step out for their engagement photocall
4 total views, 4 views today