Prince Harry jetted off to Malawi for a ten-day safari at a £350-a-night camp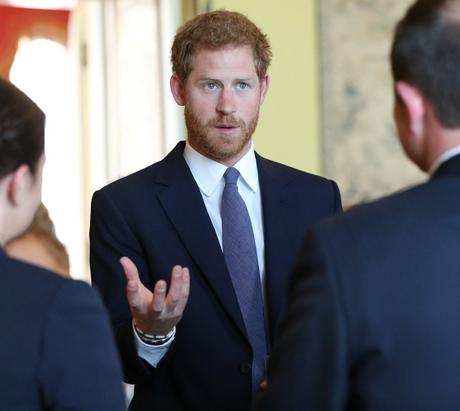 I still can't tell if this Prince Harry story is going to have larger repercussions in the days, weeks and months ahead. Out here in the cheap seats, Harry's Newsweek interview feels like a game-changer, and not in a good way. If only the Kensington Palace press secretary, Poor, Poor Jason, hadn't been working so hard to ensure that the Duchess of Cambridge do two events a month by bribing her with new jewelry. If only Poor Jason had sat down with Harry and said, "You know you're not supposed to say anything that makes you sound like an entitled jackass, right?" But it's not Poor Jason's fault, really. And that's what upsets me, as someone who has always prefered Prince Harry to his brother and sister-in-law. Harry was the one with his mother's charm and heart. As it turns out, Harry and William have more in common than I ever believed: they both believe that they are the most put-upon people in the world and both brothers harbor deep resentments about their privileged lives. They both have fetishes for "normalcy," or living "ordinary" lives. They literally have no idea what is ordinary or normal, but that doesn't stop them from nursing grudges about their sad, privileged lives.
So, it's been days and royal courtiers haven't said much of anything. I don't know what's happening behind-the-scenes, but it seems like someone (who?) thought it would be a good idea for Harry to get the hell out of Dodge. Dodge, in this case, being Harry's taxpayer-funded cottage on the Kensington Palace grounds. Harry seemingly dropped everything to fly off to Malawi. He left England on Friday (?) and he's staying in a luxurious glamping camp at the Liwonde National Park. My guess is that he traveled with taxpayer-funded security too.
Prince Harry escaped a storm over his revelation that no royal wants the throne by jetting off on a ten-day safari. Harry is staying in £350-a-night luxury at a camp in southern Africa, where he will help care for elephants.
Harry, 32, has gone to Malawi without girlfriend Meghan Markle. He is staying at Mvuu Camp, where prices range from £205 to £350 a night. He has returned after last year for the second phase of a project to move elephants from an overpopulated area to one where they had been wiped out.
In his chat with Newsweek he said: "The monarchy is a force for good and we want to carry on the positive atmosphere the Queen has achieved for over 60 years, but we won't be trying to fill her boots. We are not doing this for ourselves but for the greater good of the people."
Yet his break this week meant he missed Royal Ascot and did no engagements.
[From The Sun]
As I so often think when I'm covering William and Kate, I now have to wonder about Harry: WHO IS ADVISING YOU? Who is telling you that the best thing to do, at this very moment, is hopping a jet for a glamping adventure in Malawi? I mean no disrespect to the elephants, who absolutely need help. But as many of you have pointed out, Harry and William both like to see themselves as white-savior neo-colonial types in Africa, and this "let's protect the elephants" thing is not the big, sympathetic cause they believe it is. They both look like they're too eager to drop everything to run off to Africa at a moment's notice, especially when it involves A) Jecca Craig or B) not having to take the heat for another PR gaffe.
Anyway, I would be interesting in learning if this trip had been scheduled for a while, or if it was a situation where Harry was told to get out of town for a few weeks while the Newsweek controversy blew over. Either way, I would be very surprised if the controversy did blow over by the time Harry returned.
Photos courtesy of WENN, Pacific Coast News.
Source: Prince Harry jetted off to Malawi for a ten-day safari at a £350-a-night camp
3 total views, 3 views today