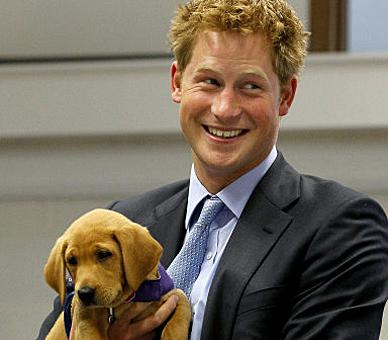 Prince Harry holds an eight week old puppy called Veyron during a visit to the charity Canine Partners Training Centre in Midhurst in Sussex. It's just one of the things he does.
What happens in Vegas evidently does not stay in Vegas: Prince Harry made headlines this week after he was photographed apparently playing naked billiards, which is like posh people strip poker, whilst partying in the famous American city of sin. The news seemed to undermine the notion that the somewhat wayward Prince was walking the straight and narrow.
But is that any reason not to want him to be King?
Under the fantastic headline Prince Harry Should Be King of England, Mayor of Funkytown, Chief Inspector of Boobs, Gawker's Caity Weaver offers up some of the reasons why goodtimin' Prince Harry – and not his super-steady dreamboat older brother Prince William – should be King.
The British monarchy is an expensively maintained tourist attraction, chiefly composed of distant cousins who have married one another, the peasant daughter of a local party planner, and several large hats. Anyone could be the head of it. Queen Elizabeth II, a corgi wearing a monocle, London-born Mischa Barton. Anyone.

The King or Queen of England's job consists mostly of visiting hospitals, hosting parties, and giving Kate Middleton nervous poops.

Know who's great at all those things? Prince Harry.

Yes, Harry is "irresponsible," "a loose-cannon," and "a wild card" who "has red hair." But he is also fit for a king.
After a lengthy discussion of all of the Ginger Nut's liabilities – including showing up to a costume party dressed as a Nazi – Weaver concludes:
The appeal of Prince Harry is that, whether he's playing "strip pool" in Vegas, challenging Olympic gold medalists to swimming races in jeans, or making sex faces at William every time he stands behind Kate Middleton, he's just doing what any of us would do if we were a prince. Or Prince.

He's already King of the Kids. Now let's make him King of England.
So, should the fun brother take the throne, as unlikely as that ever would be? Or is it just better watching him make palace spokespeople squirm uncomfortably?
More on the Royals

Prince Harry's latest scandal: Naked photos!
Royal dog scrap rocks Royal Family
Kate Middleton in new Photoshop controversy