Ireland is an island in the North Atlantic separated from the west coast of Great Britain by the North Channel, the Irish Sea, and St George's Channel. It is the second-largest island of the British Isles after Great Britain, the third-largest in Europe and the twentieth-largest on Earth.  Politically, Ireland is divided between the Republic of Ireland, which covers five-sixths of the island, and Northern Ireland, a part of the United Kingdom.   Following the Norman invasion in the 12th century, England claimed sovereignty over Ireland. However, English rule did not extend over the whole island until the 16th–17th century Tudor conquest.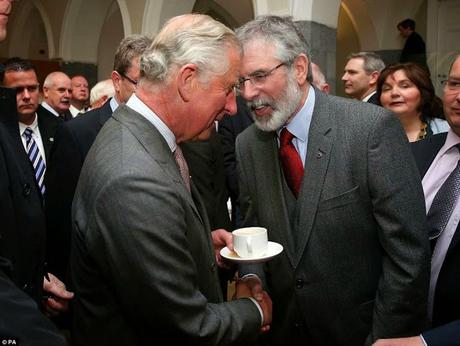 Prince Charles  visiting Ireland and shaking  hands with Sinn Fein leader Gerry Adams is making lot of news and reported in almost all global media because !!!.......
  Gerard  Adams  is an Irish republican politician, president of the Sinn Féin political party, and a Teachta Dála (Member of Parliament) for Louth since the 2011 general election.  Sinn Féin  is an Irish republican political party active in both the Republic of Ireland and Northern Ireland. The name is Irish for "ourselves" or "we ourselves", although it is frequently mistranslated as "ourselves alone". Originating in the Sinn Féin organisation founded in 1905 by Arthur Griffith, it took its current form in 1970 after a split within the party;   Gerry Adams has been party president since 1983.
Indians have read lot of history on Lord Mountbatten.  Admiral of the Fleet Louis Francis Albert Victor Nicholas Mountbatten, 1st Earl Mountbatten of Burma KG GCB – known informally as Lord Mountbatten
– was a British statesman and naval officer, an uncle of Prince Philip, Duke of Edinburgh.   During the Second World War, he was Supreme Allied Commander South East Asia Command (1943–46). He was the last Viceroy of India (1947) and the first Governor-General of the independent Dominion of India (1947–48)........... 

in 1979, Mountbatten, his grandson Nicholas, and two others were killed by the Provisional Irish Republican Army (IRA), who had placed a bomb in his fishing boat, the Shadow V, at Mullaghmore, County Sligo, in Ireland.  The bombing was followed only hours later by the massacre of 17 British soldiers near Warren Point close to the border with the Irish Republic.  
Prince Charles shaking  hands with Sinn Fein leader Gerry Adams is described as  historic first meeting in Ireland – as it occurred  just 100 miles from where IRA murdered his great uncle Lord Mountbatten.  MailOnline reports that Prince Charles  became the first royal to meet Gerry Adams and warmly shook his hand in a momentous step in the Northern Ireland peace process before holding a private 20 minute audience with Sinn Fein's leadership. 

Putting aside the 1979 murder of his beloved great uncle Lord Mountbatten by the IRA, which Gerry Adams justified at the time, the heir to the throne agreed to the historic face to face meeting at the start of his four-day trip to Ireland.
The Prince of Wales and the Duchess of Cornwall touched down on a chartered flight at Shannon Airport in Co Clare before traveling to the National University of Ireland in Galway city to meet the Sinn Fein president, less than 100 miles from Sligo where Lord Mountbatten was assassinated.  Clutching a cup of tea, the heir to the throne smiled as Mr Adams grabbed his hand and leaned forward to speak into his ear and twice said: 'Welcome back to Ireland. I am glad to see you here' - once in Irish and then repeated in English.
The Sinn Fein president said afterwards: 'Charles said he was glad to be here. It was a big thing for him to do and was also a big thing for us'. Adams has always insisted he is proud of his association with the IRA but the politician denied being a member of the paramilitary organisation, despite other members claiming he was a senior commander who personally ordered executions during the Troubles. After the historic handshake Charles agreed to a short meeting with him and Mr McGuinness, Northern Ireland's Deputy First Minister, where they discussed the Troubles and also touched on the murder of Lord Mountbatten. But

Mr Adams refused to apologize and said afterwards: 'Of course I regret anyone was killed. There were brave people on both sides and there were innocent people who died.  Both sides expressed regret for what happened in 1968 forwards.
The prince is at the start of an emotional trip where  he is visiting  the spot where his great uncle was assassinated by the IRA. Lord Mountbatten, the Queen's beloved 'Uncle Dickie' who Charles called his 'honorary grandfather' and considered one of the most influential figures in his life, was killed by a bomb hidden in his fishing boat near his castle almost 36 years ago. Their meeting came three years after the Queen momentously shook hands with one of the terror group's former commanders, Martin McGuinness, who was also at today's reception.
Adams  had said at the time of the attack on Louis Mountbatten:

'With his war record, I don't think (Mountbatten) could have objected to dying in what was clearly a war. He knew the danger involved in coming to this country.' It was  a veiled reference to Bloody Sunday and their insistence that Parachute Regiment, which has Charles as colonel-in-chief, was 'responsible for killing Irish citizens'.  Charles' visit is being held amid strict security. Just last week six republican dissidents were arrested – and two pipe bombs and a pistol seized – in raids said to be connected to the official visit.
Charles was devastated by the death of his mentor. But though he has been on two official visits to Ireland, he has never been to the scene of the murder to pay his respects.
 Charles will also visit the grave of Irish poet WB Yeats, who is buried under the shadow of Benbulben.
With regards – S. Sampathkumar
20th May 2015.