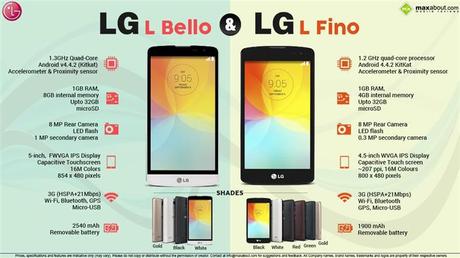 If you are looking for a good quality and well-featured smartphone available at an affordable rate, then the market is now flooded with choices. More and more companies are bringing out smartphones that provide great specifications and features at more affordable rates.
And following that trend, LG too has cut down the rates of two of its popular smartphones. LG L.Bello and L. Fino are now priced at Rs. 13,250 and Rs. 10,700 respectively. Before this price drop, L Bello was priced at Rs. 18,500 and L Fino was priced at Rs. 14,500. These devices have been designed to offer the user the same features that LG's flagship device G3 offers, but at a more affordable price.
Talking about this latest price drop of these two devices, Mr. Amit Gujral, Marketing Head, LG Mobiles, India said, "With a refreshed price strategy, we are now offering L Bello and L Fino smartphones, to a wider range of consumer segment, for increasing the adaption of premium design and consumer experiences derived by LG on even mid-segment smartphones."
Both L.Bello and L.Fino have LG's popular Rear Key design, sleek and compact look and the floating arc curved back that makes them very comfortable to hold and operate. Both are big-screen smartphones. L.Bello has 5.0 inch Tru IPS Display and Lfino has 4.5 inch True IPS Display. L Bello is powered by 2,540 mAh battery and 1.3 GHz Quad Core Processor. L-Fino has 1,900 mAh battery and 1.2 GHz Quad Core Processor.
 Both devices are Dual-SIM smartphones. They have 8 MP Camera. The camera features include Touch & Shoot and Gesture Shot which help in clicking the photos by touching anywhere on the screen or to take selfies with hand gestures. The Gesture Shot activates the camera timer by just the gesture of the hand. So one can easily take the selfie by keeping a phone at some distance and without having to touch it to click the photo. The front camera light also helps in taking better selfies even in dark conditions.
Both these smartphones also have several other features found in the premium devices like LG G3. These include the Knock Code that allows the users to wake up the phone by tapping the personalized knock pattern on the screen. Other interesting features include Smart Keyboard, Guest Mode, Quick Circle, Capture Plus, Easy Home, QSlide and QuickMemo+.