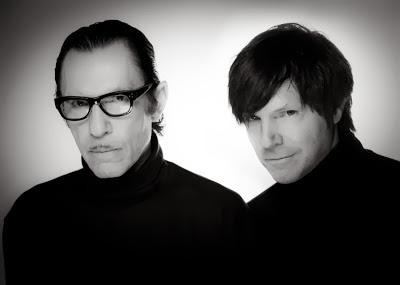 Legendary American duo Sparks are returning to the UK in a few weeks time for a set of very special shows. In October of 2012 the Mael brothers took their 'Two Hands, One Mouth' tour to Europe, receiving an ecstatic reaction from audiences and critics as Russell and Ron played favourites from their epic back catalog without the aid of computers or a live band. After bringing the show to the States earlier this year, Sparks return to these shores in November and December for 'The Revenge Of Two Hands, One Mouth' tour, where performances will include hits, rarities and material not played in recent times. 
Visiting London, Glasgow and Bristol for five shows, the tour coincides nicely with the release of their new 2CD compilation 'New Music For Amnesiacs: The Essential Collection', out on December 2. Made up of 40 tracks spanning four decades, it's a condensed version of the recent box set 'New Music For Amnesiacs: The Ultimate Collection', showcasing the evolution of the group's music over the years, from glam to power pop, through electro to chamber sounds. Dominic Valvona has recently reviewed the boxset on the excellent Monolith Cocktail site, a write-up which you can read HERE.
As Sparks will be focusing on their next studio project in 2014, this autumn tour is expected to be the last opportunity to witness the band perform in this format. The Mael brothers write: "Having been so moved by the overwhelming reaction and support throughout Europe to our 'Two Hands One Mouth' tour last October, we have decided to do one more go-round in the duo format, 'The Revenge of Two Hands One Mouth'. For those who saw the tour in its first incarnation, we promise to keep the intensity up, the two-hands, one-mouthiness up, the no-computeriness up, and also perform a bunch of tunes not played on the original tour. For all virgins, please enjoy for the first time our two hands and one mouth." This particular virgin will be reporting from the duo's Bristol gig in a few week's time...
http://www.seetickets.com/tour/sparks/
NOVEMBER 2013
24 London - Union Chapel
25 Glasgow - Arches
27 Bristol - Academy
DECEMBER 2013
01/02 London - Union Chapel