The 2014 Chelsea Flower Show is set to be as spectacular as ever and, just like many other enthusiasts, Prestige Flowers is also counting down to the opening day. The show will be open from 20 – 24 May and will include exhibitions from various international professionals. Displays will offer visitors the chance to enjoy everything from perfectly designed gardens and fitting sculptures to the finest in floristry.
At Prestige Flowers, we understand the great importance of such events and the amount of exposure they bring to the gardening and floristry industries alike. Being in the business ourselves, it never hurts to meet fellow professionals as well as hear what the general public has to say. Of course we will be keeping an eye on all the top competitors this year and see what kinds of displays they create compared to those of last year. Last year, the Trailfinders Australian Garden, by Fleming's, won the award for Best Show Garden while the Diamond Jubilee Award went to Warmenhoven for their spectacular display of amaryllis and alliums. It will be interesting to see if anyone can top them this time around! Cleve West's M & G Garden design and and the Massachusetts Garden by Susannah Hunter and Catherine MacDonald are already getting attention online so we can expect great things from such inspired designs.
Other awards of interest are those for Best Floral Arrangement, RHS Chelsea Florist of the year and RHS Young Chelsea Florist of the Year. All of which should produce a variety of floral contributions that both inspire and delight.
It's also important to us that we keep our existing audience in the know and well-informed in terms of the latest developments, designs and handy tips. In addition, we see this as a fantastic way of extending our reach beyond our regular readers in the form of live updates through various social media channels (like Facebook, Twitter and Google+) as well as our own website and blog.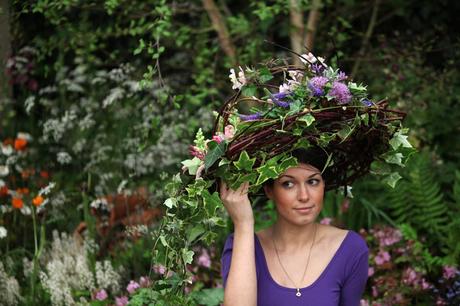 photo: Andy Paradise
The show attracts millions of viewers and thousands of visitors every year. On top of this, there are many more who follow the Chelsea Flower Show online and this is the main part of our focus. Social media platforms give us the unique opportunity to provide our audience with real time updates, information and interaction. In today's market, real time is everything and being able to offer this kind of on-the-spot communication is how we plan on giving our audience what they want, when they want it. News tends to spread so much faster through social networks and, thanks to this, we hope to attract new followers as well.
Of course we will be enjoying a fair amount of exposure through our online interactions and updates but we also see this as the perfect chance to get to know our audience on a more personal level while giving the kind of exposure that we strongly feel it deserves. Keep an eye on our website, blog and social media profiles for the latest Chelsea Flower Show news and exciting events!