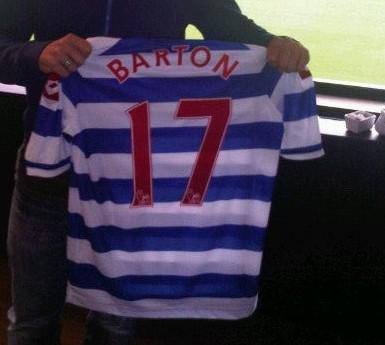 Joey Barton, QPR player, Twitter enthusiast. Photo credit: Joey Barton (Twitpic)
The background
Queens Park Rangers' captain Joey Barton could face at least a 10-game ban after being charged by the Football Association (FA) for two acts of alleged violent conduct at Manchester City on Sunday. He was sent off for an elbow on City striker Carlos Tevez but faces the two charges following ugly clashes with both Sergio Aguero and Vincent Kompany which followed his red card. If found guilty of the FA's two violent conduct charges, that could turn into a lengthy suspension, with Barton facing three-match suspensions for each alleged offense. So far, QPR's Chairman Tony Fernandes and manager Mark Hughes has not indicated whether they will ditch the midfielder.
The sports commentariat has plenty of advice for the QPR top brass as to what they should handle the Barton situation. In fact almost all the key commentators have lined up to slam Barton and urge QPR to get rid of a player they consider to be unreliable, thuggish and dressing room poison.
Ditch the devil
Writing at the Huffington Post UK, Freddy Clamp argued that it is time for QPR to "ditch the devil" and insisted that his "common thuggery" must not be forgiven. "Why oh why is Joey Barton still allowed anywhere near a football pitch? He is, in short, a bully," boomed Clamp, who said "there is no place for behavior like his on a football pitch, or indeed off a football pitch. He is a common thug that deserves another stint behind bars – maybe he will be able to make proper sense of his favorite philosophers then."
"Am I the Antichrist? I feel like I'm there with Chairman Mao and Hitler some days. I read the papers and think, 'Everyone must hate me.' " — Joey Barton, October 2009
Sack the thug
"Joey's a thug, sack him now," appealed Mick Dennis of The Daily Express, who urged us to "look more closely at what he did. Elbowing someone when he is not expecting it? Kneeing someone from behind? Those are such craven acts." "Barton is a coward, a thug and simply not very bright. QPR have been disgraced and betrayed. They should not wait to see how long he will be suspended. They should just sack him for gross misconduct," wrote Dennis.
For the good of children, 'jumped-up thug' Barton must be kicked out of QPR
James Ducker of The Times argued that, "if football is serious about setting an example to impressionable youngsters, Barton should not only be stripped of the QPR captaincy but kicked out of the club. He is delusional and despicable — a danger to his team and a danger to opponents." Ducker insisted that Barton has already had "an indecent quota of second chances" and "deserves to be hung out to dry by his team-mates, Mark Hughes, his manager, and the club he represents. The Antichrist? No, just a jumped-up thug who thinks he is too clever by half."
Relationship with QPR supporters soured for good?
Writing at his ESPN Soccernet blog, QPR specialist Brian Mahon detailed just how much of a disappointment Barton has been: "He was brought in to be a leader, but has delivered uneven play and off-field distractions … there have been matches where he put forth a solid game and was a positive influence. But he's never earned the mantle of Captain that was so bloodlessly awarded as a contract enticement, and he may have permanently damaged his relationship with the fans with this incident."
Telegraph: QPR wanted him out before his Manchester meltdown
Jason Burt of The Telegraph reported that QPR have already decided to ditch Barton. He said that manager Mark Hughes "had already decided before Barton's latest misdemeanours that the midfielder was not part of his plans and should leave for the good of the club. He has lost patience with Barton, who has also performed poorly this season." Burt said the "significant problem" for QPR will be to try to find a buyer for Barton who is the club's highest-paid player and has three years left on a contract that pays him up to £80,000-a-week. Burt reported that Hughes "has been privately critical of Barton for some time," and is "determined to try to make sure he leaves the club."
Can't get enough of Joey Barton? Here's The Periscope Post guide to Barton's five biggest on-the-pitch meltdowns.