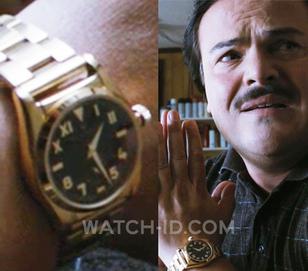 Jack Black stars in "Bernie", a comedy about a small town mortician.
In this week's Timepiece Thursday, let's take a look at some celebrities and what luxury watch they have been wearing. There is a twist, a puzzle for you to try and solve. Jack Black has come back to the big screen in "Bernie". This comedy that features Matthew McConaughey and Shirley Maclaine who both add their comedic skills to the show. During the movie, Jack Black wears an unidentified black and gold watch. As a teaser for you, here is a puzzle to try and help the celebrity watch monitors solve. Leave us a comment if you figure it out!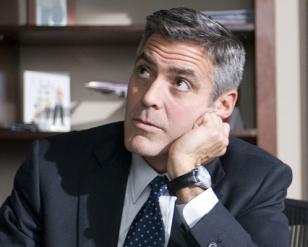 George Clooney wears Omega DeVille Hour Vision - "Up in the Air".
With the big news the past week of George Clooney joining forces with President Obama, his choice for watches has been an Omega DeVille Hour Vision with a hardy look from the steel case and dial with a black leather strap. In the movie "Up In The Air", he sports this watch giving the perfect accessory with the black suit. The look really works for Mr. Clooney. Frankly, have you ever seen him in anything that did not work?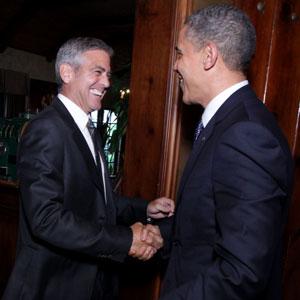 Clooney and Pres. Obama at fundraiser
Speaking of President Obama, he has been seen wearing a Jorg Gray, model 6500 with a nice unique touch added. It has a United States Secret Service seal imprinted on its dial, very classy by the guys at the Secret Service who gave it as a birthday gift in 2007. Not many people know this tidbit about our current president. The watch has been seen at some special occasions like his inaugural speech after being sworn in as President of the United States and signing his first proclamation.
Don't forget to check out the puzzle of discovering the watch brand and model Jack Black wore in the new movie "Bernie". We would love to be one of the first to share your story. This could be a cool treasure hunt with friends!
Like the celebrities, we look for high quality in our watches you can buy from Raymond Lee Jewelers. All of the pre-owned watches go through a vigorous checklist to make sure you are getting the highest quality brand name luxury watch possible. While you visit our beautiful showroom or online store, check out the outstanding collection watches like Breitling, Cartier, and Rolex!