Remember that recent Time magazine cover trumpeting that we are at a "transgender tipping point" and that trannies are "America's next civil rights frontier"?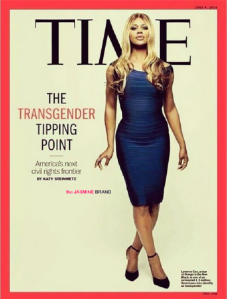 Every day since, we are discovering just what that means.
First, we discovered that the POS ended a 30-year-old ban on Medicare coverage for gender-reassignment surgery, which means the money taken out of your monthly paychecks as Medicare taxes will now pay for gruesome medically-unnecessary cosmetic surgeries of breast implants, penis and testicles excision, and gouging out a wound as a pretend vagina.
But there's more!
It's not enough that the Obama regime overturned the military's long-standing Don't Ask Don't Tell policy on homosexuals, now the POS is intent on recruiting she-males into the U.S. military.
Never mind that, according to a UCLA LGBT research think tank, the Williams Institute, only a very small minority of U.S. adults, 3.5% or 9 million Americans, identify as lesbian, gay, or bisexual, and a very tiny miniscule of U.S. adults, 0.3%, are "transgender."
Despite that, while our military's budget is slashed and veterans are denied health care by being placed on interminable "waiting" lists in VA hospitals across America, the Pentagon is spending precious resources on a publicity effort to recruit transgenders, using as their poster "girl," former SEAL Team 6 senior chief petty officer Christopher Beck who went under the knife to become a "woman" named Kristin Beck.
Message to Chris/Kristin Beck:
No matter what grotesque surgery you undergo and what grotesque lifelong hormones you ingest, biologically — that is, your chromosomes and DNA — you are and will always be a male. That is why psychiatrist Joseph Berger, M.D., says from a medical and scientific perspective, there is no such thing as a transgendered person.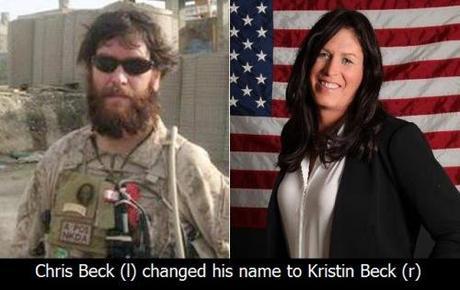 Bill Gertz reports for The Washington Times, June 26, 2014:
A former member of SEAL Team 6 has become the poster girl for a Pentagon effort to include transgenders — people who have undergone sex-change operations — in the ranks.
Kristin Beck, formerly Senior Chief Petty Officer Christopher Beck, spoke recently at several high-profile events at intelligence agencies and the Pentagon to promote the integration of transgenders. "Transgender service in the armed forces, yes it will happen soon," she said on Twitter.
Defense Secretary Chuck Hagel, among the most politically correct Pentagon chiefs of the past several decades, fueled the effort within the Pentagon to integrate transgenders in May when he said the policy of banning transgenders should be reviewed continually. The transgender drive is the latest element of the Obama administration's social engineering within the U.S. military.
The Pentagon currently defines transgenders as sexual deviants.
Among Ms. Beck's recent appearances were speeches at the Defense Intelligence Agency, the National Reconnaissance Office and at Hill Air Force Base, Utah, according to the DIA and her Twitter feed. She also was scheduled to speak to the Multicultural Heritage Committee at Offutt Air Force Base, Nebraska, although one defense official said it is not clear how transgenderism fits within the multicultural spectrum.
Ms. Beck, author of "Warrior Princess," spoke to the DIA on June 18 as part of the intelligence agency's annual Pride Month — formerly Gay Pride Month but now expanded to include a host of sexually related terms, including transgenders. She received an award from DIA Director Army Lt. Gen. Michael Flynn at the event.
According to DIA's newsletter, Ms. Beck, in her remarks, pushed for allowing transgenders in uniform. She said the Pentagon should stop defining people by external appearances and accept what they say they are on the inside. "We are all, all of us, created equal, and we all deserve equal justice," she said, explaining how she hid her true sexual identity during her military career.
As a man, Ms. Beck was part of SEAL Teams 1, 5 and 6 and was awarded a Bronze Star and a Purple Heart. Since sex reassignment last year, Ms. Beck has sought to promote gay, bisexual and transgender acceptance in the military.
"The world is looking at us," Ms. Beck told the DIA. "You can change the wallpaper, but I'm still right here. I can still do the job I was doing in uniform."
The DIA said its event was designed to promote education and diversity in the workplace.
A Pentagon official critical of the sexual-diversity campaign said it was a waste of money.
Read the rest of the WT article here.
Maybe this explains why the POS is so intent on transgenders: see "Michelle Obama is a transexual?"
~Eowyn