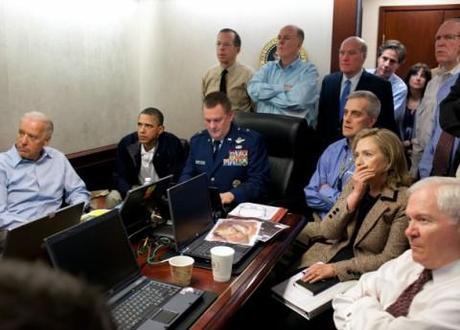 Obama and his security advisory committee monitoring the mission to kill Osama bin Laden. Official White House photo: Pete Souza
The background
US President Barack Obama is facing criticism over a video released on the anniversary of the killing of Osama bin Laden. The clip features a Bill Clinton voiceover praising Obama's decision to send in the Navy SEALS on 2 May 2011. Most controversially, the video also takes aim at the presumptive Republican nominee, asking: "Which path would Mitt Romney have taken?"
Predictably, the loudest outrage has come from the GOP. But there has also been criticism from Democrat-leaning commentators: Arianna Huffington described the ad as "despicable". So was Obama's ad a step too far?
Obama has made a political mistake
"Barack Obama's "I Shot Bin Laden!" ad might be the worst political move he's ever made," declared Tim Stanley at The Telegraph. The problem is not that Obama is wrong to celebrate the decision to give the order to take bin Laden, but that the president has attempted to spin it into an attack on Romney – an attack that isn't even particularly plausible. "No one seriously thinks that Mitt Romney wouldn't have greenlit the raid on bin Laden's compound," said Stanley. And most damningly, the ad gives the impression that "Obama personally swung into bin Laden's compound on a rope and took the terrorist down with his own sweet moves. It's tacky and unpresidential."
Obama is showing political savvy
The video politicises the killing of bin Laden – and there's nothing wrong with that, argued Ross Douhat at The New York Times: "How can we not politicize national security, given how central it is to the work of the modern presidency, and how unconstrained the executive branch's national security powers have become no matter which party holds the White House?" According to Douhat, it would have been "political malpractice" for Obama not to mount national security attacks on his Republican rival.
Read more about the killing of Osama bin Laden at The Periscope Post.
Furore raises questions of humility and leadership
"If anything, the president's attempt to encourage accolades for this historic decision may be an election-year lapse into a kind of leadership that cares more about getting credit than getting results," said a Christian Science Monitor editorial – and this is very much at odds with Obama's previous leadership style.
The GOP is just jealous
The Republicans have been busily criticising Obama's bin Laden video; "but what obviously gets under Republicans' skin is not the fact of this video's existence, but the fact that Barack Obama got him and they didn't," argued Michael Tomasky at The Daily Beast.
Watch the Osama bin Laden death anniversary video that's causing all the controversy below.