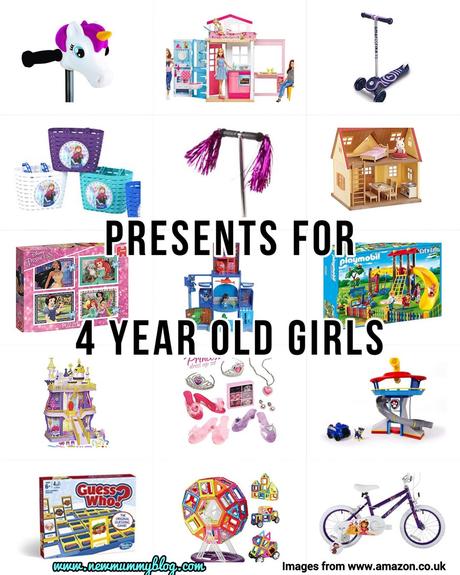 We may earn money or products from the companies mentioned in this post.
So we're basically sorted for Christmas but have had a last minute panic that H wasn't going to like her Sylvanian family house. Anyway, I think we're sticking with it, but in the meantime, ie. last 48 hours while I panicked I researched other ideas and it seems there are lots.... and Amazon is amazing for last minute buying even this weekend!
So here are a few ideas I've found or we already have which I'd thoroughly recommend for 3 or 4 year olds
1. My Little Pony
We gave H the Magical School of Friendship castle for her birthday and she absolutely loves it. Seriously it's amazing! The music and lights are a lovely touch.
Any of these would be amazing for a pony/unicorn loving girl... we bought hers from Smyths, but Amazon do sell it too
There are also others like in the picture above - the Canterlot Magic Cutie Mark Castle .
2. Sylvanian Families
B gave H a Sylvanian Family set for her birthday and she plays with it but not as much as the My Little Ponies so we hope she's love them more once she has more for them.
Sylvanian Families Cosy Cottage arrives before Christmas
3. Dolls House
Every year I ummm and ahhh after Asda's wooden dolls house. It's wooden and brilliant value. Friends who have it, recommend it too.
4. Dress up
From Frozen Outfits to her super kind present of dress up shoes and jewellery from her friend. Any dressing up is a hit!
5. Busy books
These are fab, so much for their imaginations and also perfect for taking out and about in their little handbags! - all the supermarkets seem to stock these.
6. Roller skates
My parents gave H a pair of roller skates - great fun (and only allowed on carpet at the moment!) - H's were from Home Bargains
7. Jigsaws
Paw Patrol, PJ Masks, and now Disney Princesses jigsaws H is obsessed!
8. Scooter
An essential for most kids! H got her Smartrike T3 scooter for her Christmas when she was 2 and she loves scooting to and from preschool. It actually makes days when she's tired easier, I think it's less effort than walking.
-> read my Smartrike T3 scooter review
We've actually got B a mini Micro scooter for her Christmas. It'll be interesting to compare the two and see the differences.
9. Bike
H has a bike with stabilisers which she loves riding. A helmet is essential too!
10. Scooter and bike accessories
11. Paw Patrol
The Paw Patrol Tower was a huge hit last year, and the vehicle and figure sets are great too - both girls play with them.
12. PJ Masks
Like Paw Patrol there's loads of scope from the PJ Masks HQ to individual vehicles and character blind bags.
13. Barbie
H was liking the look of this folding Barbie house ... but she's quite happy playing dress up with them so we'll save that for another year! This house folds and also is only £39.99!
14. Games
Guess Who from Hasbro or Operation (though it looks like Operation will arrive after Christmas)
15. Magnetic building block set
These magnetic building block sets look brilliant fun
16. Playmobil
Playmobil are great for 4 year olds and come with so much - this Playmobil playground set has a full playground and 5 people.