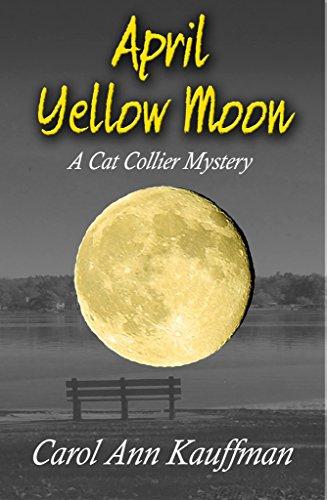 This is Cat Collier's 4th mystery, so it looks like she's a busy sleuth! 
Here's an interesting character profile: 
Mary Catherine Collier, better known as Cat, wrote obituaries for the small-town local newspaper, the Heaton Valley Herald. She interviewed the senior citizens as to their accomplishments, likes, and hobbies. She kept these on file in case they won the lottery or the Nobel Peace Prize or something, or more likely, got involved in a scandal. She was also the sole member of the research department. She liked the quiet solitude of research work and was extremely tech savvy.
While she was in college, she dreamed of teaching in the local school system. Heaton Valley residents were wholesome, dedicated parents who valued a good education and the local schools were held in high esteem. The teachers were happy to go to work every day. The children were happy and safe in their school setting. And the community as a whole took pride in all the many varied accomplishments of the students.
Then something happened. Schools lost their place of honor as bastions of education and safety. They became gripped with fear. Test-taking and building security measures replaced the absolute joys of learning and discover.
It was then Cat began to rethink her career decision. She decided that, if the Heaton Valley Herald ever went belly-up, she'd open her own investigation business. With her laptop, an internet connection, and a big cup of coffee, she could find out almost anything online. There was no longer the need for any actual physical investigation, no high speed chases, no tailing or stalking, nothing dangerous. Just quiet, simple clicks.
Then one day Cat was called to the penthouse apartment of the city's very rich, most influential lawyer, Detrick Bittmor. He had a very personal assignment for her. It involved a mysterious young man who sat on a park bench every day at noon and stared up at Bittmor's top floor apartment.
Cat had a soft spot for this lawyer with a nasty reputation. There was something about this old man she liked, and even found charming.
Detrick Bittmor thought the young man on the park bench resembled a younger version of himself. He thought this young man could possibly be his son from an affair he had many years ago with a beautiful New Year lawyer. This man could be his only heir.
And old man Bittmor wasn't getting any younger.
And so began… the Cat Collier Mystery series.
So, what's Cat been up to in this book?
 A dear, old friend comes up missing and Cat Collier must scramble to find her before it's too late. A powerful enemy resurfaces and claims responsibility for a personal attack on Cat's family. Nola relives Trent's murder. Carter proposes...again.
Cat Collier is not Carol Ann Kauffman's only series: She has mysteries, romances, and free ebook deals on her website: https://carolannkauffman.weebly.com/
And don't forget her Amazon page: 
https://amzn.to/2G568Fa