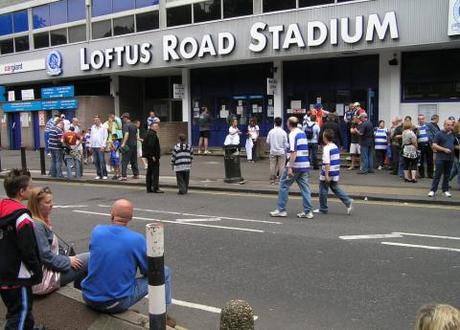 Loftus Road, home of QPR. Photo credit: _maracuja
QPR's outspoken manager Neil Warnock has become the first Barclays Premier League manager to get the boot in 2012. Although QPR have been on a awful run of form – picking up just five points from a possible 33 – Warnock's sacking has shocked and surprised most fans of the west London club, who anticipated Warnock would get until at least the end of the season. Last season, seasoned campaigner Warnock expertly guided QPR to promotion as Championship champions despite spending only modestly on players.
Ex-Manchester City, Blackburn Rovers and Fulham manager Mark Hughes has been installed as red-hot favorite with the bookmakers to take over the reins at Loftus Road.
QPR's Malaysian owner Tony Fernandes' bold and ballsy sacking followed hot of the heels of QPR's lifeless FA Cup draw 1-1 draw with League One club Milton Keynes Dons on Saturday. Over 5,000 QPR fans traveled to Milton Keynes and many reported on messageboards that the players' listless body language suggested Warnock might have lost the dressing room.
Fernandes, who prides himself on his transparency and openess, took to Twitter to explain his decision and to reassure fans that the future remains bright for the club he took over last August. He insisted his decision was the "toughest decision in 47 years of life" and in no way "knee-jerk." "Obviously I'm very disappointed, but having achieved so much, I leave the club with a great sense of pride", said Warnock in an official statement.
Warnock treated harshly? Glenn Moore of The Independent suggested that Warnock has been a tad unlucky to lose his position: "A return of one point from the last 18 possible has dropped QPR to 17th in the table, one place and one point above the relegation zone. However, those six matches included one-goal defeats at Arsenal and Liverpool, and a 2-0 loss to Manchester United. At no stage this season have QPR been in the relegation zone and there have been no calls for Warnock's head from Rangers fans, despite just one win this season at Loftus Road."
"Never been a fan of Warnock but the timing is silly. You can't be the right man a month before the window opens and then not", observed journalist David McIntyre, who has reported on QPR since 1999.
A reasoned gamble. Matt Dickinson of The Times (£) described Fernandes "gamble" as "reasoned." He said sacking Warnock was "not a decision that he or the board were itching to confront, but QPR's poor form forced a reckoning, particularly with transfer money to be splashed. Sympathy for Warnock, who had so craved this crack at the top flight, has to be set against the reality that the team were sinking after taking two points from a possible 24. The club needed a manager they could trust not only to turn around a wretched run, but to buy a way out of this predicament."
"It is easy enough to see why Fernandes preferred to buy himself more insurance against the drop and the combination of Hughes and significant funds should be enough to ensure there are at least three teams below them at the end of the season", forecast Dickinson of The Times (£).
Warnock undone by dodgy transfers. Jamie Jackson of The Guardian said Warnock sacking had "been increasingly on the cards" given Fernandes' serious reservations regarding Warnock's "ability to attract the calibre of player required to lift the club from 17th and stay away from danger." Jackson suggested that the board's "concerns over Warnock's recruitment policy" date back to his business in the last transfer window: "Joey Barton is the headline case: he may be the captain and the club's highest earner but the scouser has yet to win a game for QPR and his preoccupation with Twitter should have become an embarrassment to him when the team's results started going south. Of the rest of Warnock's summer shopping spree, Kieron Dyer is injured (yet again), Shaun Wright-Phillips is inconsistent, Jay Bothoyd overtaken by the 33-year-old Helguson, Danny Gabbidon sluggish, DJ Campbell unconvincing and Armand Traoré has faded, while Anton Ferdinand is steady enough and Bruno Perone and Brian Murphy have made two appearances between them."
Fernandes wants his own man. Jason Burt of The Daily Telegraph said that Warnock went primarily because did not fit in with Fernandes' grand plans: "Given Warnock is also 63 and has stated that Rangers will be his last job as a manager, Fernandes may have also decided that he wanted a more long-term manager to fit into his plans." The Malaysian entrepreneur is hoping to build a new 30,000-capacity stadium in west London but that project would be shelved if Rangers are relegated, noted Burt.
The Daily Mail: It's (definitely) Hughes. Sami Mokbel of The Daily Mail promised that Hughes will be installed this week: "Owners Fernandes and Amit Bhatia have already reached a deal with Hughes to take over  … The Malaysian businessman views the Welshman as the perfect candidate to steady the ship. Despite his sacking as Manchester City manager in 2010, Hughes impressed Fernandes with his accomplishments in difficult  circumstances. But it is his record with Blackburn, under financial constraints, that stands out for Fernandes. Given his status as an Old Trafford legend, Hughes also fits the bill for Fernandes' global  marketing vision for the west London club." Mokbel reported that talk of Hughes's possible appointment "was openly discussed by members of the playing staff, as was Fernandes' apparent reluctance to hand over transfer funds to Warnock."
More on football

Barclays Premier League at half time: What we know so far including Robin van Persie's hot and Steve Kean's not
Gary Speed's death: Sport and suicide
Gary Speed: Why, wonders world of football?
More football »