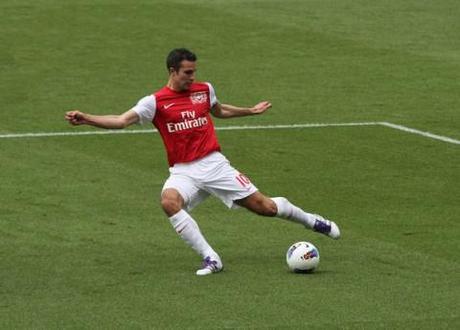 Arsenal striker Robin van Persie. Photo credit: Ronnie Macdonald
Roberto Mancini's Manchester City now the team to beat? Manchester City's six-one demolition of fierce rivals Manchester United sent a shuddering shockwave through football and prompted many to declare that the balance of power is shifting from the red half of Manchester to the blue half. Megabucks City have scored 36 goals in just ten games are are now five points clear of United at the top of the table. But only fools write of Alex Ferguson's Manchester United. Indeed, Ferguson's charges followed up on their thoroughly embarrassing home loss to City by grinding out a gritty one-nil win at Everton on Saturday. It wasn't pretty but, as seasoned Premiership watchers know, it's winning ugly and when you're not at your best that counts.
Arsenal not out of it after all. Arsene Wenger's team started the season poorly. In fact, it was their worst start since 1953. They even lost to Blackburn Rovers. The loss of star players Samir Nasri and Cesc Fabregas clearly upset the dressing room and had fans wondering about the ambition of the board going forward. But largely thanks to a string of sensational performances by captain Robin van Persie, Wenger's boys have surged back up the table and now lie in seventh place (and only a win off the coveted fourth spot). Arsenal's stunning 5-3 win away at Chelsea on Saturday wowed the pundits, with hat-trick hero van Persie getting special praise: "As center forwards go, he's somewhat idiosyncratic. Which is what you might expect from a Dutch maverick whose parents – Bob van Persie and Jose Ras – are both artists. Bob makes sculptures out of trash, while Jose is a painter and jewelry designer, making Robin a rare world-class jock born to artsy parents. On the pitch, he has a rare blend of size, speed and technique", purred respected commentator Gabriele Marcotti at The Wall Street Journal.
"Do not judge too quickly the players I bought. They are of the top level", Arsenal manager Arsene Wenger promised fans at the club's heated AGM last Thursday. Wenger brought in Andres Santos, Yossi Benayoun, Mikel Arteta and Per Mertesacker just before the transfer window closed.
Chelsea on the slide? In 33-year-old Andre Villas-Boas, Chelsea have one of the most highly regarded young managers in the game of football. But he's not quite jet managed to work his Porto magic at Chelsea. In fact, the scandal-hit blues have just lost two London derbies (QPR, Arsenal) within a week. Villas-Boas makes no apology for his commitment to an attack-minded style of play; after the home loss to Arsenal he said would be sticking to his open style "because the philosophy is a personal value and a club value. You should never sell it cheap. We will stick to this philosophy." But commentators suggest it time Chelsea tightened up at the back or kissed their title ambitions goodbye. Writing at The Guardian's The Sport Blog, Ian McCourt insisted that "if they are to have any success in the league, or indeed Europe, Chelsea will need to change something and they will need (goalkeeper) Cech, and the defence in front of him, to recover the form that once made them one of the most formidable back lines in England."
None of the promoted sides look out of their depth. The promoted trio of Queens Park Rangers, Norwich City and Swansea City were all tipped to struggle this season. That's understandable as, almost every year, at least one of the promoted sides goes straight back down to the Championship. But, so far, all three have taken to the Premiership like ducks to water. All three teams have pulled off notable wins and lie in eighth (Norwich), tenth (Swansea) and twelfth (QPR) respectively in the 20-team league. QPR arguably pulled off the pick of the results so far for the promotion pack when they beat west London rivals Chelsea one-nil at Loftus Road on 23rd October. The promoted teams' spunky form has fans of cellar dwellers Blackburn Rovers, Wigan Athletic and Bolton Wanderers understandably twitchy.
Wigan looked doomed. Bright young manager Roberto Martinez was roundly applauded for keeping Wigan Athletic in the Premier League last season. And he showed unusual loyalty to Dave Whelan's modest club when he reportedly turned down the opportunity to leave Wigan for Aston Villa during the summer. But Martinez may have wished he jumped ship. On Saturday, his powder-puff team lost at home to fellow strugglers Fulham and have now lost eight on the bounce. Unsurprisingly, they are red-hot favourites with the bookmakers to be relegated.