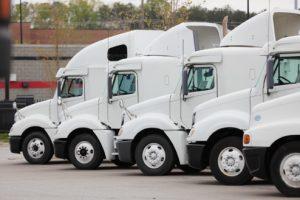 Throughout 2016, tracking the sales of pre-owned vehicles sometimes felt like a roller coaster ride. Take the sales of pre-owned Class 8 trucks, for example-up 15 percent from May to June, then falling 8 percent from June to July, and finally dropping a whopping 18 percent month-over-month early in the year, according to ACT Research, a commercial vehicle research firm. Across vehicle classes, several factors contributed to that level of volatility, from a surplus of pre-owned inventory to unpredictable freight markets.
With the ongoing economic uncertainty, one thing is virtually assured: dealers have strong motivation to move certified pre-owned vehicles off their lots. When the economy puts dealers in a negotiating mood, it's best to move quickly-positive pricing trends often vanish as quickly as they appear. Here are three reasons that 2017 is shaping up to be a banner year to find the pre-owned commercial vehicles you need at a price you want.
1) Big fleets held back trade-ins: As highly contested political primaries gave way to the presidential race and election aftermath, many fleets postponed capital expenditures like current model-year replacement trucks. With a new administration now in place, those delayed purchases are happening, resulting in trade-ins that are flooding the pre-owned market with relatively low-mileage trucks equipped with newer emissions systems and telematics.
The Takeaway:
As 2017 progresses, expect to see aggressive pricing and a wider selection of pre-owned vans and heavy-duty trucks. According to ACT Research, fleets are already shaking off election jitters and making major capital investments in new vehicles that were delayed for the past 18 months or more. For example,, orders for new heavy-duty trucks, which saw lackluster 2016 sales, hit a 13-month high in January 2017. The tide is turning.
The Takeaway:
Dealers are simplifying the Internet shopping experience for pre-owned trucks with advanced search filters and decision support tools that mirror the purchasing experience of popular online retailers.
The Takeaway:
2015 and 2016 were tough years for dealers of pre-owned heavy-duty trucks. But sales data from recent months shows pricing recovery in that sector, even as a wave of recent model-year equipment hits the pre-owned market. All things considered, market conditions are still ripe right now for certified pre-owned truck deals. But you might not want to wait too long.
2): Independent operators and fleet procurement managers have used the Internet to browse truck inventories for years, but these websites traditionally functioned as little more than static brochures. That's now changing, as some dealers are creating robust systems that instantly match potential buyers with the exact truck they're searching for, instantly online- Ryder Truck Match is one such tool.
3) Time's running out on pre-owned bargains: Yes, 2016 was a difficult year for pre-owned truck sales. But there are indications that the slump is abating. According to State of the Industry: U.S. Classes 3-8 Used Trucks, published by ACT Research, "This unexpected bump was enough to move year-to-date comparisons out of the red for the first time this year, with volumes up 1% over the first 11 months of 2015," said Steve Tam, ACT's Vice President. "The retail segment had a solid month, posting gains across the board, up 6% month-over-month, 38% year-over-year and 2% year-to-date," Mr. Tam continued.