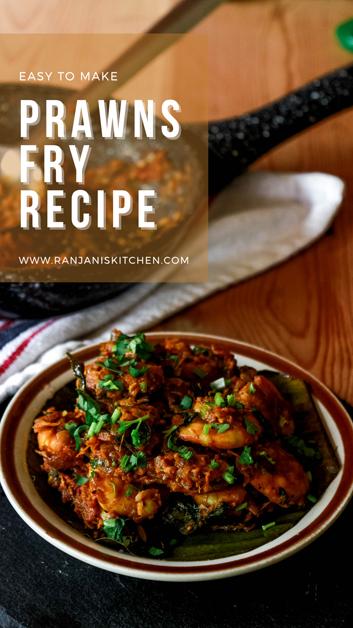 prawns fry | prawn fry tamilnadu style | eral varuval - simple and delicious prawn recipe in native style which goes perfect as a side dish for any rice,chapathi or idli and dosa.
How do you make eral fry?
This slightly gravy consistency,prawns fry recipe is made after marination of prawns with turmeric powder,salt and kuzhambu chili powder for about 15 mins. And then season with fennel seeds, onions and tomatoes. Finally marinated prawns are added and cooked to thick consistency. Finally garnished with loads of chopped coriander leaves.
How do you clean prawns?
Prawns are easy to clean but it takes little more time than fish. First the head to be removed and take off the legs and wings so that you can easily take off the shells.While removing the shell from tail, slightly press and take off the shell. Don't forget to remove the center string like part. Rinse 2 to 3 times in plain water and then add some turmeric powder, mix and rinse again.now the prawns are ready to any recipe.
How long do prawns take to fry?
Prawns get cooked in a short time like fish. A maximum of 5 mins is enough to cook the prawns. In this prawns fry i have added onion and tomato so depending on the gravy consistency,you can adjust the timing.but my request is do not overcook prawns that leads to rubbery texture.for soft and juicy prawns 5 mins max should be fine.
Can you fry frozen prawns?
It is not recommended to fry frozen prawns straight away. You should place it in water or keep it simple to reach room temperature before starting cooking eral. Not only this prawns, any food is not good to heat straight away while it is frozen.
What do undercooked prawns look like?
Completely cooked prawns look like complete "C" or "circles". Undercooked prawns are not not curled up properly.
Serving suggestions:
This prawn fry tamilnadu style is not too gravy or stir fry. So it is good to go as a side dish for any rice with kuzhambu varieties,simply rasam sadam or with any variety of rice or as an accompaniment to rotis or idli dosa. I had it with hot steamed idlis.it tasted heaven 🙂
Room temperature - if you are using frozen prawns, let it sit few mins in room temperature and then clean cook
Salt - add less salt initially. We should use less salt for all seafoods. After you check the tasting, if needed you can add some more salt.
Do not overcook - for tender and juicy prawns, do not overcook it.
Seafood recipes:

Ingredients
To marinate:
Video for how to make prawns fry:
how to cook prawns fry:
Wash prawns by removing head, legs, outer shell and center string.
Rinse for 2 to 3 times in plain water. Add turmeric powder, mix well and again rinse for 2 to 3 times.
Marinate with turmeric powder, salt and kuzhambu chili powder for at least 15 mins.
Chop onions and tomatoes, crush fennel seeds and keep aside.
Crush garlic and ginger to fine paste by adding little salt.
Heat a kadai , add 3 tbsp of oil, then add 1 tsp of crushed fennel seeds.
Add ginger garlic paste,saute till the raw smell leaves.
Now add big onions,curry leaves and saute till the onions turn transparent.
Then add chopped tomatoes. Cook covered until the tomatoes become mushy.
Add the marinated prawns to it. Saute for 2 to 3 mins.
Add 1⁄2 cup of water and cover with a lid. Stir in between.
Once the gravy reaches thick consistency, add pepper powder, as needed salt and mix well.
Once the prawns reach desired consistency,turn off the flame and garnish with finely chopped coriander leaves.
Serve with any rice, or chapati or idli dosa.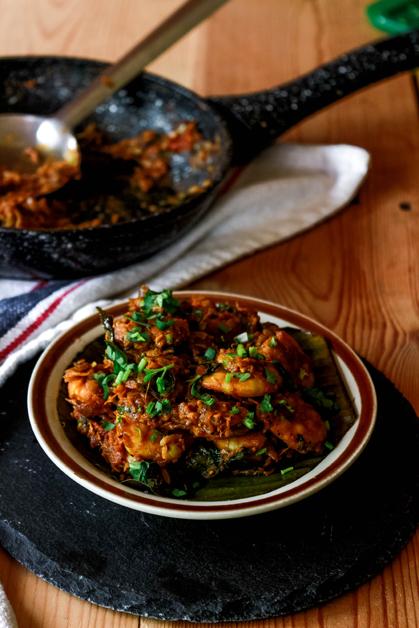 (Visited 86 times, 2 visits today)