A nifty puzzle about a young Tel Aviv drug peddler assuming the identity of a man she's barely met, "Frozen Days" reps a sparky debut by scripter-helmer Danny Lerner. Owing no small debt to Roman Polanski's "The Tenant," fleet-footed psychodrama projects enough of its own personality to intrigue auds that don't insist on a neat wrapping up of all loose threads. Fest-friendly pic won Best Israeli Feature at the 2005 Haifa Film Festival.
Director Danny Lerner weaves this minimalist yarn concerning identity loss and miasma in modern day Tel Aviv. Meow (Anat Klausner) is a nomadic young woman (and a drug dealer) who traverses the streets and nightclubs of Tel Aviv during the day, and seeks shelter in the abandoned apartments of the bustling city when the time comes to turn in for the night. After a memorable introduction, the drug dealer heads off into the night on business. Things don't go as planned, but as the night wears on, events gather momentum until coming to an explosive conclusion. From that point onward, it's full speed ahead into an alien territory defined by a full-blown identity crisis.
There are at least two ways to approach Danny Lerner's feature debut Frozen Days:
(1) As a psychological drama from Israel, it's a film that explores with probing insight the devastating after-effects of a bombing on a lonely Tel Aviv woman (Anat Klausner in a stunning performance).
(2) As a genre flick photographed in black and white, it's a cool mind-trip that's somewhat familiar but with the welcome twist of a beautiful Israeli drug dealer as the heroine, trying to make sense of her life in the terrorist age.
Meow lives in empty apartments and surfs the internet chat rooms. Cat-like both in her physical features and in her nocturnal prowlings in back alleys and nightclubs, the appropriately monikered Miao (Anat Klausner) scoots around town supplying psychedelic good times to Tel Aviv party animals.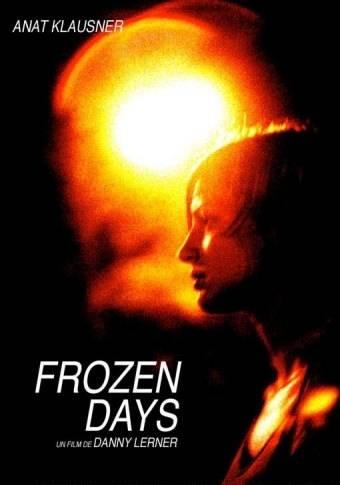 A blank page living alone in a featureless apartment, Miao has but one confidante-of-sorts, a cell phone chat buddy known as Zero.  An early transaction with smooth-talking buyer Nahman (Uli Sternberg) crisply shows Miao as a tough cookie with no mind to dispense free samples or the after-sales dalliance he's fishing for.

After establishing a tentative online friendship with e-mail chat buddy Alex, Meow soon agrees to meet her new pal at his darkened apartment, where she tells her she's Alex Kaplan — but the meeting was never meant to be. The road leading to the blind date is full of obstacles and mistaken identities. Sexual preliminaries appear to be under way when their scheduled rendezvous is tragically canceled by a sudden intrusion of light caused by an explosion prompting the girl to flee. The real Alex is rendered comatose in the suicide bombing, and Meow takes advantage of her friend's sudden streak of misfortune by moving into his uninhabited apartment. After she moves into his empty apartment, the tenants start referring to her as Alex, and as she assumes his identity, she finds herself sinking into a dangerous and deluded reality.

 Just when auds might be wondering where all this non-contact drama is heading, pic ramps up with a brief and telling color sequence. In the aftermath, Miao bluffs her way into an emergency ward and is led to a comatose patient bandaged up like a mummy. This, she's told, is Alex Kaplan. At this point the narrative goes deliberately and enthrallingly haywire, with Miao suddenly entering Alex's apartment and trying his clothes on for size. Next, she's being addressed as Alex by neighbors and turning up to his workplace without anyone batting an eyelid. Running parallel to this forward movement is backtracking which posits Miao in skewed re-runs of earlier scenes.

 As the neighbors begin to refer to Meow as Alex and the true identity of the wandering woman begins to fade, the dangerous delusion that follows finds the once carefree woman traveling down an increasingly treacherous path.

Wow is the word for new film-maker Klausner, who's in almost every shot, and a magnetic presence as both the coolly detached and deeply disturbed versions of the protagonist. Smartly mapped criss-crossing of Miao's alternative past with her thoroughly disoriented present invites auds to solve the absorbing questions of who's real and who's not. Lerner's consistently slippery screenplay keeps a number of mysteries bubbling along nicely, though its denouement does run the risk of eliciting both "wow" and "huh" reactions.

The filmmakers have good ideas for what they want to accomplish — the defining moment of the story was inspired by an actual event — but it doesn't quite come together in a fully satisfying way. Perhaps if all the threads were pulled tighter, it would exert a more powerful cumulative effect.

That being said, the conclusion is very strong, even if it is reminiscent of a few other films familiar to genre fans. And you have to give filmmakers from Israel props for defying what one might expect to emerge from that region of the world. In sum, this picture is the very definition of "promising" and worth seeking out if you make allowance for a few imperfections. Beyond that, Anat Klausner is alternately beguiling, bewildered, sensual — and utterly convincing for every moment she's on screen.

The film FROZEN DAYS was made as a final film project for the film studies MA at the Tel Aviv University. However, since those projects are not supposed to be full-length features, only the first 30 pages of the script were submitted for approval by the university. After receiving the approval, Lerner went on to make a full feature with no additional support from the university. The polished production betrays little of its origins as a student film. Deep pools of darkness in d.p. Ram Shweky's lighting scheme effectively carve out characters as night creatures scuttling away from the light, and Tomer Ran's stark piano score plays like a heartbeat threatening to stop. It's also worth noting that Frozen Days was made on a miniscule budget at night over a four-month period while the filmmakers worked day jobs. It's the sort of heroic first feature — everyone donated their time and energy — that needs to be championed if you're to have any chance to see it.


Cast : Anat Klausner, Sandra Sade, Uli Sternberg, Pini Tavger, Maor Cohen, Olga Sorkine
Directed By : Danny Lerner
Written By : Danny Lerner
Produced By : Alon Lerner, Danny Lerner
Music By : Tomer Ran R
Release Date : 24 August 2006 (Israel)
Also Known As : Yamim Kfuim