Post-pregnancy skin care frequently needs to address tough issues like acne, uneven skin tone, and discoloration read on:
Last week a reader wrote me this letter, and since a lot of you ask me questions around this, I thought is was finally time talk about what happens to your gorgeous skin AFTER the baby is born.
Brandi wrote: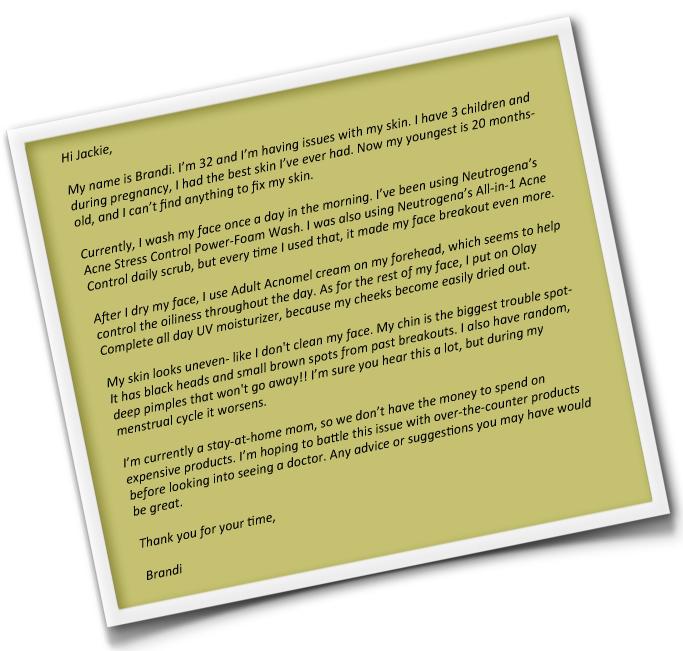 Dear Brandi,
Isn't life just a kick in the pants?
Many of us have the most flawless skin of our lives when we are pregnant. It seems like a sadistic joke that once we go through birth–and then struggle with the day to day issues of being a parent–that our skin turns on us; giving us just one more thing to feel "not good enough" about.
Your post-pregnancy skin issues are due to a bad combination of crazy hormone levels, and product overkill.  Some of your issues are easier and repaired more quickly than others. With some time and patience, we'll have your face back to glowing in no time.
First, let's examine your concerns:
Uneven skin tone/texture 

Dry skin 

Acne 

Scars 

Blackheads 

Deep pimples
Simplify to get rid of acne
Yes, your hormones are probably still going nuts, but it is likely that the acne-inducing culprit here is a bad reaction to a harsh skin care routine.  We need to simplify what you are doing to your skin. Just like makeup, sometimes less is more.
Unfortunately, at the first sign of a break out, many of us race to the store to buy a bunch of over the counter products designed to make our zits disappear. Sometimes these products even work, but this knee-jerk reaction creates problems.
The issue lies in that we continue to use these acne products long after the pimples go away as a way of "preventing" new breakouts. This is overkill, and abusing these products will force your delicate skin to retaliate and breakout even more, because it will be forced to produce more protective oils.
The truth is that most acne products are too harsh for everyday use. The active ingredients rid the skin of excess oil, bacteria, and reduce the amount of dead skin cells that clog up the pores. Constant use of these products aggravate and dry out your skin, which can make obtaining clear skin nearly impossible. It's a classic case of too much of a good thing.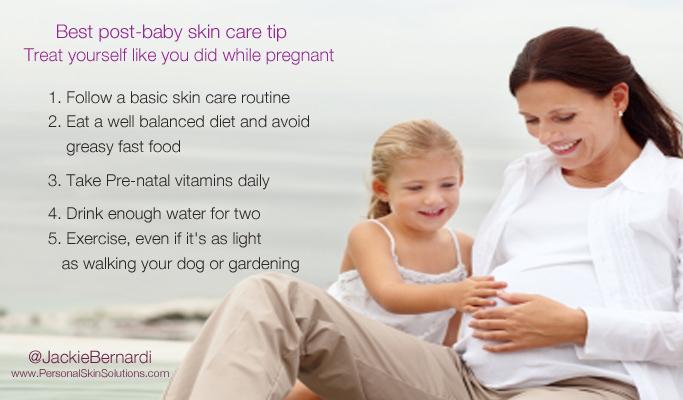 Scars, brown spots, and uneven skin tone
Brown spots (scars) that result from breakouts have a very fancy name: Post- Inflammatory Hyperpigmentation (PIH). This condition can be challenging to get rid of, and is completely preventable.
To keep those brown spots/scars at bay, you will need to do two things: refrain from, picking at your skin, and wear your sunscreen. The sunscreen will help your skin defend it's self from UV rays penetrating the skin. Doing this will help prevent futures scars.  We will tackle getting rid of the scars later.
As for uneven skin tone/texture, please wait to address this. I will give you a new set of instructions and advice in 4 weeks, but for now, I want to help you get your skin back to a baseline, ultimately setting you up for long term success.
My post pregnancy skin care recommendations for you
The most important first step for you will be to try to normalize your skin. If you want to see success quickly, stop using everything you are currently using and follow the four week skin care routine I have outlined below.
We need to completely desensitize your skin before starting any program to get results.  What I am asking you to do is a leap of faith–it may seem counterintuitive, and it will probably get worse before it gets better, but what I think you are looking for is a long term solution, and not a quick fix.
Four Week Routine
Please refer to the outline in the 4 Essential Skin Care Steps for Gorgeous Skin post and repeat those steps twice a day.
Products to use:
• Cetaphil Gentle Skin Cleanser
• Natural rosewater (toner)
• CeraVe Facial Moisturizing Lotion AM
• Burt's Bees Baby Bee Face & Body Sunscreen Stick SPF 30
• Prenatal vitamins
Download the complete routine and product recommendations here.
Keep calm and carry on
If your skin continues to breakout during these upcoming weeks, let it happen. Breakouts are likely to occur because your body will be working hard to repair the damage done by the harsh acne products.
Hands off for 4 weeks
Try not to touch your face unless you are doing your skin care routine. Our natural tendencies are to poke, squeeze and prod blemishes, but for the sake of skinutopia- please resist the temptation.
Wear sunscreen every day!
The sunscreen will help prevent inflammation around the breakout areas. UV rays love to seek out the skin's inflamed areas, and then settle in, causing all kinds of damage…specifically (you guessed it) those brown spots you were referring to.
Download the complete product recommendations and routine for this post
As I mentioned earlier, I want you to do this routine for 4 weeks straight before we start anything else.  A month from today I will post part 2 of your solution.
In the meantime, take care of yourself, and know that I am here if you have any questions–it's best to ask them in the comments below.
XO, Jackie
try { _402_Show(); } catch(e) {}