Great vegetarian soft tacos full of flavor and spice.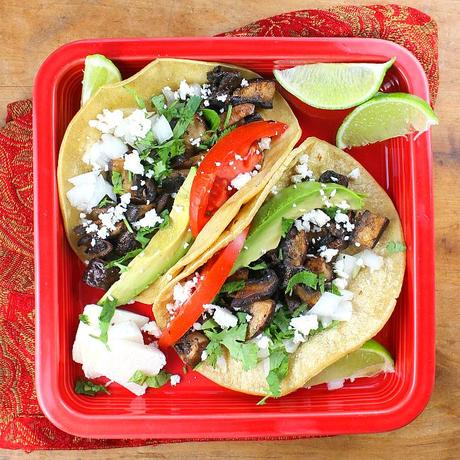 Portobello Mushroom Tacos
by Sue Lau | Palatable Pastime
4.30.14
As most people know by now, portobello mushrooms make great burgers as a vegetarian option but why stop there? We can also lower our consumption of meat by using them in things like tacos as well.  These can also be vegan if you omit the cotija or use a vegan cheese.
The mushrooms cook quickly, need no marination,  and make short work of a weeknight dinner, on the plate in 20 minutes or so, start to finish. So consider these tasty tacos next time you are short on time and could use a little extra time for relaxing with family and friends or just finding time to catch up on work!
The recipe does say that it serves, 1-2 but by that I mean it makes 2 tacos, and that could feed one person or give two people one taco each, so watch that if you are cooking for more people.
As always, enjoy!
~Sue
Portobello Mushroom Tacos
Servings: 1-2
Time: 20mins
Difficulty: easy
2-1/2 ounces portobello mushrooms, sliced
1 tbsp. olive oil (to cook mushroom)
1/4 teaspoon ground cumin
1/4 teaspoon crushed or minced garlic
1/4 cup orange juice
salt and black pepper
1-2 tablespoons chopped cilantro (optional topping)
1-2 tablespoons minced white onion (optional topping)
1/4 medium tomato, chopped (optional topping)
sliced ripe avocado (optional topping)
1 ounce crumbled Cotija cheese (optional topping)
2 corn tortillas, warmed (or 4 if you like to double layer those)
lime wedges
salsa, as needed
Method:
Heat oil in a small nonstick skillet and add mushroom slices.
Season with cumin, garlic, salt and pepper and cook until they become soft, then add orange juice and cook until that evaporates.
Serve mushrooms on warm corn tortillas with cilantro, chopped onion, chopped tomato, and crumbled cotija cheese. Squeeze lime over taco before serving. Salsa is another option if you wish.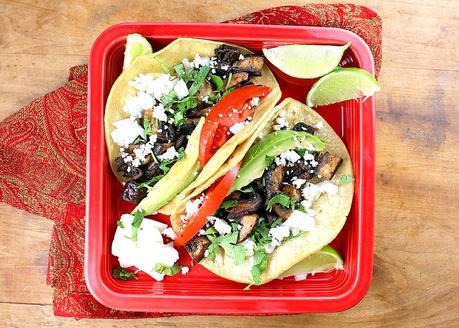 You might also like:
Tacos de Carnitas – Shredded Pork Tacos
Zucchini and Black Bean Enchiladas with Smoky Chipotle Sauce
Can't Find a Recipe? | Help
Recipe Index A-M | Recipe Index N-Z | Home