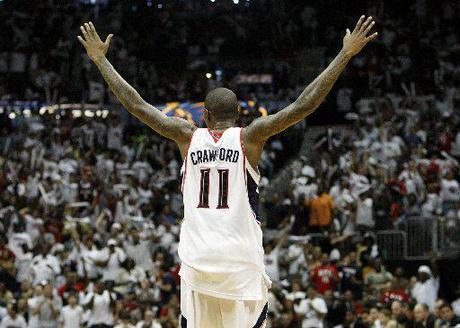 Photo: blogs.ajc.com
- Adam Parker
Free agent guard Jamal Crawford has agreed to terms with the Portland Trail Blazers.
Crawford initially proclaimed his intentions to take his talents to 'Rip City' via twitter.
The Blazers made it official a few hours later on Thursday when they announced that Crawford had agreed to join Portland on a two-year, $10 million deal, with a player option for his second year according to ESPN the Magazine's Chris Broussard.
Crawford had many suitors, but ultimately decided upon the Trail Blazers over Sacramento, which was reportedly offering a two-year deal worth $6.5 million per season, and one of his previous teams, the New York Knicks, which offered $5 million over two years.
"We were a long shot to start with," Knicks coach Mike D'Antoni said Thursday afternoon, acknowledging the Knicks' low bid for Crawford's services. "I think the relationships that he had here in New York and how he loved it -- I thought we had a shot at it."
Thankfully for Trail Blazers fans, however, Crawford has decided to take his clutch shot-making talents to the Rose Garden for the next two seasons, and it couldn't have come at a better time after losing All-Star guard Brandon Roy to a premature medical retirement.
In order to make a deal for Crawford, the Blazers used the league's new amnesty clause to waive Roy, which freed up the necessary salary cap space so Portland could use the mid-level exception on Crawford.
An 11-year veteran, Crawford played for the Atlanta Hawks the last two seasons.
The 31-year old has career averages of 15.2 points, 2.6 rebounds, and 3.9 assists. He also took home the NBA's Sixth Man Award in 2010.
"We've thought highly of Jamal for a long time and think he's a great fit for our team," said Chad Buchanan, Portland's acting general manager. "He brings a scorer's touch and veteran leadership that will help us immediately."
So unlike their other countless debacles in recent years, it seems like Portland's front office has finally made a good personnel move by signing Crawford.
The 6'5" shooting guard is a great fit in Portland. A player with starter's talent who is willing to come off the bench if that's what will make the team better.
When I first saw that Brandon Roy was retiring, I thought the Blazers' playoff chances were dead in the water, but now, with the Crawford signing and the return of a healthy LaMarcus Aldridge to the lineup, I don't see why this Portland squad can't snag one of those final 3 playoff spots in the West.
Be sure to follow Beard And Stache on Twitter 
@BeardAndStache
, 
and also Adam 
@Adam_Parker43
, Like our Facebook page 
HERE
!