Hands on those wallets, the ber bazaaars are here!  The LiST Group partners with the ICA Alumnae Association to bring you Port88, A Lifestyle Bazaar now on its second year!  The bazaar will be held from Sept.  17-18 at the Megatent Events Venue along Meralco Avenue.  I'm pretty happy because since they tapped me to help promote them, I'll get in for free

It's no humble list of brands, ladies I can tell ya… it's best you get some holiday shopping done as early as now!  Click on the image to see it enlarged

you can save it and put it on your Facebook wall or Tweet it to share the news with your loved ones.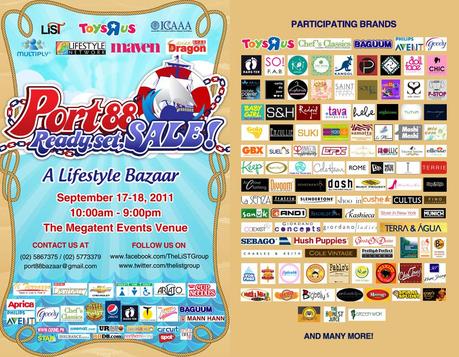 In case the logos are too small to read because hello there are simply just too many, below is a monsterl list of most of the participating brands but as you can imagine there are still more joining to participate as we speak!  Among Port88′s leading sponsors are Multiply, The Lifestyle Network, Toys R Us, Maven, and Asian Dragon.  The bazaar has its profile on Facebook as well at this link.  I am so super excited for this event

  For inquiries contact 5867375/5773379 or email
[email protected]
  Hope to see you there!
Toys R Us , Charles & Keith, Kashieca, La Senza, T Studio, The Traveling Closet, GBX, TechnoMarine, Cole Haan, Slendertone, Synergy, Hush Puppies, Sebago, Cushe, Rudy Project, Goody, Philips Avent, Aprica, Baguum, Sunnex, Ellesse, Kangol, Sanuk, And 1, Gola, Dosh, Munich, Happy Feet, Hang Ten, Cole Vintage, Giordano, Giordano Concepts, Giordano Ladies, Terra & Agua, Chef Tony's Popcorn, Trunkshow, Stylebreak, Coexist, Top Picks, Dress Lab, Hapifoxy Footwear, Chicify, Everybody Needs A Pair, My Favorite Store, Sole Sister, DollFace Cosmetics, Erzullie Fashion, Silver in New York, Cultus Couture, I Love Koi, Made for Movement, Tomoe, Waido Marketing & Distribution, Inc./Le Plume, Keep, Apartment 8, RedGirl Shop, TC Co., The BEAUtique, Tutum Shop Shoes & Bags, Rome Shoes, Chic Essentials, Hebe Manila, Terrie, Style on Air, High Style Fancy, Euphoria Online, Saint Rebel Street Boutique, Eight One, Frollic, Carte du Jour, PnK Closet, Tava Novelties, Samatta Manila, Fratrie Trading/Mia Casa, La Pirouette, Archive Clothing, Fashion Stop Shop, My Mix Boutique, SOLEIL Foldable Flats, Suelas, Pretty and Perfect Closet, Kitsune Manila, Souq International, Bachelor's Pad, I Love Cocco, Fino Leatherware, Suki, Shoo In, So Fab, Vanity Without Apology, Lift A Heart Foundation, S&H, Les Roux, Pretty Me, The Bagfinder, Goods of Desire, Author's Avenue, Tinjaman
Japanese Salad Dressings, Monsie's Bakery, Yogurt Froz, Big Belly's, Happy Fanshu, Manang's Chicken, Honest Juice, Khaosiung Coffee, Picole, Jam Foods & Co., Osama's Shawarma, Teaology, Hero Sausages, Pablo's Choriburger, Eleonore's Kitchen, Spiral Spuds, Chubby Chicken, Match & Mix, Tokwa't Boboy,Greenwok Dimsum, Enzo's Shawarma, Chixie's Buffalo Wings