Celebrating a jubilee of two centuries of African American cooking with the elegantly understated pork chops with rich caper-lemon sauce.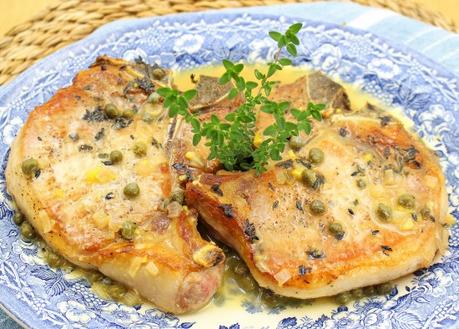 Pork Chops with Rich Caper-Lemon Sauce
By Sue Lau | Palatable Pastime
Disclaimer: While I did receive an advanced copy of this cookbook from the publisher at no cost, all opinions within this post are my own. This post also contains affiliate links.
My recipe of the day is for Pork Chops with Rich Caper-Lemon Sauce, from the new cookbook Jubilee: Recipes from Two Centuries of African American Cooking, by Toni-Tipton Martin.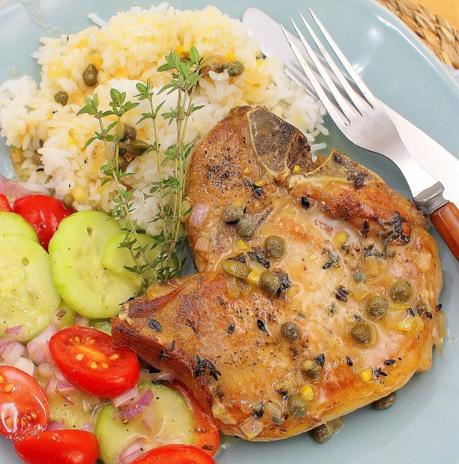 A jubilee is a celebration or anniversary generally involving a date that has surpassed twenty-five or fifty years. African American cooking and its rich history has long surpassed that, forming the foundations and culture of traditional American cuisine, especially in the subgenres of Southern and Low-Country cooking.
Martin's cookbook explores this rich history of cooking, gleaned from the author's exhaustive collection of more than 400 volumes on the topic. This volume forms a companion to her previous cookbook The Jemima Code and further expounds on the culinary knowledge she began there.
It is important to see how African American cooking touches on many cuisines, as the culinary knowledge brought out of Africa evolved by picking up on the foods of other cultures that came together in this country. Truly, this cooking is a result of the culinary melting pot.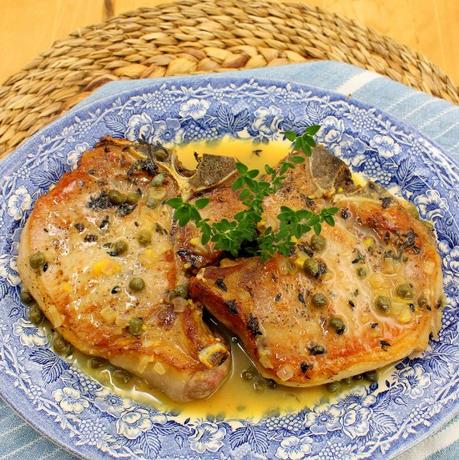 Martin's book is divided into several sections:
Appetizers: Food for Company
with such recipes as "Honey-Soy Glazed Chicken Wings", "Curried Meat Pies" and "Deviled Crab".
Beverages: Liquified Soul
with such recipes as "Ginger Punch", "Quick Eggnog", and "Apple Hot Toddies".
Breads: The Staff of Life
including recipes for "Quick Cinnamon Rolls", "Hot Water Cornbread" and "No-Knead Icebox Rolls"
Soups and Salads: For the Welcome Table
among which are "Seafood Gumbo", "Wilted Mixed Greens with Bacon", and "Sweet Potato Salad".
Sides and Vegetables: A Little Bit of This, A Little Bit of That
with (among others) "Baked Macaroni and Cheese", "Cornbread Dressing", and "Collard Greens with Cornmeal Dumplings"
Main Dishes: Comfort in Dining
including "Roast Leg of Lamb with Rosemary", "Baked Ham Glazed with Champagne", and "Creole Fried Chicken"
Desserts: The Sweet Life
with "Coconut-Lemon Layer Cake", "Sweet-Potato Mango Cake", and "Peach Buttermilk Ice Cream"
among the many recipes presented.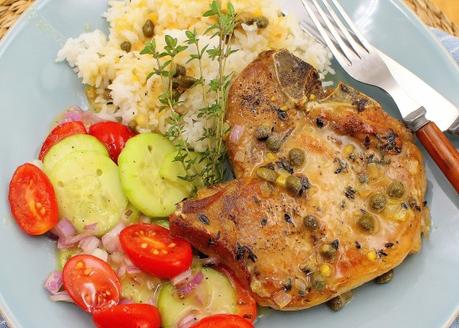 You Might Also Like:
Pork Chops with Rich Caper-Lemon Sauce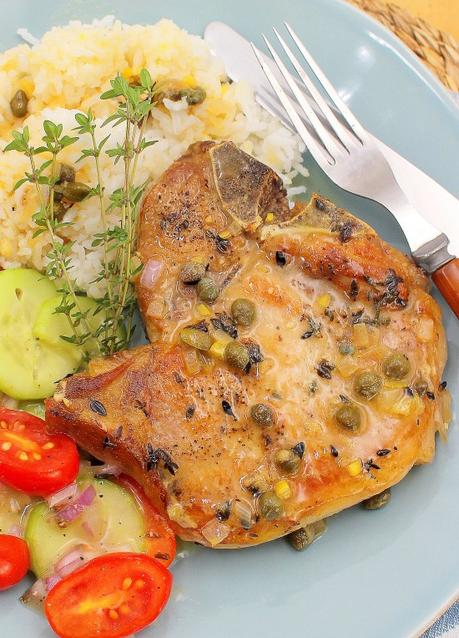 I selected the pork chops recipe to sample from this cookbook, although it was a difficult choice. Obviously, there were many which I would have enjoyed.
But I love a good pork chop. After all, I have lived in Cincinnati for years and years now, and it has come to be known as Porkopolis. And it just thrills me to no end when I see a recipe that kept the bone in. Don't get me started on recipes that consistently remove the bone. I may have been seen shouting at my television at certain chefs "Why not leave the bone on that meat in there once in awhile? I don't know many who will cut the drumstick bone out of chicken, the most annoying of all. Who has time for that?"
Bone in or bone out, these pork chops cook up deadly quick. So quick in fact, you have best skedaddle into the kitchen and start heating your oven early, or you will be caught slack jawed standing there with your pork chops cooling their heels waiting to go in the oven.
And the two part cooking isn't slowing things down. You will see an 8 ounce chop called for, which is a nice size, but you can use any size chop in this. As well as boneless if that's your thing. Those last few minutes in the oven will bring the chop to the magic pork temperature, which is 145F on an instant read thermometer.
Of course, when you shop, you might not see an 8-ounce chop that you like (I didn't- mine came out to 3/4 pound, but no worries!) But oh weren't they beautiful in the meat case! I couldn't resist. But on other days I might be tempted by the value pak or family pack where they take the loin and slice it up for you to buy all of it-which is a thing of joy when it is on sale.
Thin chops, thick chops, they all taste the same. You might not need the extra oven time on thin chops is all. Probe them with the thermometer and see before going crazy with the oven. Remember the 145F. But thicker ones probably won't take over five minutes in there.
Then they rest while you finish the sauce. But don't judge- you would want to rest too if someone shoved you into a 400F oven. I mean that's hard work. It's exhausting! I mean, I have done the dry sauna at the fitness center before. I roasted like a peanut and could have used a long vacay afterwards. So let those chops relax and hang out while you whisk the sauce.
And the sauce really is very simple, understated and easy. But understated doesn't mean zero flavor. This sauce has much in common with an Italian Piccata sauce. And the recipe makes plenty, so you will have lots to share with your rice- did I not mention the rice? I got that going in the rice cooker before I started- only takes about fifteen minutes.
If I didn't also mention it, this recipes cooks up uber fast- so you aren't going to have a lot of time to muck around with baked potatoes and have them come out at the same time. Plus, rice is very southern. Normally one might drown it in gravy- and that can be very yum, but the sauce in this is primo, so don't waste it.
I also served with a very simple cuke and tomato salad- which just sat in some dressing as I cooked. I mean, this really is a 30 minute meal start to finish- IF you remember to heat that oven up first.
And who knew sauces could be so simple- whisking in the wine and broth to lift the fond. Fond? That's sexy chef-speak for the browned bits in the pan. Which you will have if you cook in stainless and if you used nonstick you are out of luck.
When I was a kid Mom would pan fry pork chops and the blood would come out of the chops and brown in the skillet. I loved that. You could say I was fond of it. (You saw what I did there, right?) Oh please, don't groan. My jokes aren't that bad. Okay, maybe they are. So no more until tomorrow then. 😉
But the sauce just cooks a couple of minutes after it reduces. You'll know exactly how long it needs to go by tasting it. The wine taste will mellow and seem perfect. And then take the pan off the heat and stir in those last bits of butter- which they call monter au beurre- aka chef-speak for enriching a sauce with butter. The only part of that you need to remember is that the butter at the end makes it taste extra good.
Are you ginned up now for the recipe? Here we go.
Pork Chops with Rich Caper-Lemon Sauce
Author: Toni Tipton-Martin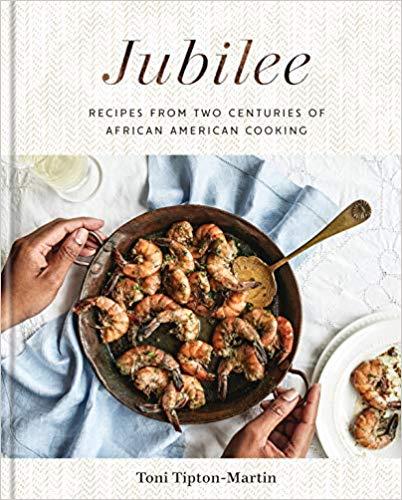 Buying through this retail link may earn me an affiliate commision, however no cost to you is incurred to click and look.
More about the author:

You may find the publisher, Clarkson Potter, on Instagram.
Pork Chops with Rich Caper-Lemon Sauce